A good rule of thumb for any holiday party (or really just any day of the week) is that if you happen to have a good opportunity to wrap puff pastry around brie cheese, bake it, and eat it all, then you should do it.
You really should.
It's almost not even fair how delicious this Halloween Baked Brie appetizer is considering it takes very little work and contains really only three ingredients.
Given that it's Halloween, I thought I would do something a bit more fun than just wrapping and baking though and went with a mummy-theme wrap job. I worried that it would just turn out into a big blob or that you wouldn't be able to see the individual strands, but the final product exceeded my expectations.
Not only does it look cool, but did I mention that it's baked brie?
Mummy Baked Brie
A fun party appetizer that looks like a spooky mummy face! This quick and simple recipe is sure to be a hit with kids and adults!
Ingredients
1 8

ounce

wheel of brie

2

sheets puff pastry

½

cup

fig jam

1

egg

,

beaten

Crackers for serving

Olive and hot sauce for face making
Instructions
Preheat oven to 400 degrees F. Thaw puff pastry.

Use a pizza cutter to cut one sheet of puff pastry into thin strips.

Smear some fig jam in the center of the second piece of puff pastry and place the brie right in the center. Spread more fig jam on top of brie. Fold puff pastry up around the brie but don't cover it completely. Cut off extra puff pastry.

Use the strips of puff pastry, wrap the brie from the top and around the bottom. Work in all directions so it looks a bit random, like a mummy.

When the brie is completely wrapped, place it in a baking sheet with parchment paper. Brush puff pastry with egg wash.

Bake the brie until golden brown all around, 20-25 minutes.

Let brie cool for 20 minutes. If you want to make a face, use some olive slices for eyes and a thin stream of sriracha for mouth.

Serve brie with crackers!
Nutrition
Serving:
2
oz
|
Calories:
785
kcal
|
Carbohydrates:
60
g
|
Protein:
19
g
|
Fat:
52
g
|
Saturated Fat:
19
g
|
Polyunsaturated Fat:
5
g
|
Monounsaturated Fat:
26
g
|
Trans Fat:
0.004
g
|
Cholesterol:
84
mg
|
Sodium:
585
mg
|
Potassium:
167
mg
|
Fiber:
2
g
|
Sugar:
12
g
|
Vitamin A:
351
IU
|
Vitamin C:
2
mg
|
Calcium:
113
mg
|
Iron:
3
mg
Did you make this recipe?
Halloween Baked Brie
Let's Moderate
Here's the first rule about this recipe: Do not use high quality brie. Just don't.
If you buy really high quality brie, just eat it as-is. Don't fuss with it.
For this recipe though, just pick up one of these little wheels of decent but not excellent brie. It should run you somewhere in the $6-$7 range. If you're paying more than that then the quality of the cheese is just wasted.
That said, do use a really good jam for this recipe. It really comes through in the final appetizer.
I used a nice high quality fig jam for this version. I like the fig jam because it isn't overly sweet.
But, any jam should do the trick. I wouldn't use something like a super-sweet grape jam though.
The Wrapping
The key to making this work is that you don't actually just use puff pastry strands to wrap the brie. I tried this and found that it didn't get anywhere close to actually enclosing the brie.
So wrap the brie on the bottom with a full sheet of puff pastry before you try to create the mummy effect. Slather some jam on all sides of the cheese because why not?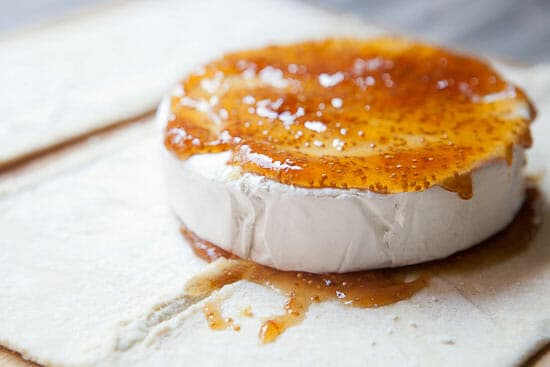 Fold the puff pastry up and around the brie and trim off any huge pieces of extra pastry.
The top of the brie will be uncovered, but that's fine. We can cover that part with strands.
Take the second sheet of puff pastry and use a pizza cutter to slice it into long strands. No need to get totally OCD about the width. Having some strands that are thicker than others actually looks cool.
Then just wrap them around! Try to wrap them in all directions so it looks a bit random. Also, there's no need to wrap all the way around the cheese. Just cover the top and then stick each strand to the bottom sheet of puff pastry.
I used about 15 strands of puff pastry which wasn't quite my full sheet.
Brush the puff pastry with some beaten egg. This will help the pastry brown nicely and also help close up any gaps in the strands so you don't have a brie blowout in the oven.
Your Halloween Baked Brie is ready for the oven. I recommend baking this whole thing on parchment paper for easier clean up.
It'll need to bake for 20-25 minutes at 400 degrees F.
The results are lovely.
Whatever you do, resist the urge to cut into this immediately. The cheese is super-melted at this point and it will all run out of the pastry.
Let it cool for 15-20 minutes before slicing into it.
If you want to make a little face on the Halloween Baked Brie, cut some olive rounds and squirt on some sriracha!
I will not admit how much of this I ate by myself.
If you're like us and have tons of candy after trick or treating, check out this Leftover Candy Peanut Butter Tart for a fun and delicious way to use it up!