Vegetarians, look away!
Grilling a big old piece of lamb is intimidating, there's no two ways about it. The good news is that assuming you can find a good leg of lamb, you can do this.
With just a few simple seasonings – nothing complicated – you can make a real treat of a meal. Grilled Leg of Lamb goes great with lots of sides and is just super delicious.
Grilled Leg of Lamb
This is my simple guide on how to cook a bone-in leg of lamb perfectly on the grill. This easy recipe is a winner for sure!
Ingredients
3

pound

bone-in leg of lamb

1

tablespoons

kosher salt

1

tablespoons

crushed black pepper

2

tablespoons

herb de provence

4

tablespoons

unsalted butter

2

tablespoons

fresh mint
Instructions
Rub leg of lamb well with kosher salt, pepper, and herbs. Wrap tightly in plastic wrap and store in the fridge for at least four hours. This is an optional step, but really improves meat flavor.

Unwrap leg of lamb and let come to room temperature for thirty minutes. Heat grill to high heat.

Grill lamb for about 5 minutes per side to get a nice crust on the lamb.

Move lamb to an indirect heat area of the grill. On my gas grill, I turn off the back burner and turn the other two on low, then move the lamb to the back of the grill.

Insert digital thermometer and cover the grill. Turn the lamb every 15-20 minutes until it reaches an internal temperature of 130 degrees for medium rare, 135-140 degrees for medium.

When desired temperature is reached, remove lamb and wrap tightly in foil. Let rest for 10 minutes. The temperature should continue to rise another 10 degrees or so.

Use a sharp knife to carve out center bone from leg and then slice against the grain. Serve with minted butter.
Nutrition
Serving:
1
slice
|
Calories:
186
kcal
|
Carbohydrates:
2
g
|
Protein:
20
g
|
Fat:
11
g
|
Saturated Fat:
6
g
|
Polyunsaturated Fat:
1
g
|
Monounsaturated Fat:
3
g
|
Trans Fat:
0.3
g
|
Cholesterol:
84
mg
|
Sodium:
1239
mg
|
Potassium:
256
mg
|
Fiber:
1
g
|
Sugar:
0.04
g
|
Vitamin A:
360
IU
|
Vitamin C:
1
mg
|
Calcium:
45
mg
|
Iron:
4
mg
Did you make this recipe?
Grilled Leg of Lamb
Salting the Lamb
A good piece of lamb can be a bit tricky to find. You may have to go outside of your grocery store to find it. Most people get a bit intimidated when they see a three pound piece of meat with a bone in it, so grocery stores tend to only carry ground lamb, lamb chops, or boneless leg of lamb.
You can definitely use boneless if you want, but you'll just have to watch your temperature really closely.
I recommend trying any small butcher shops you may have in your area or check farmer's markets. I found a small farm in my local farmer's market thanks to a tip off from a friend that was selling these beautiful legs of lamb.
They are pricy, about $10/pound, but the flavor is tough to beat.
This particular lamb cut was so good that I probably could've just thrown it on the grill and had great results, but anytime I'm making a large hunk of meat, I always like to salt it before cooking it if I have time.
Take a good amount of salt and black pepper and rub it all over the meat until it's evenly coated. For this lamb, I used about 1 tablespoon of kosher salt and a tablespoon of roughly ground black peppercorns. This may seem like a lot, but much of the salt will fall off and stuff.
For many years, it was thought that salting meat before cooking dries it out, but trust me… that is bogus.
I'm not going to get into the science of (because I'm not a scientist) but I started regularly salting large cuts of meat before cooking them after reading The Zuni Cafe cookbook. They pre-salt almost everything and the results speak for themselves.
So have no fear. Rub the meat with some salt and pepper (don't use table salt… only kosher or sea salt). Then wrap it tightly in plastic wrap and let it sit in your fridge for at least a few hours or even overnight.
Do not worry about the meat drying out. That's a total myth. The salt will tenderize the meat, but not dry it out at all.
At the last minute, I also decided to add some herbs de provence to my rub. I rubbed on about two tablespoons right before I threw my lamb on the grill, but you could just mix that spice into the pre-salt mixture.
Cooking the Lamb
Whether you are using a gas grill, a charcoal grill, or an oven, you basically need to have a high heat area (or setting) and a lower heat area.
If you were cooking this inside, you would want to sear the lamb really well in a heavy skillet and then finish it in a 350 degree oven.
Outside, we can just have one section of the grill super-hot. Cook the lamb for about five minutes per side over this high heat.
This will give you a nice sear on the lamb and give it some nice color as well.
Then transfer the lamb to a lower heat section of your grill. If you are using charcoal you could push your coals to one side and then move your lamb to the other side.
For my gas grill, I turn my front two burners on low and then put the lamb in the back of the grill.
Most importantly, you need a good meat thermometer for this meal to work out. There's no way to know that the lamb is cooked perfectly by look or touch unless maybe you do hundreds of them.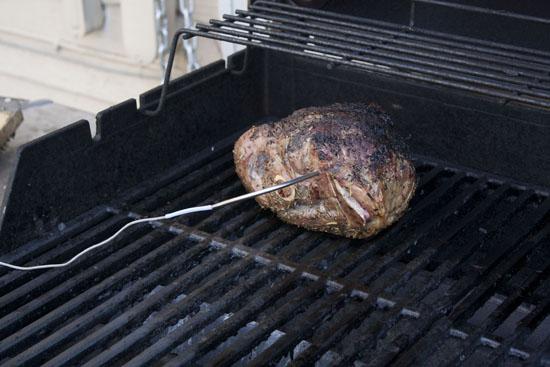 Pulling the Lamb
I do not recommend cooking lamb over medium doneness. That means that it will have some pink in the very center. If you cook it longer than that, it will be pretty tough and could be dry.
Personally, I like a good medium rare doneness for mine so I pull my lamb at 130 degrees then I wrap it in foil and let it rest for ten minutes. By the time I sliced it, my lamb was 140 degrees and a perfect medium rare.
If you wanted it cooked medium, pull it around 135-140 degrees and let it climb up to 145-150 degrees before slicing it.
For my leg of lamb, and on my grill, it took me about an hour to get to the right temperature and I turned the lamb every 15 minutes or so.
Da Butta
My friend who clued me in on these lamb legs at the farmer's market said that he served his with a mint butter.
So I just mashed together some butter and a lot of fresh mint and figured that would do the trick.
Resting and Slicing
Again, the most important part of the cooking process is to make sure you cover the lamb when it comes off the grill and let it rest for about ten minutes.
Then you can safely slice into it.
When it comes to slicing, it helps to have a really sharp carving knife. Because there's that pesky bone in the middle, I usually carefully carve that out of the roast first and then make thin slices of lamb across the grain of the meat.
This Grilled Leg of Lamb will go great with lots of sides, but on this day I grilled some brussel sprouts and also made some quick mashed potatoes.
The lamb was really tender and flavorful. Pretty hard to beat!
If you have leftovers, they keep wonderfully. Try a few slices of lamb on a pita with some fresh tomatoes, red onion, lettuce, mint, and feta cheese.
This Grilled Leg of Lamb might look intimidating, but as long as you have a thermometer you can trust, you can make this happen… and should make it happen!