I used to be a big parfait fan. I would eat them on the regular for breakfast… a little granola, some greek yogurt, and a few berries. Sometimes I would get fancy and layer them like an actual parfait, but other times I would just toss everything together in a bowl.
I've sort of moved away from this breakfast plan, but recently I was thinking about the ingredients in parfaits and decided that it was darn close to a muffin (granola/dairy/fruit). I figured if I added a few extra things I could maybe smash all of the parfait ingredients into a baked good!
Well, it worked. The most amazing thing about these Granola Muffins is that they actually taste like a parfait. It's not a gimmick, people. You get some serious tanginess from the yogurt, the berries are really flavorful and sweet, and the granola adds awesome texture.
Granola Parfait Muffins
These granola muffins are like a parfait except in muffin form. A great little breakfast with some coffee and a pad of butter.
Ingredients
1 ½

cups

granola

1

cup

all-purpose flour

⅓

cup

brown sugar

2

teaspoons

baking powder

½

teaspoon

cinnamon

½

teaspoon

salt

½

cup

milk

½

cup

Greek yogurt

1

large egg

1

teaspoon

vanilla

½

cup

blueberries
Instructions
Preheat oven to 375 degrees Fahrenheit. Lightly butter a 12-tin muffin tin.

In a large bowl, stir together the first six ingredients (all the dry stuff basically).

Stir together the wet stuff (milk, vanilla, eggs, yogurt) in a smaller bowl.

Stir wet ingredients into dry bowl and stir until just combined.

Fold in blueberries and divide batter between muffin tins. YOu should get 10 large muffins out of the batter.

Bake muffins at 375 degrees for 20-22 minutes until a tester comes out clean from the center.

Let muffins cool for a minute or two, pop them out of the tins, and serve while warm with a little butter or honey.
Nutrition
Serving:
1
Muffin
|
Calories:
154
kcal
|
Carbohydrates:
26
g
|
Protein:
5
g
|
Fat:
4
g
|
Saturated Fat:
1
g
|
Polyunsaturated Fat:
1
g
|
Monounsaturated Fat:
1
g
|
Trans Fat:
0.003
g
|
Cholesterol:
15
mg
|
Sodium:
187
mg
|
Potassium:
116
mg
|
Fiber:
1
g
|
Sugar:
11
g
|
Vitamin A:
40
IU
|
Vitamin C:
1
mg
|
Calcium:
84
mg
|
Iron:
1
mg
Did you make this recipe?
Granola Muffins
The Batter
When you mix together the dry ingredients for these Granola Muffins you might think the recipe is a mistake. There is more granola than flour and it looks like the whole mixture might not hold together.
Trust me this is right.
And on the granola, you can use any granola under the sun in my opinion. I don't see how you could go wrong.
Most muffin recipes have eggs and milk for wet ingredients, but for this version I substituted a good amount of the milk with Greek yogurt. It's an easy substitution but you can really taste the tang of the yogurt in the final muffins.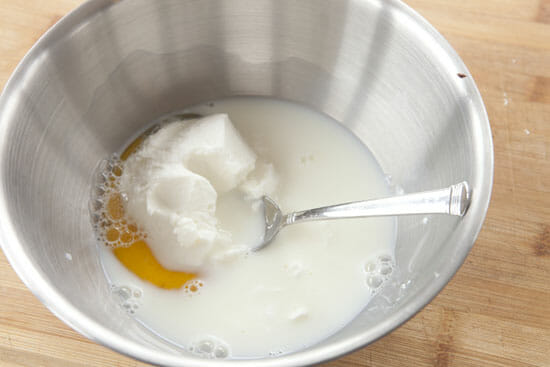 The batter isn't rocket science at this point. Just stir together the dry stuff and wet stuff separately and then mix them together.
Try not to overmix the batter.
Next, I stirred in some fresh blueberries. About a half cup is the most I would use or they start to break down the integrity of the muffin.
Integrity of the muffin would be a cool band name.
Baking the Muffins
Once your batter is ready, just spoon it into your muffin tins. I recommend lightly buttering the tins which will make muffin removal easier later.
You can almost fill these up to the top of the tins. They are dense muffins and won't puff up a huge amount.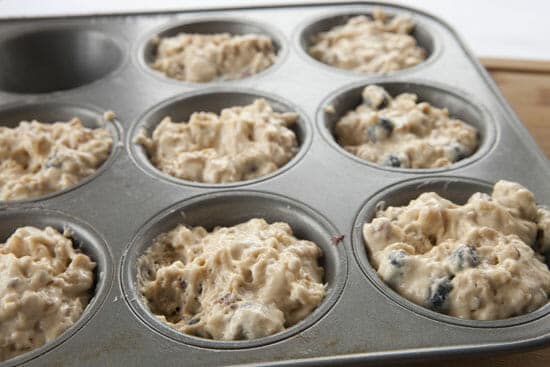 Bake these guys in a preheated 375 degree Fahrenheit oven for about 20-22 minutes until a tester comes out clean from the middle.
I was able to get about 10 large muffins from my batter mix.
Let them cool for a minute or two before popping them out of the tin.
These Granola Muffins might just look like a normal blueberry muffin on the surface but when you bite into one, they are dense and have a really awesome flavor and texture.
A berry parfait muffin. You read it here first!