This post is brought to you by Sabra Dipping Co, LLC.. All opinions are 100% mine. Today is National Hummus Day! Also, be sure to Like Sabra on Facebook for lots of great recipes and giveaways!
It's not rocket science to serve some appetizers in the summer. Pop open some salsa or mix up some quick guacamole. But, what if you need something that's just a tiny bit classier? I'm not talking black tie affair, but maybe you're cooking for coworkers or family and you want to show off a bit.
But you also probably don't want to do things like A) turn on the oven or B) actually do much work.
So, umm… these. This time of year you can find these big packs of tiny sweet peppers in markets and stores for a few bucks. They are super crunchy and colorful and perfect appetizer size. I recommend stuffing them full of whipped goat cheese and spicy hummus.
You should try it because you trust me. Right?!
Stuffed Sweet Peppers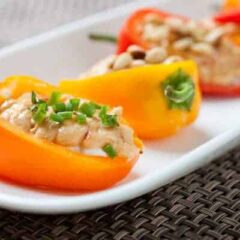 Goat cheese stuffed sweet peppers with a creamy, spicy hummus layer and lots of fun garnish toppings. The perfect, quick summer appetizer!
Ingredients
2

dozen small sweet peppers

6

ounces

goat cheese

⅓

cup

cream

Salt and pepper

10

ounces

spicy hummus

Pine nuts

,

toasted (garnish)

Chives

,

garnish

Red fresno peppers

,

garnish
Instructions
For whipped goat cheese, combine goat cheese, cream, and a pinch of salt and pepper in a mixing bowl. Use a stand mixer with the paddle attachment or a hand mixer to whip the mixture until smooth. If it's not getting smooth, add a bit more cream. The finished mixture should be the consistency of frosting.

Lay out washed sweet peppers on a tray and cut a slice off the top of each pepper (leave the stems intact). Scoop out any seeds in the peppers.

Scoop the whipped goat cheese into a plastic bag. Seal it and slice a corner off the bag. Pipe the goat cheese into each pepper.

Mix spicy hummus together and scoop it into a second plastic bag. Pipe the hummus on top of the goat cheese layer.

Top each pepper with fresh chives, thinly sliced red peppers, or lightly toasted pine nuts. Serve immediately or chill for a few hours. They are best served the same day.
Nutrition
Serving:
1
Pepper
|
Calories:
52
kcal
|
Carbohydrates:
2
g
|
Protein:
2
g
|
Fat:
4
g
|
Saturated Fat:
2
g
|
Polyunsaturated Fat:
1
g
|
Monounsaturated Fat:
1
g
|
Cholesterol:
7
mg
|
Sodium:
72
mg
|
Potassium:
53
mg
|
Fiber:
1
g
|
Sugar:
1
g
|
Vitamin A:
436
IU
|
Vitamin C:
13
mg
|
Calcium:
17
mg
|
Iron:
0.5
mg
Did you make this recipe?
Goat Cheese Stuffed Sweet Peppers
Sweet and Spicy
You might think, at first glance, that the peppers are spicy. They aren't the slightest bit spicy. In a tastebud switcheroo, the hummus is actually the spicy part. In one bite you get crunchy, sweet, creamy, tangy, and spicy. It's an all-purpose appetizer bite.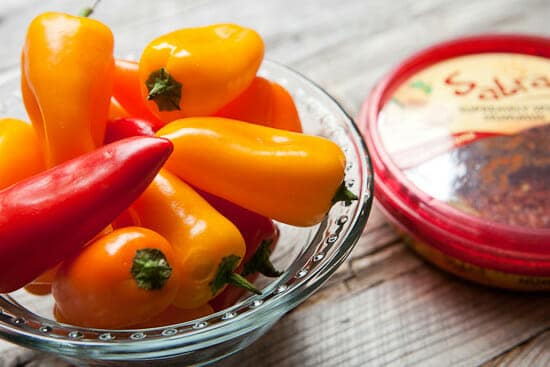 You could use any hummus, but I'm a huge fan of the Supremely spicy version that Sabra makes. I'm a spicy nut and love heat, and this doesn't disappoint. They top the hummus with a huge mound of spicy chili mix that I recommend stirring it into the hummus so you don't get it all in one bite.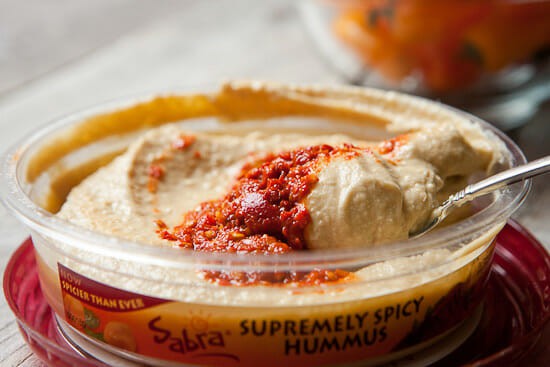 Whipped Goat Cheese
Okay. Let's talk goat cheese. Of course, you could just spread some goat cheese into each pepper, but the tiny extra step of whipping it first actually makes it easier to layer in the peppers and makes each bite really creamy.
Whip the goat cheese with some cream, salt, and pepper. You can use a stand mixer or hand mixer to get the job done.
When it's the consistency of a sturdy frosting, it's ready to go.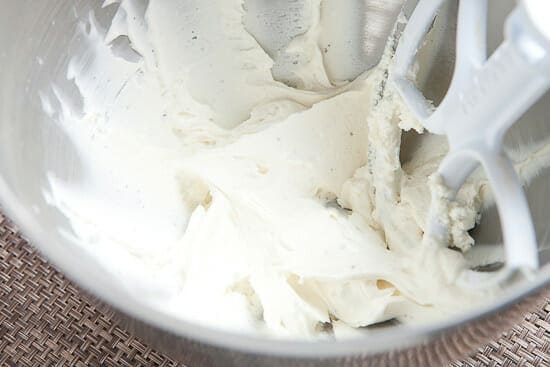 Pepper Prep
To get the peppers ready to stuff, don't cut off the stems! They are pretty and also make for easier grabbing. Instead, lay the peppers flat on a sheet and cut a slice off the top of each pepper. Then scoop out the seeds (there won't be too many seeds).
To lay down the whipped goat cheese layer, scoop the mixture into a plastic bag and cut the corner off. This is my quick and dirty piping bag.
Then just fill all the peppers! You can use a good amount in each pepper, but remember that we have another layer to go.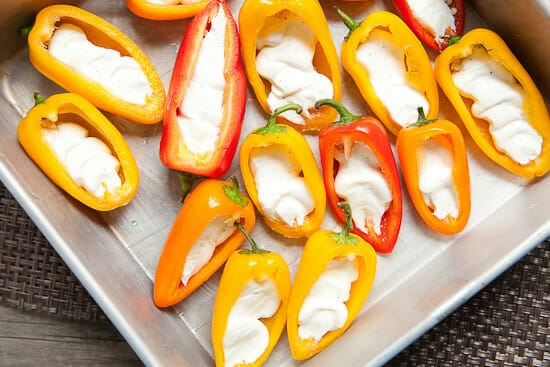 To make them pretty, do the same thing with the hummus. Scoop it into a plastic bag and then pipe it onto the peppers. Again, I think it actually ends up being faster than trying to spread on the hummus and it looks cool!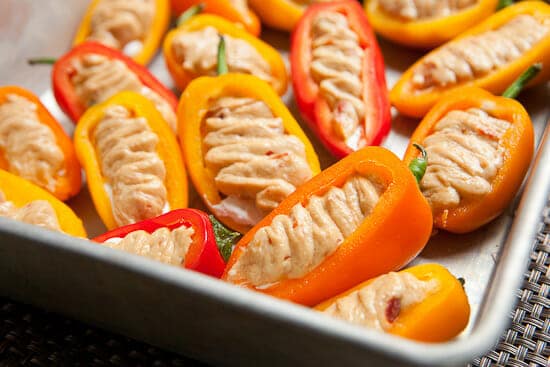 Toppings Galore
The goat cheese stuffed sweet peppers are good just like that honestly, but if you want to take it a step further, there are lots of great garnishes you could add. I did three versions: one with toasted pine nuts, one with thinly sliced fresno peppers, and one with minced chives. Pretty much any fresh her or toasted nut would go well on these guys.
I ate like six of these right away. They are addictive and just fancy enough.
Make them the next time you need something special, you show off.