When goat cheese won the poll last week, I started immediately having Paradox of Choice woes. There's just so much that you can do with goat cheese.
Staring at a log of fresh goat cheese is the food blogger equivalent of a fiction writer staring at a blank page.
I started immediately brainstorming. I could put it in some fancy appetizer. I could make a salad. I could make some strange (but probably delicious) dessert out of it.
Or I could do the right thing and make Goat Cheese Macaroni.
I almost always do the right thing.
Macaroni and (Goat) Cheese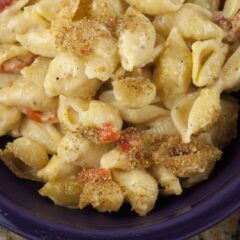 Homemade macaroni and cheese gets upgraded with fresh and tangy goat cheese, roasted red peppers, and sun-dried tomatoes.
Ingredients
1

pound

macaroni

,

cooked

2

roasted red peppers

,

diced

⅓

cup

sun-dried tomatoes

,

from oil, minced (about 6)

4

tablespoons

butter + a bit for the pan

4

tablespoons

all-purpose flour

2 ½

cups

milk

6

ounces

cheddar cheese

,

grated

1

cup

goat cheese

½

cup

bread crumbs

Salt and pepper
Instructions
Roast red peppers over a flame. If you have a gas stove, you can stick them right on the flame or you can grill them. You can also just used jarred peppers. Cook them until they are nicely charred all the way around.

Add peppers to a bowl and cover with plastic wrap. Let rest for 10 minutes and then peel off pepper skins. It's okay if some skin is left on.

Dice peppers and sun-dried tomatoes.

Cook macaroni according to package.

For cheese sauce, add butter and flour to a medium pan over medium heat. Whisk together once butter has melted to form a roux. Cook for about 3 minutes, whisking constantly.

Slowly add milk to the roux, starting with just a few tablespoons. Whisk it constantly so no lumps form. Keep adding milk in small increments until all your milk is added and your sauce is silky smooth. Turn your heat down to medium-low and continue to cook it until it thickens.

Whisk in cheeses into the sauce and season with salt and pepper.

Drain pasta and mix with peppers and tomatoes, then stir in cheese sauce.

Add macaroni to a buttered baking dish (2.5 quart or 9×13). Top with bread crumbs and bake for 30-35 minutes at 350 degrees.

Let cool briefly before serving.
Nutrition
Serving:
1
Plate
|
Calories:
696
kcal
|
Carbohydrates:
76
g
|
Protein:
30
g
|
Fat:
30
g
|
Saturated Fat:
18
g
|
Polyunsaturated Fat:
2
g
|
Monounsaturated Fat:
7
g
|
Trans Fat:
0.3
g
|
Cholesterol:
78
mg
|
Sodium:
669
mg
|
Potassium:
606
mg
|
Fiber:
4
g
|
Sugar:
10
g
|
Vitamin A:
1190
IU
|
Vitamin C:
8
mg
|
Calcium:
426
mg
|
Iron:
3
mg
Did you make this recipe?
Goat Cheese Macaroni
The Add-Ins
You could leave out the add-ins in this Goat Cheese Macaroni recipe if you wanted and still be left with a pretty rocking macaroni and cheese. But there's something about the deep flavor of the peppers and sun-dried tomatoes that works really well with the goat cheese.
Plus it's fun to roast peppers on a gas stove.
If you don't have a gas stove, you can also roast these guys on a grill or in a 450 degree oven for about 10 minutes.
You can also just buy the jarred peppers and use those.
If you do roast your own though, stick them in a bowl after they are nice and charred all over and cover them with plastic wrap. Let them sit and steam for about 10 minutes. That'll make them much easier to peel.
Then just start peeling off the skin of each pepper. It's okay if the peppers aren't 100% peeled.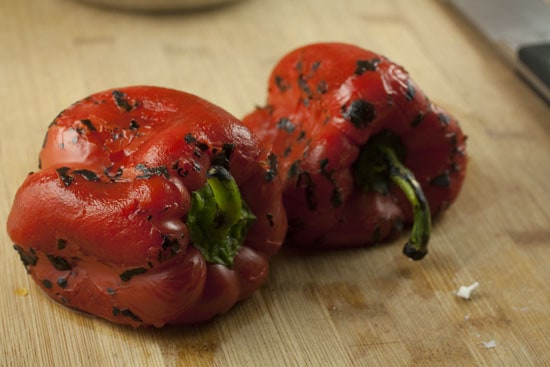 Then just remove the seeds and dice them up along with a few sun-dried tomatoes. I like to use the sun-dried tomatoes that are in oil for this recipe. If you use the dried ones, reconstitute them in some hot water for a few minutes before using them.
The Cheese Sauce
Besides the peppers and macaroni, the only thing left for this recipe is the cheese sauce. And let's be honest. It's the star of the show.
You'll need this stuff.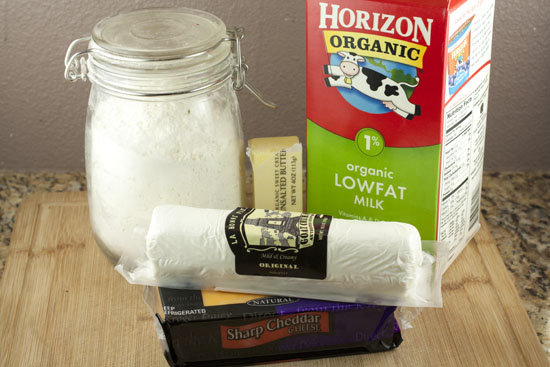 Start by adding the butter and flour to a medium pan and get it cooking over medium heat. It's probably a good idea to melt the butter first and then add the flour, but I like to live on the edge so I just threw them in together.
Once the butter melts, whisk the butter and flour together until it forms a paste (a roux to be specific and French). Continue to cook and whisk this paste until it turns a light brown color. This will probably take 3-4 minutes and you'll end up with something like this.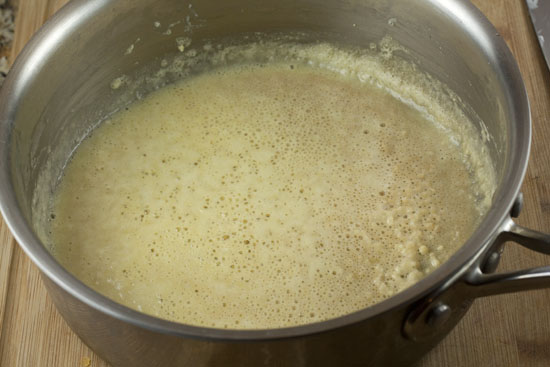 Then start to slowly add your milk. When I say slowly, I mean start with just a few tablespoons and whisk that in. Then add a few more and whisk whisk whisk. If you add to much milk at once, your roux will get lumpy which will lead to a lumpy sauce.
Nobody likes a lumpy cheese sauce.
So work slowly and after a few minutes you should have all your milk incorporated with the roux and you'll be left with a light gravy basically. Again, you could be French and refer to it as a Béchemel, but let's be real. It's gravy.
Once you have that part of the sauce done, you'll need some cheese. Goat cheese is the star of the show obviously, but I added in some grated cheddar also just to give it a more complex flavor.
Finishing the sauce is as easy as dumping all this cheese into the white sauce and continuing to whisk it until the cheeses are melted and smooth.
Then just season the sauce with salt and pepper and you're ready to make some serious mac and (goat) cheese.
Finishing the Mac and Cheese
Cook and drain whatever kind of macaroni you choose. I went with shells this time around, but you could use anything except those little wagon wheels.
I'm just kidding. You can use the wagon wheels. I have an irrational hatred of them for some reason.
Sorry. Getting sidetracked.
Add the peppers and tomatoes to the pasta and then pour on all of that delicious cheese sauce.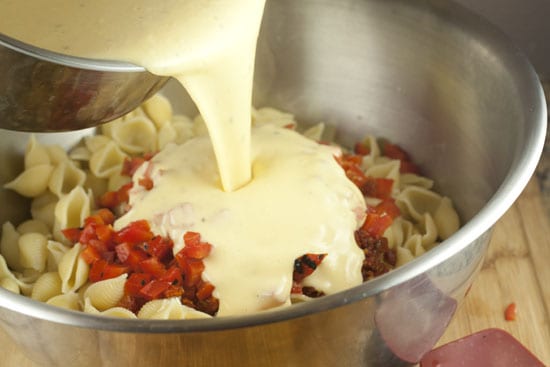 Stir this all together and feel free to serve it up like that if you like or you can take it to the next step.
The next step being to pour the mac and cheese into a buttered casserole dish, top it with bread crumbs, and bake it at 350 degrees for about 30 minutes.
The bread crumbs should crisp up a bit and give the dish some really nice texture.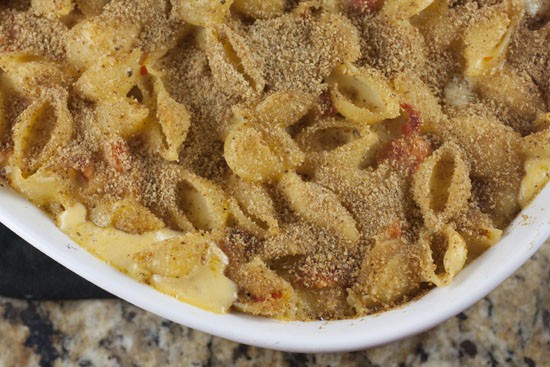 It's pretty hard to go wrong with goat cheese I guess, but that should just make you even more confident to throw it in random dishes with abandon.
Betsy and I ended up housing about half of this Goat Cheese Macaroni in one meal which, for the record, is a lot of macaroni and cheese.