I originally came up with these Yogurt Popsicles for quick snacks for my kids when they were very little, but it turns out that they have true staying power and are still a favorite in our house.
While the yogurt popsicles are intended to be a snack or even dessert, I find that you can enjoy one for a chill breakfast because of the fruit and cereal ingredients.
Another use for these yogurt popsicles is a healthy dessert after dinner! I feel so much better about giving the kids one of these than any other popsicle. They are packed with fruit and healthy yogurt with just enough honey to sweeten the treat.
Whether you have one for a chilled-out breakfast or use them as a dessert, these are easy to make and will be in my freezer often over the summer months.
The best yogurt for popsicles
I kind of go back and forth here for the best yogurt to use for popsicles. I find Greek yogurt to be a little too thick, but you could use it if it's all you have. Personally, I like full fat normal yogurt which blends easily and freezes into a creamy and smooth popsicle.
If you have a thicker yogurt, you can always add a little water to it while blending the mixture to thin it out to your desired thickness.
Can you use frozen fruit for these popsicles?
This is a no brainer in my book! If you can't find cheap, seasonal fruit then by all means use frozen fruit to make these easy. I would still thaw the frozen fruit and blend it into the yogurt like I do with the fresh fruit, but you won't notice a difference in taste or texture once everything is frozen.
My favorite popsicle molds
I've tried a bunch of popsicle molds over the years. My favorite molds are the ones where you have to insert the sticks separately. I don't really love the ones that come with their own plastic sticks just because if they break or get gross, you can't easily replace them.
So I just buy a boatload of wooden popsicle sticks and get a mold like this that you can easily add the sticks to.
Of course, you could use any popsicle mold you have though for these yogurt popsicles.
How to make the yogurt mixture
I supposed you could just plop all this stuff in popsicle molds and call it a day, but I wanted to make them pretty and so I spent a little extra time making different layers for my popsicles.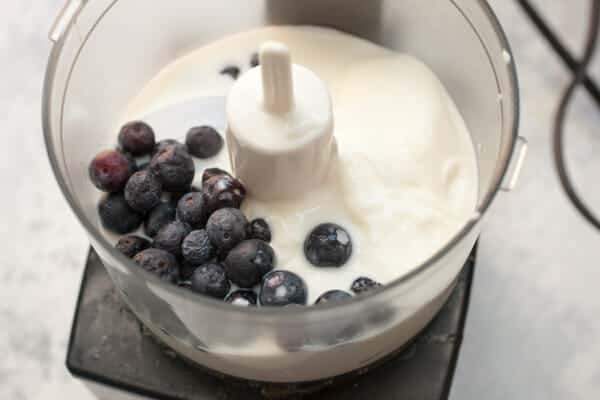 The first layer was just a mix of blueberries, yogurt, and milk. The milk is important to thin out the mix a bit and make a smooth puree.
Then do the same thing but with raspberries!
For the third layer, I just did a mixture of honey, yogurt, and milk.
If you don't have a mini food processor, you can also just roughly mash the stuff together in a bowl and stir the honey into the yogurt. The finished popsicles will just have more texture using that method, which some people might prefer!
Divide the layers up in your popsicle molds and top each one with some cereal or granola. You could also swirl the layers together if you wanted. This just kind of keeps the popsicle from dripping all over the place as you eat it. And it gives the popsicle some nice crunch!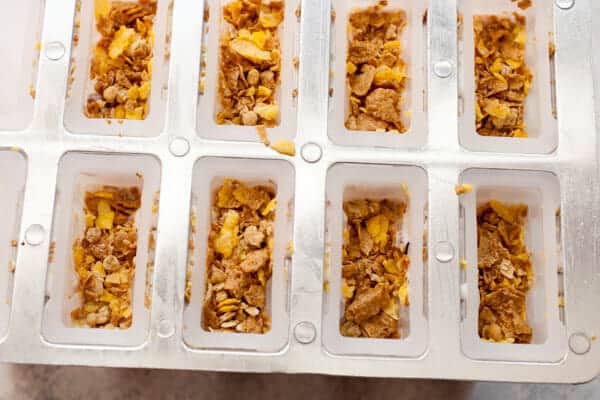 These guys are ready to freeze!
I just love how these yogurt popsicles turned out. The colors are great, they aren't too sweet, and they are easy to make.
Substitutions for these yogurt popsicles
The substitutions and ideas for these yogurt popsicles are many!
Change up the yogurt by substituting vanilla yogurt or strawberry yogurt.
Go crazy on the fruits. I would probably stick to two or three per batch, but you could use bananas, mango, pineapple or even coconut for a fun tropical popsicle.
During stone fruit season, add some really ripe peaches or cherries to the popsicles.
Change up the sweetner by using maple syrup or even a pinch of brown sugar to the popsicles.
Storage time for these popsicles
These yogurt pops store great for about three months once they are frozen. After that they start to pick up some off flavors in the freezer and the fruit can get a bit freezer burned. So make them and enjoy them while it is hot outside!
Popsicle season is a go!
Fruit and Yogurt Breakfast Popsicles
These simple popsicles have just a few ingredients and are great way to beat the summer heat during breakfast! I like them as a healthy dessert option for my kiddos also!
Ingredients
1 ½

cups

plain yogurt

¼

cup

blueberries

¼

cup

raspberries

2

tablespoons

honey

6

tablespoons

milk

Cereal
Instructions
Blend or roughly mash together 1/2 cup yogurt, blueberries, and 2 tablespoons milk. Repeat with 1/2 cup yogurt, raspberries, and 2 tablespoons milk. Then stir together 1/2 cup yogurt, honey, and last 2 tablespoons milk.

In popsicle molds, layer in blueberry mixture, honey mixture, and raspberry mixture. Top each popsicle with cereal.

Freeze popsicles until solid, probably 2-3 hours.

Serve either for breakfast or for a healthy chilled dessert option!
Nutrition
Serving:
1
popsicle
|
Calories:
55
kcal
|
Carbohydrates:
8
g
|
Protein:
2
g
|
Fat:
2
g
|
Saturated Fat:
1
g
|
Polyunsaturated Fat:
0.1
g
|
Monounsaturated Fat:
0.5
g
|
Cholesterol:
7
mg
|
Sodium:
26
mg
|
Potassium:
100
mg
|
Fiber:
0.4
g
|
Sugar:
8
g
|
Vitamin A:
67
IU
|
Vitamin C:
2
mg
|
Calcium:
71
mg
|
Iron:
0.1
mg
Did you make this recipe?
Here are a few other great fruit snacks for summer!