Salad is SO exciting, right?? Right?! *CRICKETS*
Maybe salad is boring to you, but besides mixing up what you put in your nightly side salads (you do have nightly side salads right?), I've found a topping that will seriously have you craving the veggies.
OR, it will lead you to sneaking these croutons out of the pantry by the handful, bypassing the salad delivery system entirely.
Seriously though… I can just eat lettuce and these croutons. They are addictive which could be because they have poppy seeds in them, but probably because they are just crunchy, salty, and perfect.
Everything Croutons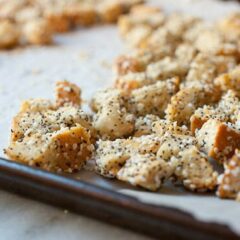 Everything croutons that use stale bread and a wonderful "everything" spice mix. Baked until crunchy and served on any salad!
Ingredients
4

cups

stale bread

,

cubed

1

egg white

2

tablespoons

sesame seeds

2

tablespoons

poppy seeds

1

tablespoon

dried flaked onion

1

tablespoon

dried flaked garlic

2

teaspoons

pretzel salt
Instructions
Preheat oven to 375 degrees F. Cube bread into 1/4-inch cubes.

Combine spice mix in a small bowl. Be sure to use flaked/minced onion and garlic. DON'T use garlic or onion powder. Also use pretzel salt, not kosher salt.

Toss egg white with bread cubes to coat well and then sprinkle in spice mix to coat well. You might not need all of it, but go heavy on it. The cubes should be well coated.

Bake the croutons at 375 degrees F. for 10-15 minutes until the bread is toasted lightly. Stir the croutons once halfway through.

When croutons are mostly crunchy and browned slightly remove from the oven. Let cool completely and store in an airtight bag for 1-2 weeks.
Nutrition
Serving:
1
cup
|
Calories:
149
kcal
|
Carbohydrates:
16
g
|
Protein:
6
g
|
Fat:
7
g
|
Saturated Fat:
1
g
|
Polyunsaturated Fat:
3
g
|
Monounsaturated Fat:
2
g
|
Trans Fat:
0.01
g
|
Sodium:
1311
mg
|
Potassium:
119
mg
|
Fiber:
2
g
|
Sugar:
2
g
|
Vitamin A:
6
IU
|
Vitamin C:
0.4
mg
|
Calcium:
112
mg
|
Iron:
2
mg
Did you make this recipe?
Everything Croutons: The Spice Mix
This is the exact same spice mix that's used for everything bagels although bagel shops will have their own blend. The ratio above is one that I liked.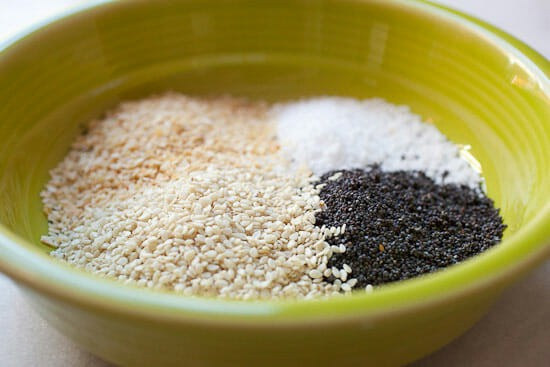 Two BIG notes on this spice mix:
1) You have to find slivered/minced dried onions and garlic. You can't use the powder or salt. You want the big chunks of dried onion and garlic. Anything else will completely overpower. If you can't find both garlic and onion, you can just up the amount of the other and use one of them without too much worry.
2) More importantly, you need to use a really coarse salt. Pretzel salt is the ideal. Kosher salt, my normal cooking salt, will not work. It's not coarse enough and your croutons will end up way too salty.
See the difference below?
You can find pretzel salt online or at specialty grocery stores. It's usually on the bottom row near the spices or just ask for it! It's probably the most important ingredient in this spice mix so I don't think it's optional unfortunately.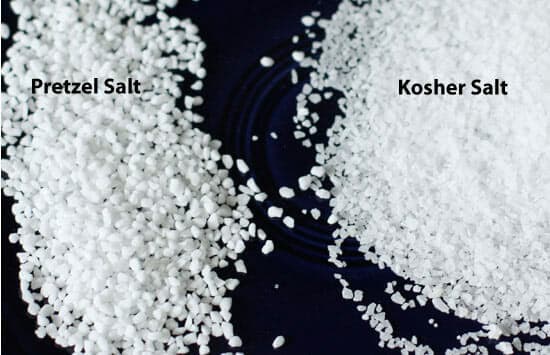 Bread and Eggs
You can use almost any bread for these croutons, but the sturdier and staler the better. I used half of an old baguette I had and just cubed it up. I wouldn't use anything super-flimsy like white Wonder bread just because it won't hold up to all the spices.
The big trick on this recipe is how to get all the spices to stick to the bread?!
Butter and oil won't work, even though that's what I would normally toss my croutons in.
Instead, go with an egg white!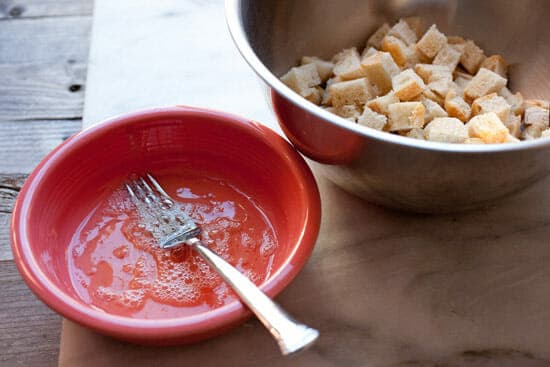 Toss the cubes in the egg white until they are evenly covered and then just sprinkle in your seasoning mix.
Use a liberal hand with the seasoning!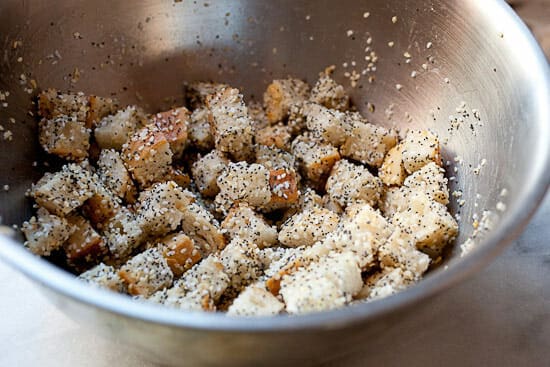 Bake these croutons at 375 degrees F. on a baking sheet. I like to line the baking sheet with parchment paper just to prevent sticking.
They will need to bake for 10-15 minutes until they are lightly toasted and crispy. Give them a stir halfway through also to make sure they are cooking evenly.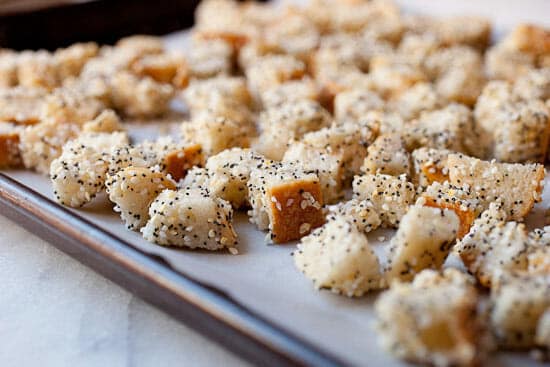 These guys are toasted and done.
Let the croutons cool completely and store them in an airtight container. They will keep easily for two weeks, but if you're like me, you'll eat them by the handful any time you walk by the pantry.
So they will last approximately 30 minutes.
Fix your salad game, people!