Is there anything more warming and delicious on a crisp, cold day than a big dish of eggplant parmesan? I think not. Of course, if you've ever made a traditional dish of eggplant parm, you know it can be a bit of a hassle!
That's why I love these eggplant parm flatbreads so much! They have all of the same flavors and textures but are relatively easy to make (these Eggplant Parmesan Roll-Ups are another great option for an easy alternative to the classic dish!). You don't have to worry about salting the eggplant because it's sliced so thin and while you do have to fry the eggplant still, it goes pretty quickly and the flatbreads are easy to make after that step.
I've made these flatbreads a few times for my fam and they are always a hit. Try them out and be sure to watch the below video I participated in showing all the #FlatoutLove!
Eggplant Parm Flatbreads
These are the perfect easy eggplant parmesan dish. Easier to make than the classic baked dish, but still has all the flavors!
Ingredients
1

large eggplant

,

sliced into 1/4-inch slices

3

large eggs

2

cups

all-purpose flour

1

tablespoon

kosher salt

1

tablespoon

dried basil

1

teaspoon

garlic powder

1

teaspoon

chili powder

16

ounces

mozzarella

,

grated

3

ounces

shredded parmesan cheese

1

cup

marinara sauce

Fresh basil

,

garnish
Instructions
Cut the eggplant into 1/4-inch slices. In a large bowl, stir together the flour and spices. In a medium bowl whisk together the eggs.

Dip each slice of eggplant in the eggs and then in the flour mixture. Transfer dredged eggplant to a plate or resting area.

Heat a large skillet over medium-high heat with about 1 cup of oil. You don't need a lot but there should be a nice layer on the pan.

Add eggplant slices in batches and fry for 2-3 minutes per side.

Remove eggplant slices and let drain.

Preheat oven to 425 degrees F.

Add flatbreads to a baking sheet and bake them for four minutes with nothing on them.

Remove from oven and top each flatbread with 1/4 cup marinara, mozzarella cheese, eggplant slices, a little more Parmesan cheese (don't overdo the cheese), and sprinkle with salt and pepper.

Bake for another 8 minutes.

Garnish with fresh basil, slice and serve!
Nutrition
Serving:
1
flatbread
|
Calories:
864
kcal
|
Carbohydrates:
87
g
|
Protein:
48
g
|
Fat:
36
g
|
Saturated Fat:
20
g
|
Polyunsaturated Fat:
2
g
|
Monounsaturated Fat:
10
g
|
Trans Fat:
0.01
g
|
Cholesterol:
231
mg
|
Sodium:
3392
mg
|
Potassium:
775
mg
|
Fiber:
8
g
|
Sugar:
8
g
|
Vitamin A:
1577
IU
|
Vitamin C:
7
mg
|
Calcium:
867
mg
|
Iron:
7
mg
Did you make this recipe?
Eggplant Parm Flatbreads
This is the kind of recipe I'd recommend to a novice fryer. Sure, you have to heat some oil, but you don't need buckets of it and the breading step is really easy.
Start by just mixing together the flour with the spices. It might look like a lot of spices, but it works. Trust me!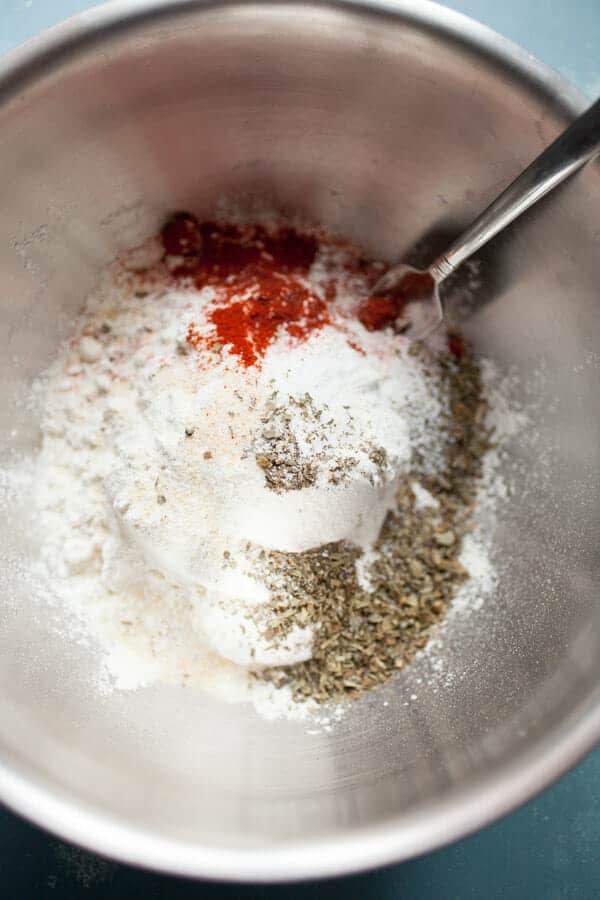 Normally when I make eggplant parm, I'll shoot for around 1/2-inch slices that are pretty meaty. Because these flatbreads really benefit by being thin, I went for a 1/4-inch slice which works better and cooks faster!
No need to salt the eggplant or anything. Dip the slices in the egg and then straight into the flour mixture. One coating is enough. You don't want a really thick coating on them.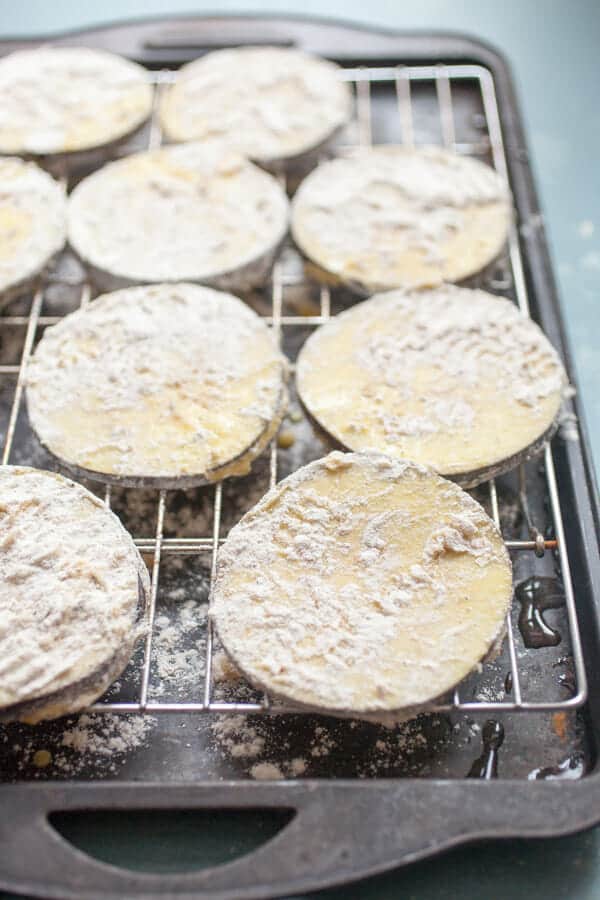 Then fry them in hot oil for about 3 minutes per side. They should get golden brown before flipping them. You don't need enough oil to completely cover the eggplant.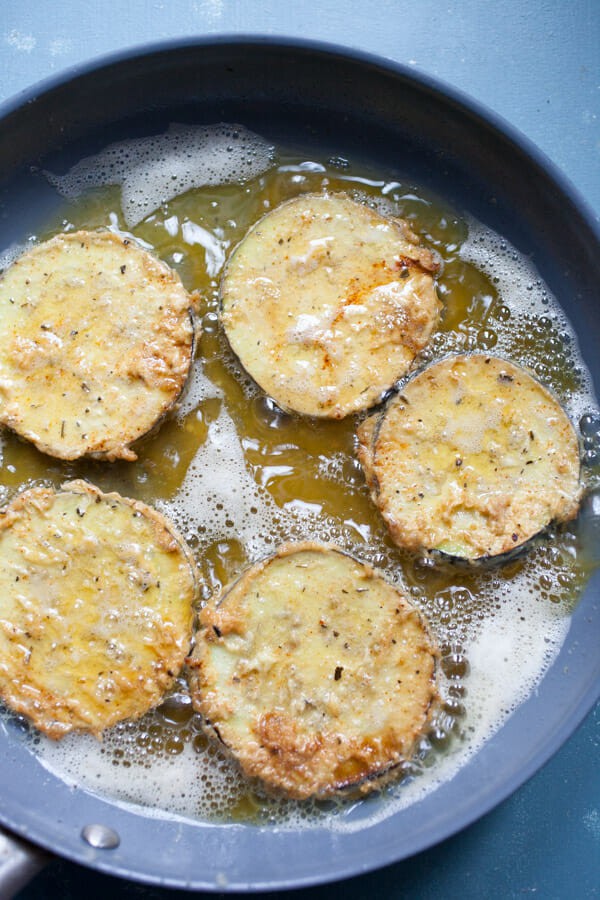 Okay! Once the eggplant is fried, let it drain for a bit on some paper towels and then time to make flatbreads!
A little marinara on each flatbread, some cheese, a few slices of eggplant, a little more cheese, and it's ready for the oven!
HINT: To make sure your flatbreads stay crispy, bake them for about 4 minutes before you top them.
HINT 2: Avoid the urge to over-top these. These are best when they are thin and crispy.
After you top the flatbreads, bake them for another 8 minutes or so until the toppings are bubbly hot and then garnish with fresh basil. YUM!
One of these eggplant parm flatbreads is a great meal, but you could also make a great hot appetizer out of these.
No matter what, you'll love them. PROMISE.