I love a big pot of pasta and sauce as much as the next half-blooded American Italian dude, but it can be hard to find the time to do it right. Good news! This Easy Turkey Ragu recipe (or turkey bolognese) is ready in under an hour, has tons of flavor, and is a bit healthier than a classic ragu made with pork and ground beef.
I was surprised how much flavor this turkey ragu ended up having, honestly. My family loved it and slurped it down piled high on spaghetti.
To up the flavor a bit, I recommend adding turkey bacon to the mix which gives some slight smokiness that is similar to a classic ragu but is a bit healthier. If I'm being honest, and I'm always honest, I'm not usually a fan of turkey bacon, but it works really well in this recipe.
Of course, if you wanted to substitute normal bacon or pancetta, I will lock arms with you and support you completely in that venture.
As with most Italian sauces, this turkey ragu keeps beautifully and reheats easily so feel free to make it in advance.
It freezes great as well so double it!
Turkey Ragu vs. Turkey Bolognese
There is a technical difference between these two sauces. Generally, a ragu has less tomato than bolognese. Personally, I think people use these pretty interchangeably today so you can call it either and I won't yell at you.
For me, it felt like more of a ragu than a bolognese, but there is no hard and fast rule here in my view. Call it what you want. I call it good food.
Turkey Bacon is the Key to Turkey Ragu
Normally for a meat sauce like this I would start by browning some pancetta or bacon as a good base layer for the sauce. It gives some smokiness and fat to the dish and just makes the flavors more interesting and complex.
I tried turkey bacon for this version and was surprised at how great it turned out.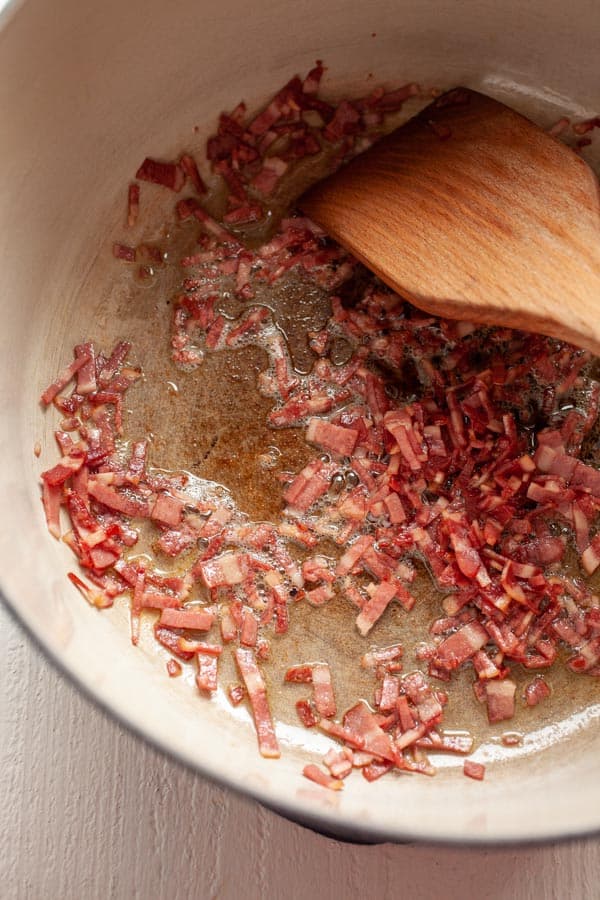 I'm not usually a fan of turkey bacon if I'm just eating bacon, but it folds into this turkey ragu recipe nicely.
One thing: turkey bacon is super lean. It needs some fat so add a good drizzle of olive oil as you cook it.
Making the Turkey Ragu Base
I kept the base for this turkey ragu very classic. Onions, carrots, celery, garlic. Add this to the bacon and let it cook down a bit in a large pot or dutch oven.
Boom.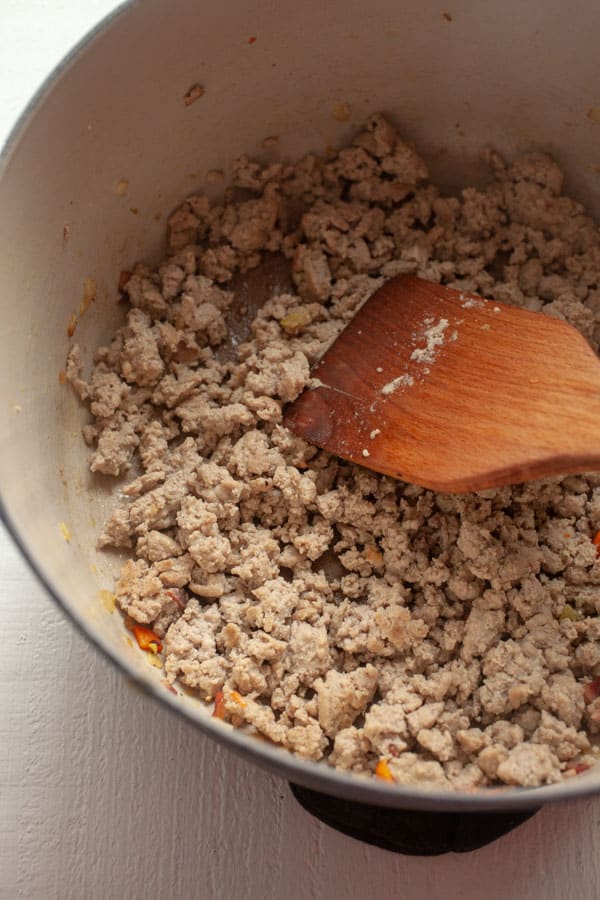 Then remove this mixture from the pot and you will probably be left with a fairly dry pot. Add a bit more olive oil to it and add the ground turkey. Again, ground turkey is very lean so it needs the extra fat. Trust me!
Finishing the Turkey Ragu
Once the turkey is cooked through (about 6-7 minutes), add the red wine just to deglaze the pan and then you can add in the veggie/bacon mixture back in. Plus, the marinara. YUM!Saucy!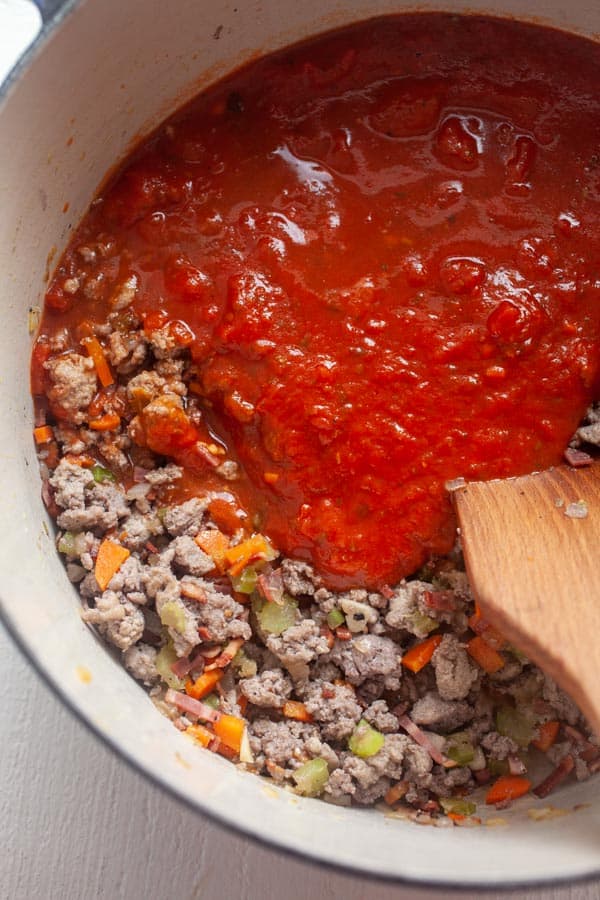 Simmer this all together for about 10 minutes and then taste it! It might need a pinch of salt and pepper but probably won't need much else.
Serve this turkey ragu in big scoops over cooked spaghetti or any pasta of your choice. Garnish it with parmesan cheese, as you do.
I was skeptical that I would like this turkey ragu, but it turned out better than expected and my family loved it.
Give it a shot!
Can you make this sauce in the slow cooker?
Sometimes ragu is easy to make in a slow cooker. I like to make ragu in a slow cooker if I'm using really hearty cuts of beef that need to cook for a while and break down completely before they are good in a sauce. For example, this beef ragu slow cooker version is an excellent example.
While you could pop all these ingredients in a slow cooker and it would 100% cook and be fine to serve, I think it's a bit unnecessary. The recipe takes less than an hour to make and it does benefit by cooking the ingredients differently so they all brown correctly. You couldn't do that in a slow cooker.
If you did want to cook it in a slow cooker, you will probably need to add an extra cup of liquid or crushed tomatoes to the mix so there is enough liquid to slow cook it. Good luck!
Easy Turkey Ragu
A bit lighter than a classic bolognese, this Easy Turkey Ragu recipe comes together in under an hour and is plenty flavorful! My secret to making it work: turkey bacon!
Ingredients
2

tablespoons

olive oil

4

ounces

turkey bacon

,

chopped

1

small white onion

,

diced

1

carrot

,

diced

2

stalks celery diced

2

cloves

garlic

,

chopped

1

teaspoon

dried thyme

1

pound

ground turkey

½

cup

red wine

28

ounces

marinara sauce

½

teaspoon

kosher salt

½

teaspoon

black pepper

1

pound

spaghetti

,

for serving

Fresh basil

,

garnish
Instructions
In a large pot or dutch oven, add 1 tablespoon olive oil over medium heat and chopped turkey bacon. Allow to cook, stirring regularly, for 6-8 minutes until bacon crisps up nicely.

Add onions, celery, carrots, garlic, thyme, salt, and pepper to the pot and continue to cook to allow veggies to soften, maybe another 3-4 minutes. Then remove the mixture from the pot.

Add 1 tablespoon of olive oil to the pot as it will probably be pretty dry and add ground turkey. Cook, breaking up turkey as it cooks, until turkey is completely cooked through, about 6 minutes. Add red wine to deglaze pan and scrape up any bits.

Stir in turkey bacon/veggie mixture and add marinara sauce. Stir to combine.

Bring mixture to a slight simmer, turn heat down to low, and simmer ragu for about 8-10 minutes. Taste and season with salt and pepper to your liking.

Serve ragu over cooked spaghetti and garnished with fresh basil.

Leftover turkey ragu will store well in the fridge for 5 days or you can freeze it in an airtight container for 4-6 months. Thaw on the stovetop in a pot with a little water.
Nutrition
Serving:
1
plate
|
Calories:
279
kcal
|
Carbohydrates:
15
g
|
Protein:
26
g
|
Fat:
12
g
|
Saturated Fat:
3
g
|
Polyunsaturated Fat:
3
g
|
Monounsaturated Fat:
6
g
|
Trans Fat:
0.01
g
|
Cholesterol:
60
mg
|
Sodium:
1320
mg
|
Potassium:
876
mg
|
Fiber:
4
g
|
Sugar:
8
g
|
Vitamin A:
2423
IU
|
Vitamin C:
13
mg
|
Calcium:
55
mg
|
Iron:
3
mg
Did you make this recipe?
Here are a few other great Italian Recipes!