One of my favorite things about blogging is seeing people that I've followed for years do awesome things. Case in point: Oh Sweet Basil! Cade and Carrian are an amazing duo and they make some seriously killer recipes. They like to describe their food as "Southern comfort with a little farm-to-table." That seems to make sense to me (and makes me hungry). I recently got my hands on their just-released cookbook and the first thing I had to try immediately were these Dijon Braised Chicken Thighs!
Chicken thighs are such an under-utilized cut (which is sort of nice because they tend to be cheap), but they are my personal favorite. If cooked right, the skin gets nice and crispy and they are almost impossible to overcook which isn't true for most other cuts of poultry.
This braised chicken thighs recipe treats them perfectly. Braising them keeps them juicy and the potatoes that cook in the same skillet are killer. Check out the full recipe below and check out their book!
Dijon Braised Chicken Thighs
These are comfort food at its best. Crispy chicken thighs braised in a Dijon sauce with potatoes. I could eat this every day. From the Our Sweet Basil Kitchen cookbook!
Ingredients
4-5

bone-in chicken thighs

,

skin on

1

teaspoon

kosher salt

Ground black pepper

⅓

cup

apple cider vinegar

¼

cup

Dijon mustard

2

cloves

garlic

,

minced

¼

cup

sugar

½

teaspoon

paprika

6

slices

bacon

,

optional

2

tablespoons

butter

1

small yellow onion

,

chopped

1 ½

pounds

yukon potatoes

,

chopped

1 ¼

cups

chicken broth

Fresh parsley

,

garnish
Instructions
Preheat oven to 450 degrees F. Season chicken thighs with salt and pepper.

In a bowl, stir together vinegar, garlic, mustard, sugar, and paprika.

In a heavy, oven safe skillet, cook bacon if you're using it until crispy over medium heat. When bacon is crispy remove to a plate with some paper towels to drain. Then chop. Pour off bacon grease, leaving 1 tablespoon in the skillet.

Return skillet to stove and turn heat up to medium-high. If you didn't use bacon, add 1 tablespoon of neutral oil to the skillet. Add the chicken, skin-side down, and reduce heat to medium-low. Cook for about 5 minutes until skin is golden brown. Flip and cook for another 5 minutes. Then remove chicken to a plate.

Add butter to skillet along with onion and cook until soft (3-4 minutes). THen add potatoes and cook for 4-5 minutes.

Nestle chicken pieces back in the skillet, skin-side up. Pour over sauce.

Bring mixture to a simmer on the stove, then transfer to the oven to braise for 40 minutes until chicken thighs are cooked through.

Remove from the oven and garnish with reserved bacon and parsley.
Nutrition
Serving:
1
plate
|
Calories:
724
kcal
|
Carbohydrates:
50
g
|
Protein:
33
g
|
Fat:
44
g
|
Saturated Fat:
15
g
|
Polyunsaturated Fat:
8
g
|
Monounsaturated Fat:
18
g
|
Trans Fat:
0.4
g
|
Cholesterol:
180
mg
|
Sodium:
1413
mg
|
Potassium:
1183
mg
|
Fiber:
5
g
|
Sugar:
18
g
|
Vitamin A:
440
IU
|
Vitamin C:
36
mg
|
Calcium:
60
mg
|
Iron:
3
mg
Did you make this recipe?
Tips for Making Braised Chicken Thighs
Here are a few tips for making good braised chicken thighs!
Make sure to buy bone-in and skin-on whole chicken thighs. They take longer to cook, but end up being more moist and are almost impossible to overcook.
Sear the chicken thighs before you start to braise them to promote browning.
Use homemade chicken stock if you have it, but the sauce in this particular recipe is so flavorful that it isn't 100% necessary.
Use a cast iron skillet for best searing and then you can transfer the same skillet straight to the oven to braise!
Dijon Braised Chicken Thighs
Get some nice big chicken thighs for this recipe. One thigh should be enough for a serving. Be sure to buy the ones with the bone-in still and the skin on. Season them really liberally with salt and pepper.
The sauce for this recipe is amazing. A simple mix of apple cider vinegar, mustard, paprika, and garlic. I think this would also be a great sauce on pork, but it goes well on chicken for sure.
The original recipe calls for crisping some bacon in the skillet as a first step. Hey, guess who forgot to get bacon at the store? THIS BLOGGER.
I'm sure that the recipe is even better with bacon because how could it not be?
But, it's also delicious without it as it turns out. The only real change is instead of browning the chicken thighs in the bacon grease, you'll have to add a drizzle of neutral oil to the skillet to help them brown. Let them cook for about five minutes per side so the skin starts to crisp up a bit.
Then remove the chicken (which is still basically raw at this point). Add the butter to the skillet along with the onion. Cook that for a few minutes and then toss in the potatoes.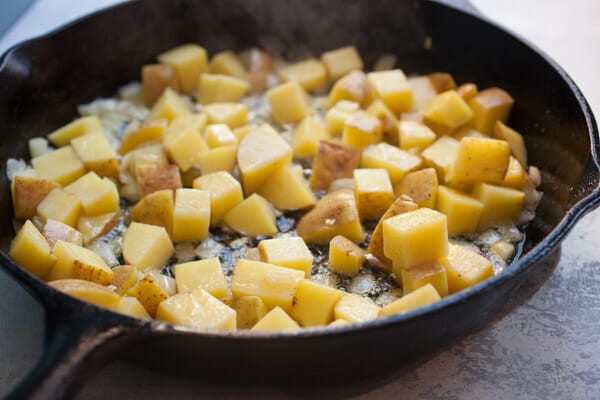 Cook those for a few minutes and then nestle the chicken thighs back in the skillet. Sauce time!
Add the chicken stock to the skillet and bring the mixture to a simmer. It'll look like a lot of liquid, but don't worry. It thickens nicely.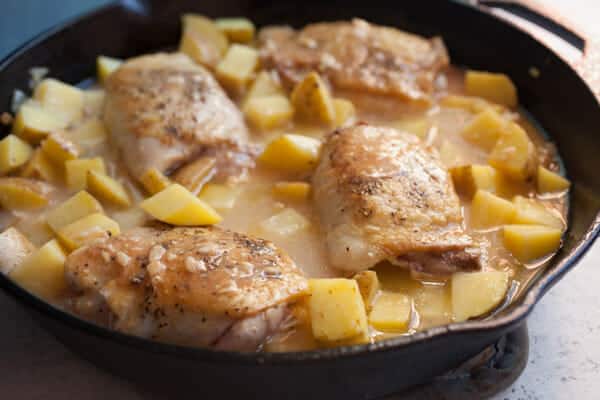 Bring the mixture to a simmer on the stove, but then transfer it immediately to a 450 degree oven to braise for about 40 minutes.
The flavors in this recipe are all some of my favorite. The apple cider and mustard are so savory and wonderful when they thicken up in the sauce.
This Dijon Braised Chicken Thigh recipe is one I'll make again, for sure.
Here are a few other great chicken thigh recipes!