Let's get this out of the way right up front: I don't really love egg salad. In fact, I'm not really sure I even like it. I like eggs (a lot) and I like salad (a lot), but I usually pass on them smashed together. (Except for this egg salad recipe)
That's exactly why I picked this curry egg salad recipe from Stephanie Le's (of I Am A Food Blog) new book, Easy Gourmet. This book is completely refreshing and I had a hard time picking what to make from it so I picked the thing I thought I might hate.
Turns out I still liked this one. Darnit.
Curry Egg Salad
Curry egg salad that's perfectly crunchy and savory with just enough curry spice. Served on simple toast always and forever.
Ingredients
2

large eggs

,

cooked

¼

cup

diced celery

,

1 stalk

2

tablespoons

scallions

,

1-2 scallions

2

tablespoons

mayonnaise

1

teaspoon

Dijon mustard

½

teaspoon

curry powder

Salt and pepper to taste

4

slices

toasted bread

Fresh arugula
Instructions
Add eggs to a pot and cover by at least an inch of cold water. Bring to a boil over high heat, cover, remove from heat, and let sit for 11-12 minutes.

Remove the eggs with a slotted spoon and transfer to an ice water bath to cool. When eggs are cool, gently crack and peel.

In a bowl, mix together celery, scallion, mayo, mustard, curry powder, and a pinch of salt and pepper. Add eggs and gently mash.

Serve egg salad on toast with fresh arugula.
Nutrition
Serving:
1
Sandwich
|
Calories:
318
kcal
|
Carbohydrates:
28
g
|
Protein:
12
g
|
Fat:
17
g
|
Saturated Fat:
3
g
|
Polyunsaturated Fat:
8
g
|
Monounsaturated Fat:
4
g
|
Trans Fat:
0.1
g
|
Cholesterol:
170
mg
|
Sodium:
455
mg
|
Potassium:
203
mg
|
Fiber:
3
g
|
Sugar:
4
g
|
Vitamin A:
371
IU
|
Vitamin C:
2
mg
|
Calcium:
109
mg
|
Iron:
3
mg
Did you make this recipe?
Cooking the Eggs
There's really only one cooking step to this salad: cooking the eggs. Stephanie gives the perfect technique. Essentially you just add a few eggs to a large pot and cover them with cold water. Put that over high heat and bring the pot to a simmer.
Once the pot is simmering, cover it, remove it from the heat, and don't touch it for 11-12 minutes!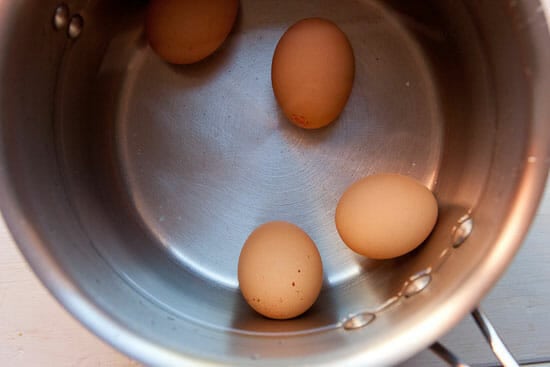 The nice thing about this salad is that you don't have to stress too much about peeling the eggs perfectly since you are just mashing them into a salad anyway.
If you do want to make for easy peeling though, it helps to use slightly older eggs. Some people think that it helps to add baking soda to the water, but that has been sort of debunked of late.
Instead, after the eggs have cooked, just transfer them to an ice bath to chill and then peel them to the best of your ability!
Curry Egg Salad Mixing
The thing I hate about egg salad is that it really does require a nice balance of crunchy, salty, and creamy to work well. This is a balance that many restaurants and pre-packaged egg salad makers completely demolish.
Stephanie nails the balance though. Lots of crunchy veggies and just enough dressing to hold everything together. Really do spend some time dicing the celery and scallion. No big chunks!
Stir that all together and then quarter the peeled eggs.
I like to add them to the salad and then just very lightly mash them in. You want nice chunks of egg in the salad, not a mushy situation.
These cooked perfectly, by the way.
In my personal opinion, the only way to eat egg salad (when I rarely eat egg salad) is on plain white toast. Stephanie recommends some fresh arugula so I tossed some of that on there also. Good choice.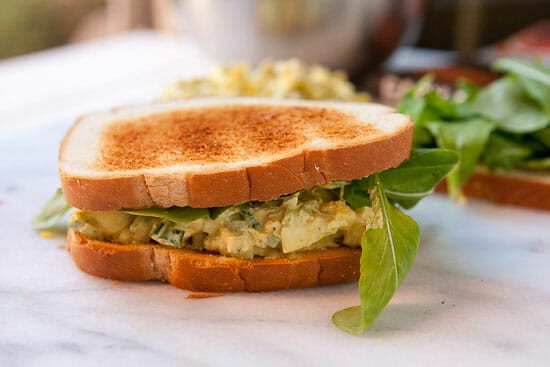 I think this recipe perfectly fits under the "Easy Gourmet" banner. It's far from a hard recipe, but just different enough to make it special and memorable.