The last two weekends Betsy and I have ventured out onto the ski slopes, one time in Steamboat Springs and one time up at our local slope. (Hard life… I know.)
I think it may be because skiing, for me, is basically a constant battle to not break major bones, but I'm always extremely exhausted after even a half-day on the slopes.
While the only thing I really want is something warm and homemade, the last thing I want to do is actually cook.
If there were a better time for a crockpot meal, I don't know it!
Our friends made this Crockpot Potato Soup for us when we visited them a few weeks ago (Thanks Heidi and Scott!) and I immediately reproduced it last weekend.
It's simple, warming, and perfect for after a long day at work or play.
Crockpot Potato Leek Soup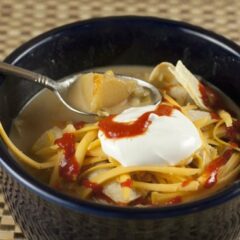 This is a super simple but hearty potato and leek soup that's designed to be ready after a hard day at work or outside in the cold.
Ingredients
3

pounds

new potatoes

,

about 4 large ones, washed and cubed

1

large leek

,

diced

2

stalks celery

,

diced

3

cloves

garlic

,

minced

2

bay leaves

1

teaspoon

red pepper flakes

1

teaspoon

dried thyme

1

quart

vegetable stock

,

plus you might need some water

½

cup

heavy cream

,

optional

Salt and pepper
Toppings:
Tortilla Strips

Sour Cream

Hot Sauce

Sriracha

Cheddar cheese
Instructions
Cube potatoes into 1-1 ½ inch cubes. It's okay to leave the skin on with new potatoes. If you use Russet, then peel them.

Add veggies to a crockpot along with spices.

Add vegetable stock and enough water to almost cover the ingredients.

Cover and cook on low heat for about 8 hours (or high heat for 5-6 hours)

When it's done, stir soup and season with salt and pepper. Stir in cream right before serving.

Serve with various toppings.

To make tortilla strips, just cut about 10 corn tortillas into long strips. Bake them at 350 degrees on a sheet pan for 15-20 minutes, stirring occasionally. Let them cool and they will get very crispy.
Nutrition
Serving:
1
Bowl
|
Calories:
263
kcal
|
Carbohydrates:
45
g
|
Protein:
6
g
|
Fat:
7
g
|
Saturated Fat:
5
g
|
Polyunsaturated Fat:
0.5
g
|
Monounsaturated Fat:
2
g
|
Cholesterol:
22
mg
|
Sodium:
660
mg
|
Potassium:
1018
mg
|
Fiber:
5
g
|
Sugar:
4
g
|
Vitamin A:
993
IU
|
Vitamin C:
47
mg
|
Calcium:
57
mg
|
Iron:
2
mg
Did you make this recipe?
Crockpot Potato Soup
Soup Basics
One great thing about this Crockpot Potato Soup is that while it can feed a crowd, it really just has a few bucks worth of ingredients.
In fact, you could just use a normal onion if you don't want to buy leeks. I decided to fancy it up a bit though.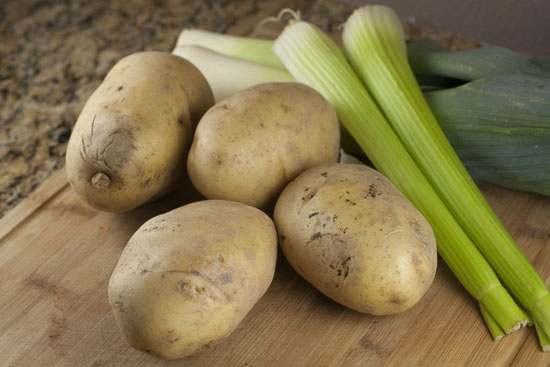 I like to use leeks in soups because they have that onion flavor but they aren't quite as strong so they won't overpower the soup.
The one thing about leeks is that they tend to get a lot of dirt between their layers. The easiest way to clean them is to chop off the root end and the stem end and then slice them in half down the middle.
Then you can run them under water and separate the layers so any dirt gets washed out.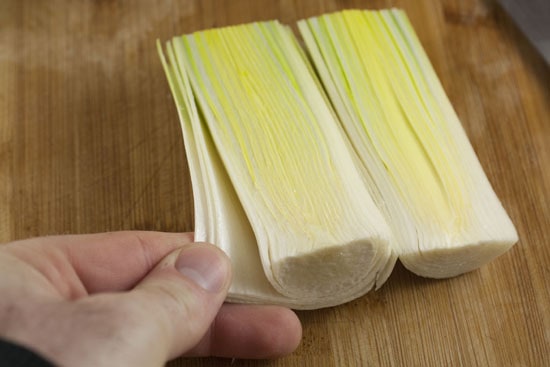 Then just dice them up like you would any other vegetable.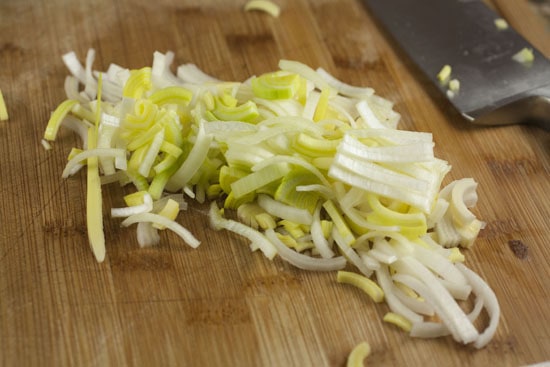 Starting the Soup
Since we are using a crockpot to make this rockpot Potato Soup, there really isn't that much prep to do. In just a few minutes you can have this soup ready to go.
Just toss everything in the crockpot along with all of the spices and everything.
For the liquid, I used vegetable stock, but you could just as easily use chicken stock. I would've used chicken stock if I had homemade available, but since I had to buy it I decided to just go the vegetable route.
One quart may not be enough, but just add enough water to almost cover the vegetables in the pot.
Then put on the lid and set it for low.
See ya in eight hours!
Finishing the Soup
There's nothing better than walking into a house where this soup has been cooking all day, especially if you are cold and tired!
All the veggies should be cooked through, but not soggy at all. At this point you'll want to season the soup with salt and pepper.
As an optional step, I like to add a bit of cream to my soup at the end to just make a bit more rich.
You don't need much cream to do the job, but it adds a nice touch in my opinion.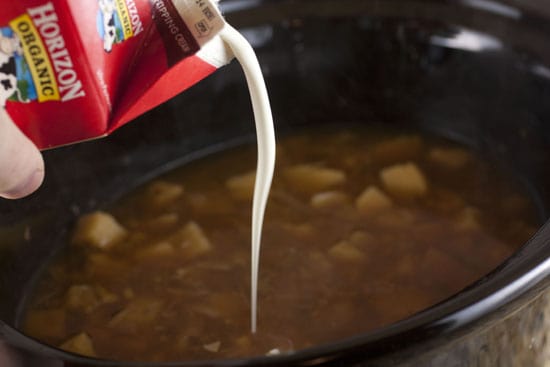 The Toppings
While you could just serve this Crockpot Potato Soup as-is or with some crusty bread, I decided to pull out some toppings to jazz it up.
All of these are pretty easy to get ready with the one exception being the tortilla strips. They are maybe my favorite soup topper of all time!
Just cut a few corn tortillas into long strips and then bake them on a sheet pan for about 15-20 minutes at 350 degrees. Stir them a few times and you'll end up with these crispy little things that go great on soup.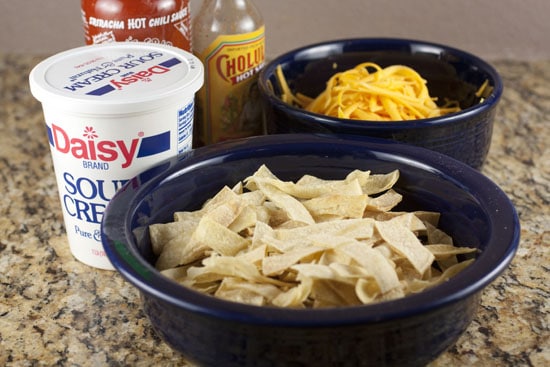 Serve up the soup with as many toppings as you can handle.
I, of course, use a pretty heavy hand with the Sriracha since my tolerance is basically through the roof at this point.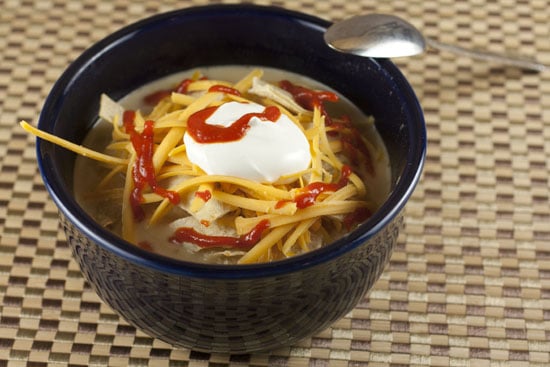 This Crockpot Potato Soup is the way to end a great day playing in the cold, but I also highly recommend if you have a long day at work or something (that you can predict).
The soup is simple and wonderful, but the toppings are my favorite part.