I'm about to say something that you might take issue with:
Pancakes don't need syrup.
Especially if it's not real syrup and just some sort of thickened sugar sauce, I would really rather not.
But even real maple syrup can drag on a stack after so many years. Sometimes it's nice to have a change in your pancake profile.
These Churro Pancakes are probably the most interesting stack of pancakes I've ever made. Not only are the pancakes themselves light and fluffy, but they are loaded with cinnamon (cinnamon challenge levels of cinnamon) and topped with a chocolate sauce with cayenne pepper that will perk up your taste buds just enough to want more.
A chili cinnamon sugar tops the whole stack because I couldn't help myself.
Churro Pancakes
Sweet and spicy pancakes laced with cinnamon inspired by the Mexican Churro dessert. Perfect for a sweet breakfast, brunch or dessert!
Ingredients
1 ½

cups

all-purpose flour

1 ½

cups

whole wheat flour

¼

cup

sugar

1

tablespoon

cinnamon

1

tablespoon

baking powder

1 ½

teaspoon

baking soda

1

teaspoon

salt

3

large eggs

3

cups

milk

¼

cup

unsalted butter

,

melted and cooled
Spicy Chocolate Sauce:
12

ounces

semi-sweet chocolate chips

1

cup

heavy cream

4

tablespoons

unsalted butter

2

teaspoon

cinnamon

1

teaspoon

cayenne pepper
Chili Cinnamon Sugar:
¼

cup

sugar

2

teaspoons

cinnamon

1

teaspoon

chili powder
Instructions
Stir together ingredients cinnamon sugar and set aside. For chocolate sauce, stir together ingredients in a metal bowl over a simmering pot of water. Let sit until chocolate melts and stir together. Keep warm over low heat and a double boiler until needed, stirring occasionally.

Alternatively, you can also melt the chocolate sauce in the microwave in 20 seconds bursts until it's smooth and melted.

For pancakes, stir together dry ingredients and spices in a large bowl. Whisk milk, eggs, and melted butter separately. Then whisk liquid stuff into dry ingredients. If batter is super thick, add more milk.

Heat a griddle or skillet over medium. Add a small dab of butter or a drizzle of nonstick spray. Once hot, add pancakes in ⅓ cup measurements and cook them for 3-4 minutes on the first side until bubbles show on top of the pancakes and the edges start to pull up slightly.

Flip pancakes and cook for another 1-2 minutes on the second side.

Serve pancakes while warm drizzled with spicy chocolate sauce and sprinkled heavily with the cinnamon sugar mixture.

If you want, you can keep cooked pancakes warm in a 200 degree oven while you make the others and then serve them all together.
Nutrition
Serving:
1
Pancake
|
Calories:
502
kcal
|
Carbohydrates:
52
g
|
Protein:
9
g
|
Fat:
29
g
|
Saturated Fat:
17
g
|
Polyunsaturated Fat:
1
g
|
Monounsaturated Fat:
8
g
|
Trans Fat:
0.3
g
|
Cholesterol:
93
mg
|
Sodium:
488
mg
|
Potassium:
372
mg
|
Fiber:
5
g
|
Sugar:
24
g
|
Vitamin A:
823
IU
|
Vitamin C:
0.3
mg
|
Calcium:
195
mg
|
Iron:
4
mg
Did you make this recipe?
Churro Pancakes
Basic Pancakes
The base for Churro Pancakes is a pretty straightforward pancake recipe with two changes:
First, I used half whole wheat flour. I think this gives the finished pancakes a slightly nutty flavor and also keeps them a deeper color.
Second, I tossed in a heaping tablespoon of cinnamon. It isn't a typo.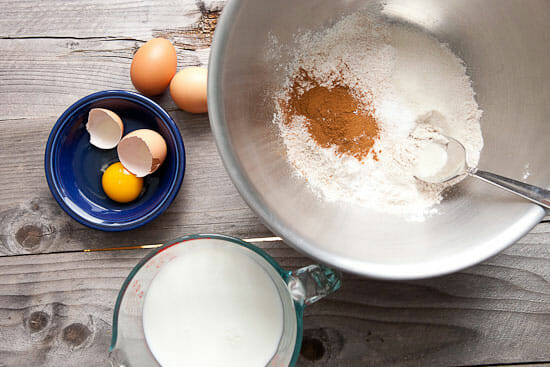 You could use buttermilk for the pancakes but it really isn't necessary since cinnamon is the major flavor here.
Mixing the batter is pretty easy. Stir together the wet stuff and dry stuff separately and then stir the wet into the dry. It shouldn't be a really thick batter. If it is, add a bit more milk to thin it out.
Let the batter sit for a bit while you make the other toppings.
Spicy Chocolate Sauce
You have two options for making the chocolate sauce. Note that I didn't say that making the chocolate sauce is optional. It definitely is not.
I prefer to melt the ingredients together in a medium metal bowl over a pot of simmering water (double boiler). This pretty much ensures that the chocolate will melt gently and not overcook.
You could also microwave the mixture in short 15-20 second pulses until it's creamy, but do be careful if you do it that way as you can overheat it and then the chocolate will seize up.
This is what you're going for.
Also, stir together some sugar, cinnamon, and chili powder in a small bowl to sprinkle on the Churro Pancakes later.
Cooking the
Churro Pancakes
I like to cook my Churro Pancakes on a griddle over medium heat but you could use any skillet you have. Add a small dab of butter to the pan and once it's melted, pour on your pancakes in 1/3 cup measurements, which makes a medium sized pancake.
Let them cook for 3-4 minutes until bubbles form on the surface and the edges of the pancakes start to pull up a bit. Then give it a confident flip!
Cook for another minute or two on the second side and then stack up the pancakes!
If you want to, you can keep cooked pancakes warm in a 200 degree oven so you can serve them all at once.
Don't forget to drizzle on that chocolate sauce!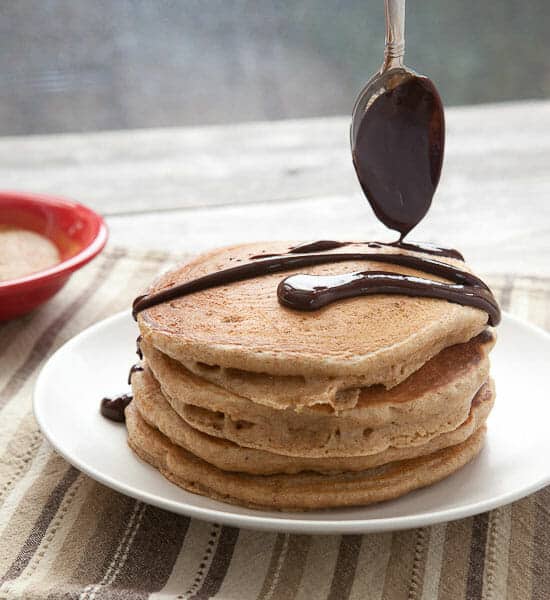 You might think that these Churro Pancakes are super filling and they are decadent, but I actually found them to be not as filling as a syrup soaked stack. The cinnamon is light and the spice in the sauce is just the perfect addition.
Okay. Enough said. You want these already.