Have you ever made enchiladas at home, sat down to eat them, and thought, "These are good, but they are missing something."
It just seems like really good restaurant enchiladas are somehow more flavorful than the enchiladas that most home cooks make.
Well, guess what? This post contains the secret.
The secret is this crazy addictive stuff called chili gravy that is half enchilada sauce, half brown gravy, and 100% amazing. You could make enchiladas out of soggy cardboard as long as you drenched them in enough of this stuff.
You could slather this stuff on any enchilada, but it really shines in a very basic cheese enchilada. No need to get fancy when you have the gravy on hand.
Chili Gravy Enchiladas
This recipe lets you in on the secret to restaurant quality enchiladas! I keep it simple and yummy with peppers and gooey cheese!
Ingredients
Chili Gravy:
¼

cup

vegetable oil

¼

cup

all-purpose flour

1

teaspoon

black pepper

1

teaspoon

kosher salt

2

teaspoons

ground cumin

2

tablespoons

chili powder

1

teaspoon

paprika

1

teaspoon

dried oregano

½

teaspoon

cayenne pepper

2

cups

beef stock

12

corn tortillas

¼

cup

vegetable oil + 1 tablespoon

2

peppers

,

various, sliced thin

½

onion

,

diced

3

cups

cheddar cheese

,

grated
Instructions
In a medium pot, whisk together vegetable oil and flour for the gravy over medium heat. Keep whisking until the mixture turns a light, tan color, about 5 minutes.

Whisk in all the spices and cook for another 30 seconds. Then start whisking in beef stock in a thin stream. Once stock is whisked in, bring gravy to a slight simmer and cook until it thickens nicely, about 2-3 minutes, whisking occasionally.

To make enchiladas, Slice peppers and grate cheese. Add peppers to a large skillet with a drizzle of olive oil over medium high heat. Add diced onions (reserve a few tablespoons for top of enchiladas) and a pinch of salt. Cook until veggies are just soft, about 2-3 minutes. Remove from heat.

Add 1/4 cup oil to a large skillet over medium heat. Working with one tortilla at a time, let it heat in the oil for 5-10 seconds per side. Then remove tortilla and let drain on a paper towel. Repeat with all the tortillas.

Once all tortillas are warmed and flexible, work with one at a time. Fill it with some of the peppers and onions and a small handful of cheese. Roll it tightly.

Lightly oil an 9×13 baking dish and pour in 1/2 cup of the chili gravy. Then add rolled enchiladas to the baking dish. Fit as many as you can. You should be able to fit 12 at a minimum.

Pour most of the chili gravy over the top of the enchiladas once they are all in the pan. It's okay to reserve some gravy to serve on the side later. Cover enchiladas with leftover cheese and onions.

Bake for 15 minutes and then let cool briefly before serving.
Nutrition
Serving:
3
enchiladas
|
Calories:
716
kcal
|
Carbohydrates:
51
g
|
Protein:
29
g
|
Fat:
46
g
|
Saturated Fat:
19
g
|
Polyunsaturated Fat:
10
g
|
Monounsaturated Fat:
10
g
|
Trans Fat:
0.1
g
|
Cholesterol:
85
mg
|
Sodium:
1479
mg
|
Potassium:
684
mg
|
Fiber:
8
g
|
Sugar:
4
g
|
Vitamin A:
2623
IU
|
Vitamin C:
49
mg
|
Calcium:
709
mg
|
Iron:
4
mg
Did you make this recipe?
Chili Gravy Enchiladas
The Sauce
The base of the chili gravy is a simple roux. You need a fair amount of it to get the right consistency so start with about 1/4 cup of fat (I used vegetable oil) and 1/4 cup flour. Whisk this together over medium heat for 4-5 minutes until it's turning a light tan color.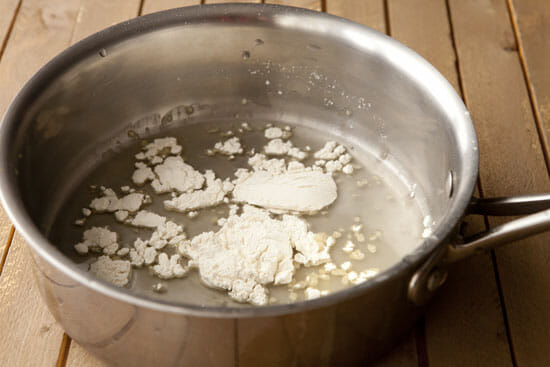 Meanwhile, you can prep your spices.
Almost all of the flavor in this dish comes from this gravy so the spice levels are intense. Just go with it.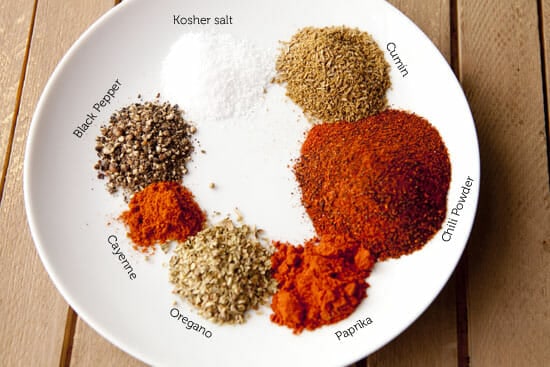 Once your roux is the right color, whisk in all those lovely spices. Your house will immediately smell like a taco shack. This is a good thing.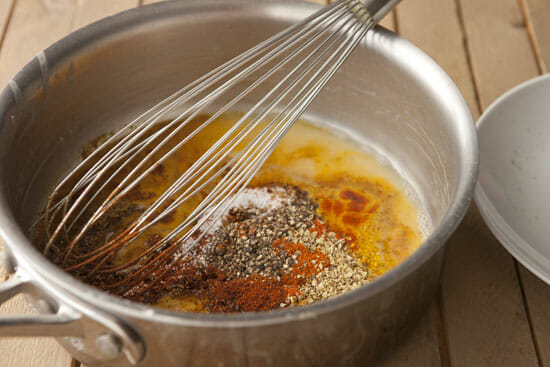 Let the spices cook and get happy for 30 seconds and then start whisking in the beef stock (you could use veggie stock). As it heats, the gravy will thicken. The finished gravy shouldn't be super-thick, but it should coat a spoon lightly.
Go ahead and taste it at this point. It'll be really strong, but you'll probably go back for more.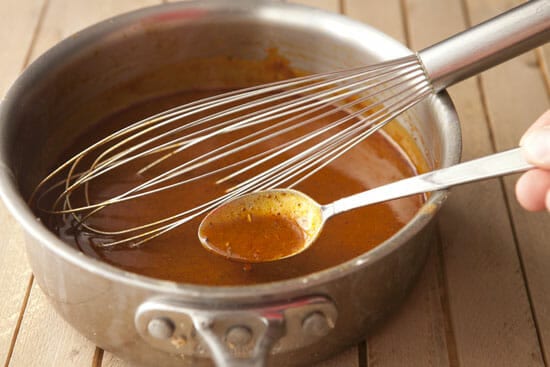 Once the gravy is done, you can take it off the heat. No need to keep it warm.
Making the Chili Gravy Enchiladas
You could honestly just wrap some tortillas around cheese, slather them in the gravy and call it a day, but I wanted to add some other colors and textures to my enchiladas.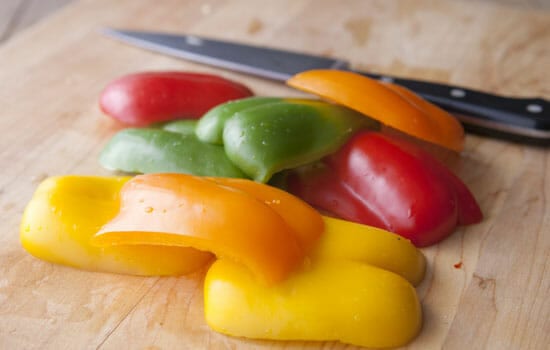 I just sliced a few different peppers really thinly and diced up an onion. I cooked those over medium heat with a drizzle of oil and some salt until they were tender, but not completely cooked, about 3-4 minutes.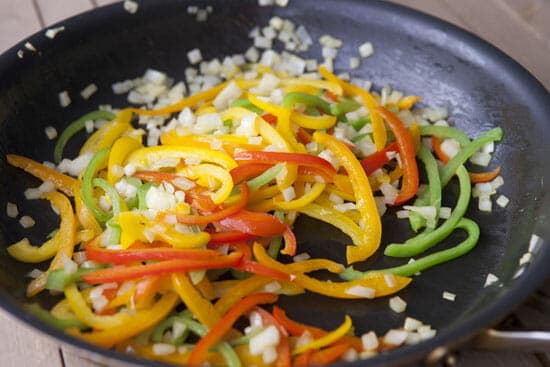 Then I heated some oil in a small skillet (1/4 cup, say) and once hot, I warmed my tortillas in the oil for just 5-10 seconds per side. You don't want them to cook at all, just get warm and flexible in the oil. Once the tortillas are warmed let them drain on a few paper towels and do all the tortillas before you start making the enchiladas.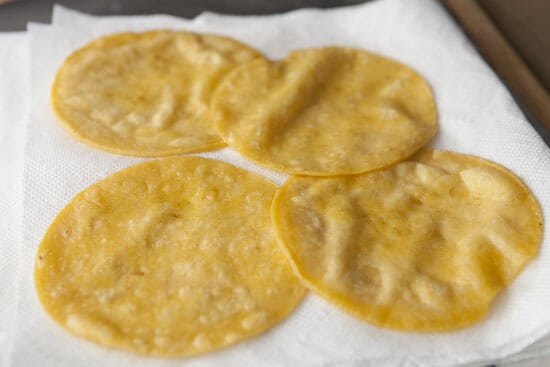 Then it's as easy as filling each tortilla.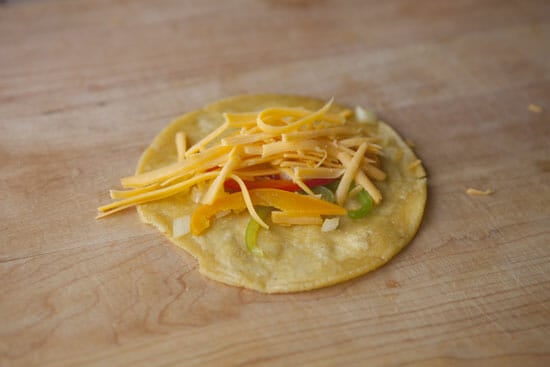 Rolling it up!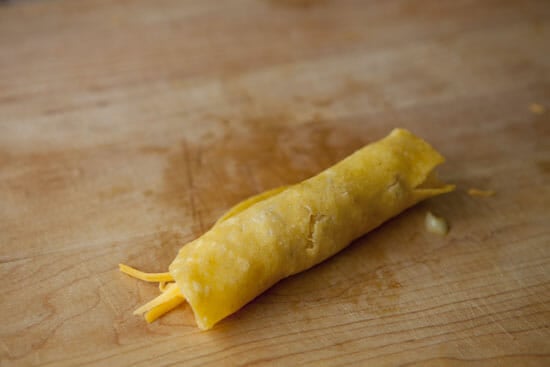 And piling them in a baking dish!
Be sure to lightly oil your baking dish and pour about 1/2 cup of chili gravy in the bottom.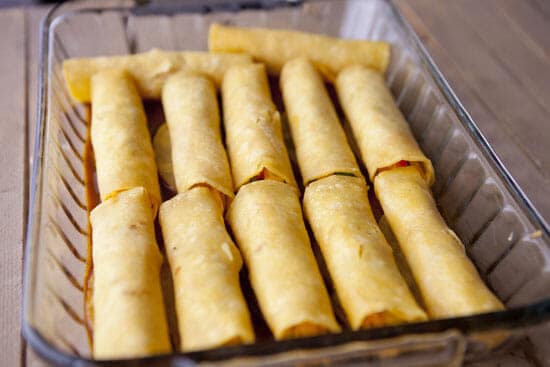 Then pour on the rest of your gravy, the rest of your grated cheese and a smattering of diced onions. If you want you can also reserve some of the gravy to serve on the side.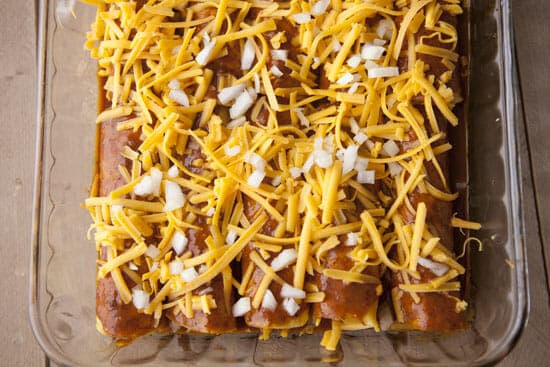 This will only need to bake for about 15 minutes at 400 degrees F. You just want to heat everything through and make sure the cheese is bubbly.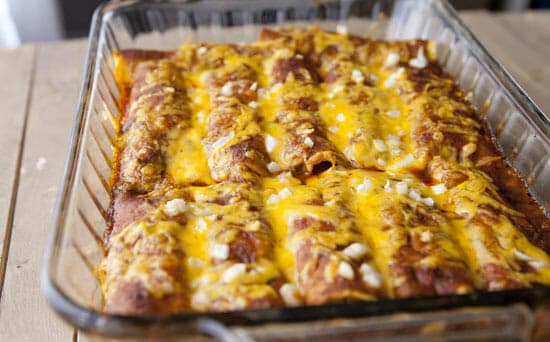 These tasted super-authentic.
I'll be hard pressed to not make this gravy every time I make enchiladas now.
Now you know. That brown sauce on your enchiladas is pretty easy to make at home.
Chili gravy enchiladas will change your Tex-Mex life.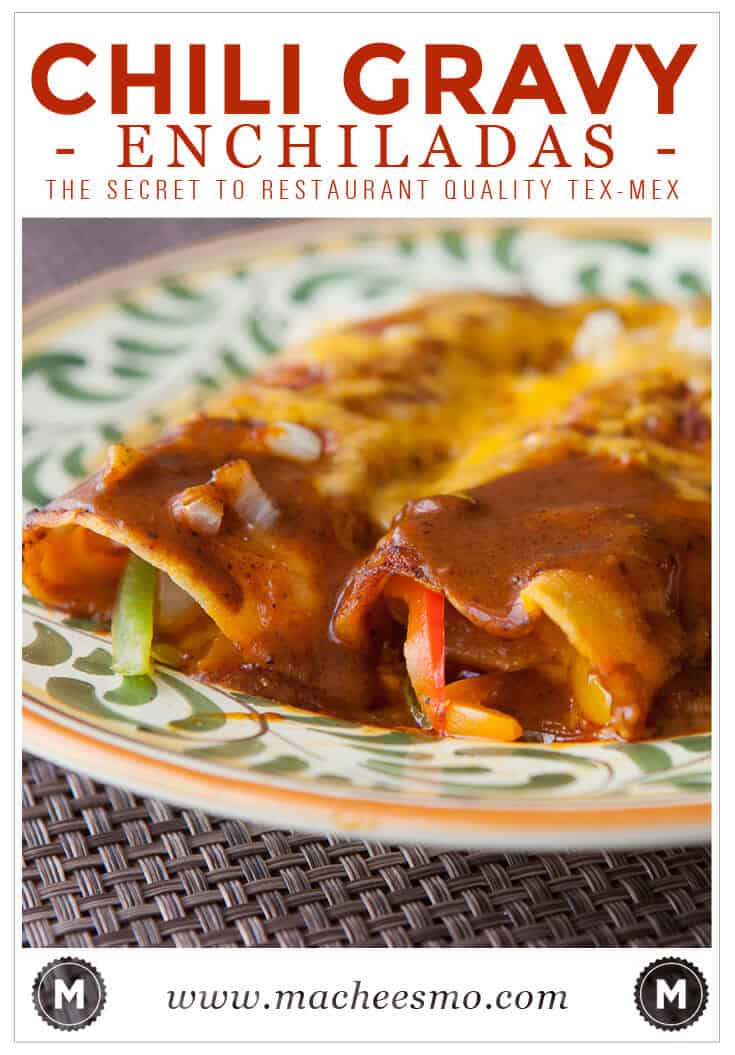 A few other Tex-Mex recipe ideas!