"Are they too spicy? They have to be too spicy…"
That was my first question to Betsy when we sat down to eat these bad boys last weekend. I was almost positive that the chipotle peppers would completely over-power every other thing in the dish.
But no.
After a few chews, I got a reply from my official Macheesmo taste-tester and wife:
"Nope! Delicious!"
Of course they are. They have cheese in them. And they are creamy. And spicy. What's not to love?
Cheesy Chipotle Eggs
Rich scrambled eggs with chipotle peppers and cheese folded in. Perfect way to kick off a brunch!
Ingredients
8

large eggs

2

Tablespoons

sour cream

,

or crema mexicana

2-3

chipotle peppers

,

de-seeded and minced

1-2

Tablespoons

adobo sauce from Chipotles

3

Tablespoons

butter

1 – 1 ½

Cups

shredded cheese

Pinch

of salt and pepper
Instructions
Slice chipotle peppers down the center and scrape out seeds. Dice peppers.

Whisk eggs with sour cream, peppers, and adobo sauce. Don't worry about the sour cream smoothing out completely. There might be lumps.

Add butter to a pan over medium-high heat and add eggs. Stir frequently and cook until eggs start to firm up and clump together, about 2-3 minutes.

Turn heat down to low and continue to stir.

When eggs are about 2/3s cooked, add the cheese and stir.

When eggs are cooked and cheese is melted, season with salt and pepper and serve immediately.
Nutrition
Serving:
2
Eggs
|
Calories:
440
kcal
|
Carbohydrates:
5
g
|
Protein:
27
g
|
Fat:
35
g
|
Saturated Fat:
18
g
|
Polyunsaturated Fat:
3
g
|
Monounsaturated Fat:
11
g
|
Trans Fat:
0.4
g
|
Cholesterol:
409
mg
|
Sodium:
1405
mg
|
Potassium:
193
mg
|
Fiber:
1
g
|
Sugar:
2
g
|
Vitamin A:
1258
IU
|
Vitamin C:
0.3
mg
|
Calcium:
417
mg
|
Iron:
2
mg
Did you make this recipe?
Prepping the Eggs
It's pretty common to put some milk or cream in with your scrambled eggs to keep them nice and fluffy. Recently, I've been putting a few dollops of sour cream, or crema mexicana, in with them. As the eggs heat, the cream kind of melts and leave the eggs with a really rich and silky texture.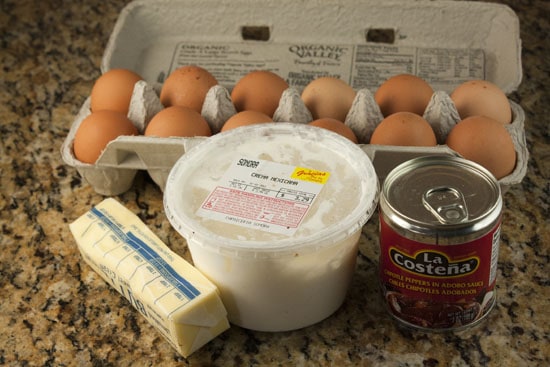 The other key ingredient with these eggs is the chipotles. Be sure to get the ones in Adobo sauce because that sauce is like liquid gold. These peppers are messy and spicy but worth the work. They add an almost smokey flavor to the eggs that's really amazing.
For each pepper, slice it down the middle and scrape out the seeds. Then dice up the pepper. I like to add a good dollop of the adobo sauce to the eggs also.
Whisk the eggs together with the sour cream and chipotle stuff. There will be some chunks of peppers and you won't be able to whisk in the sour cream completely. That's okay though. Don't worry about it right now.
Cooking the Eggs
I've gone back and forth on the best way to cook scrambled eggs. Sometimes I like to cook them on really low heat, like I would scrambled eggs, but I've been playing around with different methods since then.
This method, which I borrowed from the latest Cook's Illustrated, involves starting the eggs at a fairly high heat (like medium high) and then once they eggs start to cook, you turn the heat way down to low.
This worked pretty well.
When you add your eggs to the pan, add the butter to it as well. The butter will melt into the eggs which is awesome.
The benefit of starting the eggs over a high heat is that A) it doesn't take forever to cook and B) the eggs clump better so you get a more solid egg finished process. This is a good process for a dish like this where we have some add-ins and cheese and stuff.
As you can see, over the high heat, my eggs start to cook pretty quickly.
Don't worry about those bits of sour cream that are floating around. As the eggs cook, they will gently melt into the eggs which is a lovely thing.
Once your eggs start to cook and clump together, turn the heat way down to low and continue to stir eggs. When they get mostly cooked, feel free to toss in as much cheese as you want!
Stir stir stir for another minute or two to let the eggs finish cooking and the cheese melt completely.
Then season the eggs with salt and pepper and you're ready to rock!
I just served these guys with some nice bacon and it was a really great breakfast.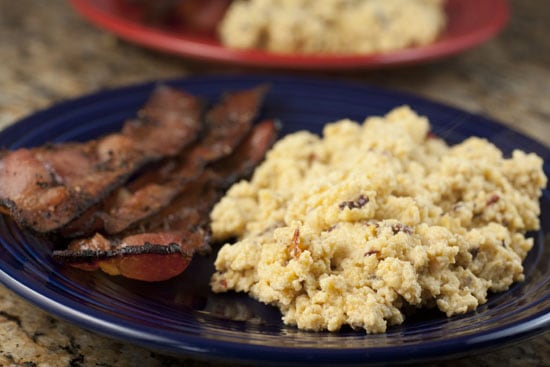 I'm pretty picky when it comes to scrambled eggs. I normally don't even bother ordering them in restaurants because I'm usually not happy with them.
I guess you could call me an egg snob.
But these passed my test. They have the perfect amount of spice and cheesy flavor throughout. They would be perfect for a Tex-Mex themed brunch!