Some people think that the best part about pie is the filling, but I'm much more of a crust guy. To me, a good crust makes a good pie. If the filling sucks, whatever, I'll just scoop it out and eat the crust. These Cheddar and Green Onion Scones remind me of the best savory crust ever.
That's why scones are the best thing ever invented because they are essentially pie crust filled with more pie crust. Just crust on crust on crust.
AND they are easier to make than pie crust because there's no intense rolling process. Adding a huge amount of cheddar and green onions to the dough before you bake it just ups the levels of deliciousness.
The only sad thing about these Cheddar Scones is that they don't keep very well so eat them immediately so just eat them right away. Probably not an issue!
Cheddar and Scallion Scones
Savory scones stuffed with grated cheddar and fresh scallions. Easy to make for a brunch or breakfast and guaranteed to impress!
Ingredients
2

cups

all-purpose flour

2

teaspoons

baking powder

2

teaspoons

sugar

1

teaspoon

kosher salt

6

tablespoons

unsalted butter

,

cubed

2

cups

grated cheddar cheese

¼

cup

chopped scallion greens

,

1 bunch

¾

cup

heavy cream + some for brushing
Instructions
Preheat oven to

425

°F

. Grate cheese and chop scallion greens.

In a medium bowl stir together flour, baking powder, sugar, and salt. Cube cold butter and use your fingers to mash it into the flour mixture until it's in pea-sized pieces. You can also use a pastry cutter, but I just use my hands.

Stir in cheddar cheese and scallions and then add in cream. Stir until the dough is in a flakey ball. Knead dough a few times.

Turn out dough onto a lightly floured surface and once dough is in a ball, roll it into a disk about 7-8 inches in diameter. It should be 1/3-1/2 inch thick. Then cut into eighths.

Transfer scones to a baking sheet line with parchment paper and brush scones with cream.

Bake scones for 20-22 minutes at

425

°F

until they are flakey and browned on top.

Let scones cool briefly before eating.

These scones are best right away but you can heat them for a few minutes in a 350 degree oven.
Nutrition
Serving:
1
scone
|
Calories:
385
kcal
|
Carbohydrates:
27
g
|
Protein:
11
g
|
Fat:
26
g
|
Saturated Fat:
16
g
|
Polyunsaturated Fat:
1
g
|
Monounsaturated Fat:
6
g
|
Trans Fat:
0.3
g
|
Cholesterol:
76
mg
|
Sodium:
589
mg
|
Potassium:
79
mg
|
Fiber:
1
g
|
Sugar:
2
g
|
Vitamin A:
874
IU
|
Vitamin C:
0.1
mg
|
Calcium:
281
mg
|
Iron:
2
mg
Did you make this recipe?
Cheddar and Green Onion Scones
There's only two add-ins for these scones and you want a lot of both of them: Cheddar and green onions (scallions). You could also use chives, but I like scallion greens.
Could you leave either of these out? Sure… I guess. But they really do take the scones to another level.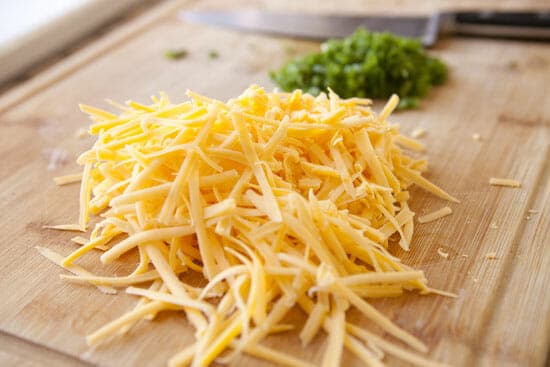 Once those are ready to go you can toss together the actual scone dough.
Like I said, this is basically a pie crust with some extra leavening ingredients. Stir together the flour, baking powder, salt, and sugar in a medium bowl and then add the cubed butter.
You could use a fancy dough cutter to mix the butter into the flour, but I just use my hands. You can just carefully work the butter into the flour until it's in pea-sized pieces and then toss in the cheddar and green onions. You want to add these while the dough is dry so you can evenly distribute them throughout the dough.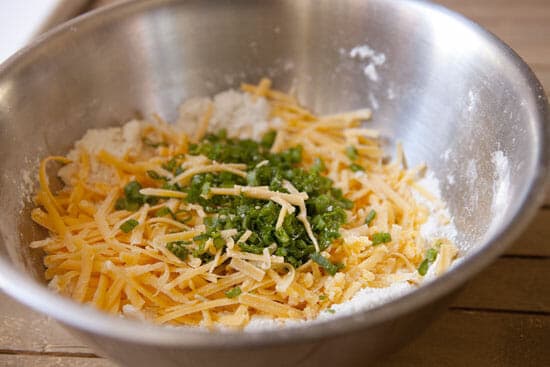 Finally, stir in the cream and knead it a few times until it comes together in a ball.
Then turn it out onto a lightly floured surface and roll the dough into a rough circle. Don't stress about the size. You are looking for 7-8 inches in diameter, but don't freak out if it isn't perfect.
Then I like to use a dough scraper to cut the Cheddar Scallion Scones into eighths and lift them off the board.
Baking the Cheddar Scones
Transfer these scones onto a baking sheet lined with parchment paper and brush them with some extra cream. This will help them get nicely browned in the oven.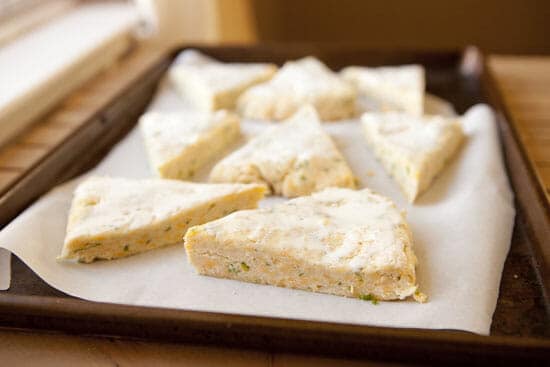 Bake these Cheddar and Green Onion Scones at 425 degrees F. until they are flaky and nicely browned around the edges, about 20-22 minutes.
These were my finished scones!
These Cheddar Scallion Scones are best served warm so grab one right away!
If you must reheat these Cheddar and Green Onion Scones, you can do so in an oven for a few minutes at 350 degrees. That will loosen them up a bit, but they really are best straight out of the oven.
Here are a few other great savory breakfast bread recipes!