The poor, poor brussels sprout. It has such a terrible reputation.
The deal with sprouts though is that I think 90% of people who claim to hate them (hell, I'll say 95% because I'm making it up) either A) haven't tried them and assume they hate them or B) aren't preparing them correctly.
To be honest, I'm okay with this because it means they are super-cheap in the stores. But, I just don't understand it. They are actually very easy to prepare and if you pair them with the right flavors, it's pretty hard to beat their earthly, savory flavors.
Those right flavors also happen to be the makings of a really great Caesar salad so I figured I would try to smash the two together and use sauteed sprouts instead of the classic Romaine lettuce for this salad. It worked like a charm and this Brussels Sprouts Caesar Salad immediately became my favorite warm salad.
Brussels Sprouts Caesar Salad
Shredded sprouts cooked with crispy bacon and served with traditional Caesar salad dressing and toppings!
Ingredients
2

pounds

brussels sprouts

,

slivered

8

strips bacon

,

cooked crispy

3

tablespoons

bacon grease

2

cups

croutons

3-4

ounces

Parmesan cheese

Salt and pepper
Caesar Dressing:
3-4

anchovies

2

cloves

garlic

1

teaspoon

Dijon mustard

1

tablespoon

white wine vinegar

½

lemon

,

juice only

⅓

cup

Greek yogurt

½

cup

olive oil

Salt and pepper
Instructions
Heat oven to 350 degrees. Lay bacon strips on a wire rack over a baking sheet or on a baking sheet directly. Bake the bacon at 350 degrees F. for 20 minutes until the bacon is very crispy. Pour off bacon grease and save for later.

For croutons, cube a few pieces of sturdy bread into 1/4-inch cubes. Toss with a drizzle of olive oil and a pinch of salt and pepper and bake at 350 degrees for 10-15 minutes until very crispy. Let cool.

For dressing, add all ingredients except olive oil to food processor and pulse a few times to combine well. Then drizzle in olive oil and process until smooth. Season well with salt and pepper.

Sliver brussels sprouts. In a large skillet, add 2-3 tablespoons reserved bacon grease over medium high heat. Once hot, add sprouts and cook until they are tender and browned in spots, about 4-5 minutes. Stir occasionally. Season sprouts with salt and pepper.

Divide cooked sprouts between four plates. Top with crumbled bacon and croutons. Grate Parmesan cheese on top and serve with a drizzle of dressing or serve the dressing on the side.

I think this salad is best while warm, but it's not bad cold either if you want to make it in advance.
Nutrition
Serving:
1
plate
|
Calories:
541
kcal
|
Carbohydrates:
35
g
|
Protein:
25
g
|
Fat:
35
g
|
Saturated Fat:
14
g
|
Polyunsaturated Fat:
5
g
|
Monounsaturated Fat:
15
g
|
Trans Fat:
0.1
g
|
Cholesterol:
56
mg
|
Sodium:
833
mg
|
Potassium:
1070
mg
|
Fiber:
10
g
|
Sugar:
6
g
|
Vitamin A:
1899
IU
|
Vitamin C:
200
mg
|
Calcium:
391
mg
|
Iron:
4
mg
Did you make this recipe?
Brussels Sprouts Caesar Salad
Caesar Dressing
There are two ingredients in a classic Caesar salad that turn some people off. The first is anchovies. In my opinion, they aren't optional. You can't even taste them, but they add a beautiful, salty flavor to the dressing. The only reason to leave them out is if you are vegetarian. Even if you don't like anchovies (like my wife), you will like this dressing.
The second ingredient is a coddled egg which just means that it's barely cooked. It adds some body to the dressing. I've used it in the past for other salads, but I decided to try this version with Greek yogurt instead. It adds a similar body to the dressing but is a bit easier.
The easiest way to make this dressing is just to combine the basic ingredients (except olive oil) in a mini food processor and pulse it up. This will make sure everything is combined well.
Then you can drizzle in the olive oil and continue to pulse. Season the dressing with salt and pepper and you're in good shape.
If you don't have a food processor, you can absolutely just mince everything finely and whisk everything together. No big deal.
Other Fixins
A little bacon goes a long way in this Brussels Sprouts Caesar Salad. It's very important that the bacon is super-crispy though which means I bake it.
350 degrees for about 20 minutes will leave you with perfectly crispy strips. If you don't have a wire rack like this you can bake the bacon right on the baking sheet, but the wire rack just lets some of the grease fall away from the bacon.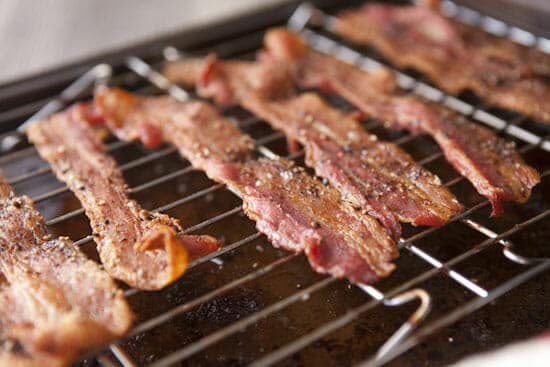 When your bacon is done, pour off whatever fat has rendered out.
This is liquid gold and we can use it to cook the sprouts later.
One more thing: Croutons!
I would never think of serving this Brussels Sprouts Caesar Salad without some crispy cubes of bread. You can use packaged if you want, but I just cubed up a few cups of extra bread I had in the pantry and tossed them with a drizzle of olive oil and a pinch of salt and pepper.
Bake these guys for about 15 minutes, stirring occasionally, and they will crisp up perfectly. To save time, you can bake these while your bacon cooks.
Finishing The Salad
No mention of sprouts yet because they are the last thing you should prepare for this salad. When you're ready, sliver your sprouts into thin coins.
This will create a good base for the salad and they will also cook faster and brown a bit which is nice.
To cook the sprouts, add a drizzle of olive oil to a large skillet (or your reserved bacon grease – about 3 tablespoons will do the trick). Heat over medium-high heat and then add the sprouts. Cook them until they are tender and starting to brown a bit, about 4-5 minutes.
Divide the sprouts between a few plates and top with the bacon and croutons. Sliver on some good Parmesan cheese as well.
You could drizzle the Brussels Sprouts Caesar Salad with the dressing, but I like to serve it on the side so people can add it themselves.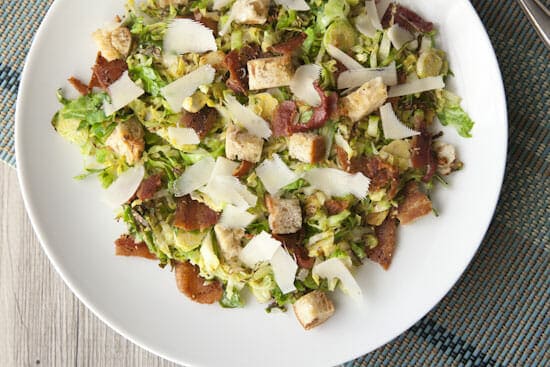 I think this Brussels Sprouts Caesar Salad is best warm, but it's definitely not bad cold. If you need to make it in advance, not a big deal.
There you have it. Ditch the Romaine and try out sprouts for your next salad!