Guys, breakfast or brunch is my absolute favorite meal. But, I do have one issue with the meal, especially when I'm hosting others. A lot of the best brunch dishes are good warm or cold, but rarely both.
Also a lot of the best brunch dishes are substantial and hard to make for a crowd. Have you ever tried to cook eggs benedict for eight? I have and it felt like I opened Nick's Diner. It was pretty much chaos.
In my hunt to find brunch dishes that are excellent finger food and also great warm or if they sit for a bit, these pinwheels came to mind.
After I cooked a bunch of them, I convinced myself that skillet manufacturers make 12-inch skillets solely so these breakfast pinwheels can be made. You'll see what I mean. It's awesome.
Breakfast Pinwheels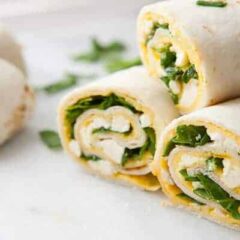 Breakfast Pinwheels rolled with a thin scrambled egg layer, cheese, and chopped spinach! Two easy variations are included!
Ingredients
2

large

flour tortillas

4

large eggs

2

teaspoons

unsalted butter

1

cup

chopped spinach

Salt and pepper

2

oz.

feta cheese

,

per tortilla

or

2

oz.

cheddar cheese

,

per tortilla

Hot sauce

,

optional
Instructions
Chop spinach finely and whisk eggs (2 per bowl). Grate or crumble cheeses.

In a 12 inch nonstick skillet, add 1 teaspoon butter over medium heat. Once melted, add scrambled eggs and swirl to spread eggs over surface. Cook for about a minute until eggs are mostly set.

Sprinkle thin eggs with desired cheese and cover for 30 seconds.

Using a spatula, slide cooked eggs onto flour tortilla. Sprinkle with salt, pepper, and spinach. Roll tortilla tightly and cut into six even pinwheel pieces.

Repeat with second tortilla (or as many as you need).

Serve while warm.
Nutrition
Serving:
6
pinwheels
|
Calories:
433
kcal
|
Carbohydrates:
19
g
|
Protein:
27
g
|
Fat:
28
g
|
Saturated Fat:
14
g
|
Polyunsaturated Fat:
3
g
|
Monounsaturated Fat:
7
g
|
Trans Fat:
0.2
g
|
Cholesterol:
382
mg
|
Sodium:
797
mg
|
Potassium:
266
mg
|
Fiber:
1
g
|
Sugar:
3
g
|
Vitamin A:
2291
IU
|
Vitamin C:
4
mg
|
Calcium:
310
mg
|
Iron:
3
mg
Did you make this recipe?
The Breakfast Pinwheel Coincidence
12-inch tortillas and 12-inch skillets. It's fairly amazing that this is the first recipe that I've ever made that relied entirely on this set up.
You don't need those exact sizes, but you do need a nonstick skillet and a tortilla that's the same size.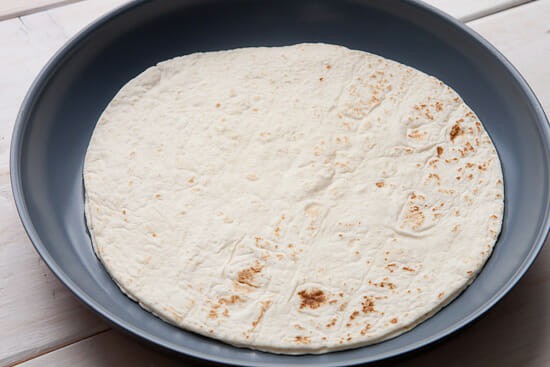 Quick Cooking
These cook incredibly fast. You could make a whole tray of them in 10 minutes.
Make sure you have all your ingredients ready to go before you even heat a pan. I think spinach is the perfect addition to these so chop a big mound of it before you get started. Of course, you could use other greens!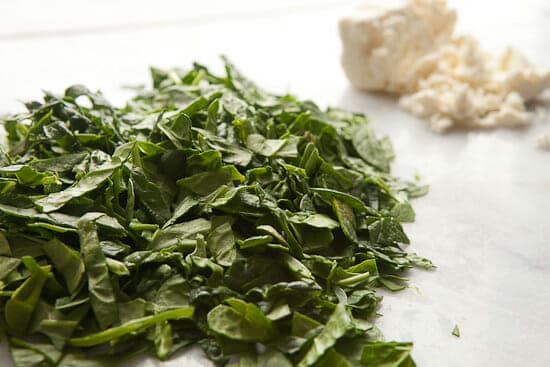 Making the Breakfast Pinwheels
Okay. Time to cook. For a 12-inch skillet, two eggs is perfect for the thickness we need. If you were doing an 8 inch tortilla/skillet combo, then one egg would be enough, but that would also be some wussy pinwheels.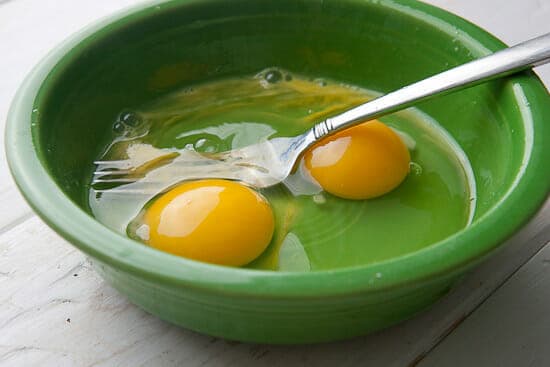 Heat your skillet over medium heat with about a teaspoon of butter. When the butter is melted, swirl it around the pan and then pour in the scrambled egg.
Swirl the egg around the pan so it covers the pan in a thin, even layer. It'll cook fast so work fast!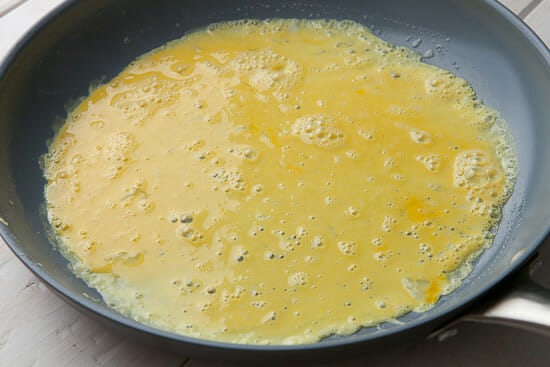 After the egg has cooked for maybe a minute, it should be mostly set. Sprinkle on your cheese of choice and cover the skillet. Let the egg steam for 20-30 seconds.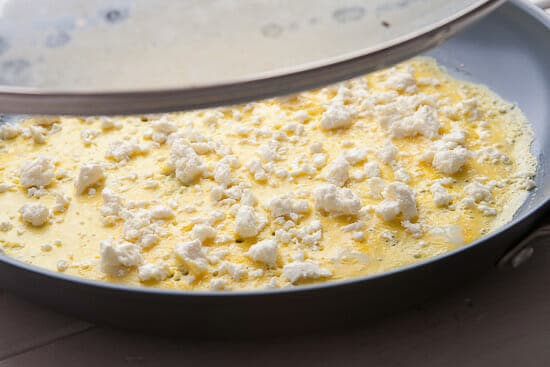 Executing the Slide
Once your egg is cooked and the cheese is warm (or melted), use a spatula to gently slide the egg onto a tortilla. It should be a perfect fit!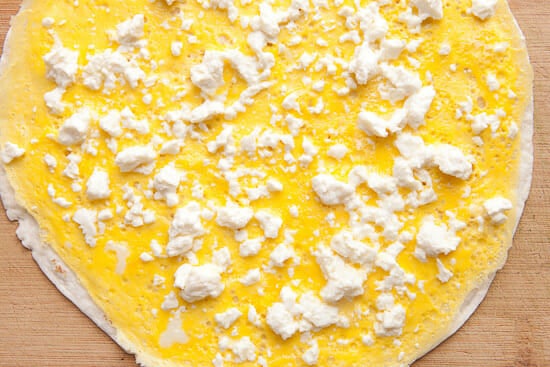 Season the egg with salt and pepper and sprinkle on some of that chopped spinach.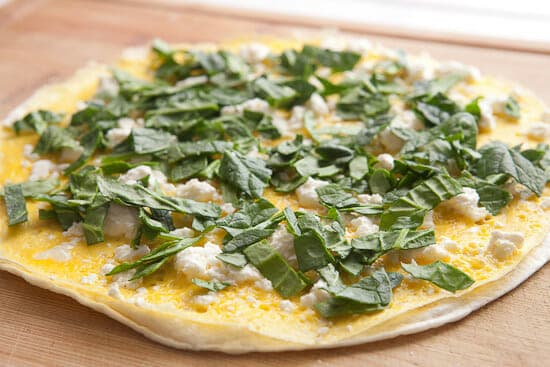 A Spicy Alternative
I think the feta version is great if you aren't going to eat them immediately. They wouldn't be great after an hour (what egg dish would), but they could easily sit for 20-30 minutes and still be tasty.
If you are eating them immediately though, change it up with some cheddar cheese which gets super melted during the quick steam.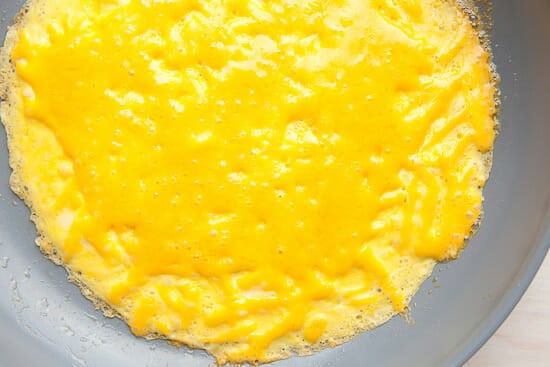 Then spinach and hot sauce!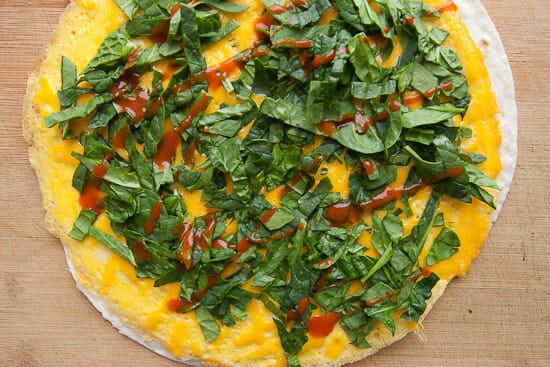 Whatever variety you choose, roll them up into a tight cylinder and then chop them up into sixths so each pinwheel is about 2 inches thick.
Interestingly, you can also just make one of these for a quick, personal rolled egg burrito, but I think they are more impressive chopped up and stacked high.
Definitely add these to your next breakfast/brunch menu!