Let me start this Bean and Cheese Dip by telling you what I don't always love about bean dips. Sometimes I think they are too beany. And I say that as a man that loves beans. So for this dip I ramped up the veggies in the dip and added a good amount of cheese to make it more of a dip and less like just refried beans in a bowl.
The fun thing about this dip is that it's really good hot and melty right out of the pot but is also very good as a cold dip like packaged refried bean dip! Because it has a lot of veggies, it's still dippable when cool.
If you're looking for a fun dip to have around during the basketball games over the next few games, try this bean dip recipe!
Making the Vegetable Base for dip
This dip starts with a delicious mix of vegetables. A combination of red pepper, poblano peppers and/or jalapeno peppers, and onions makes a really flavorful base for the dip that many bean dips skip.
Since this is a dip, you really need to mince your veggies. You can 100% use a knife for this, but I was in a hurry so I just roughly chopped everything and took out most of the seeds and pulsed the vegetables in my food processor.
Of course, if you use a processor you also run the risk of over-processing the veggies. If you make a soup, you've gone too far!
But getting them pretty finely chopped is great. Literally, this is like 3 seconds in the processor so don't just turn it on and walk away or anything. If you do happen to overprocess it a bit, it isn't the end of the world since we'll be blending it all together later anyway.
Cooking the bean mixture
These vegetables have a lot of flavor as is, but we can cook them a bit to pull out even more flavor.
In a medium saucepan, add your butter until it's melted. Four Tablespoons sounds like a lot but it's really not considering how much dip we're making. We're basically going to make re-fried beans in this pan as part of the dip so the butter helps with that. If you wanted to be totally traditional you could use lard as well.
Once the butter is hot, add all your veggies and cook until they are soft, probably 5 minutes over medium heat. Stir pretty regularly.
While your veggies cook, open your beans (I used a mix of black beans and pinto beans), drain them in a colander, and give them a quick rinse under cold water. Then add your beans and spices (besides cumin, you could add some paprika, cayenne, or maybe a pinch of chili powder) to the pot and cook them until they are hot.
Blending the bean and cheese dip
You have a few options at this point. In my opinion, the best thing to do is to add this whole mixture back to the food processor (or blender) and blend it until smooth. Add some water to the mixture until it's smooth. The amount of water you'll need to add will depend on a lot of variables so I can't give a firm amount, but just add it 1/4 Cup at a time until the mixture is really smooth and blending easily.
I probably added about 3/4 cups of water.
Then add this all back into the pot to heat up again so we can melt the cheese!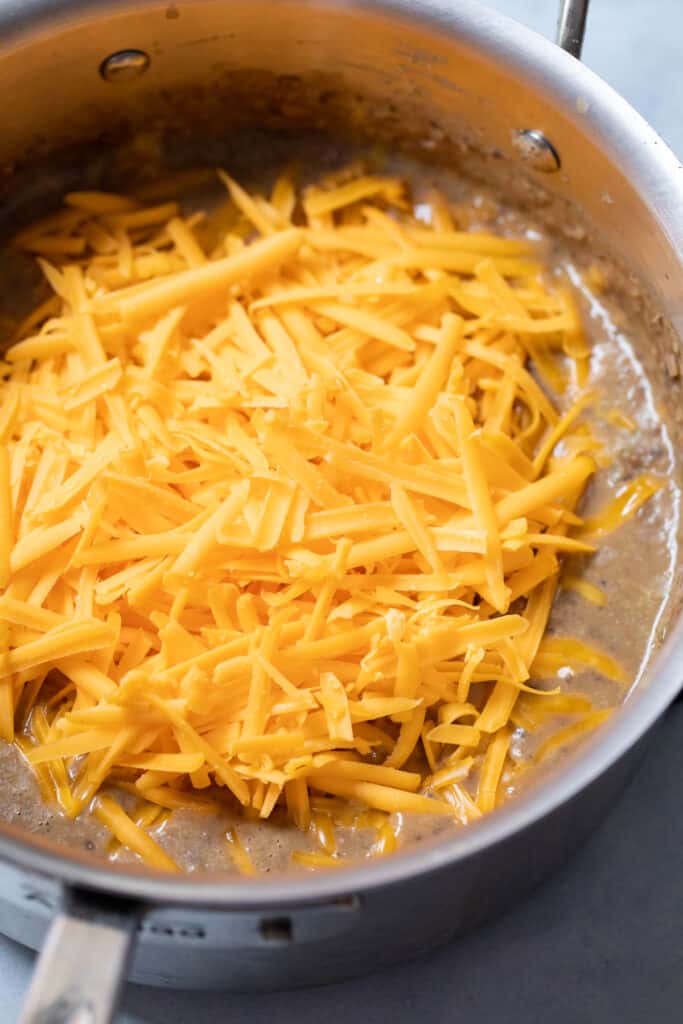 How to make this dip without a food processor
But Nick. What if I don't have a blender or food processor? I think you could still make this. As you cook the beans in the pot, just mush them up really well using a fork or masher. Mix in the water and continue to mash. Eventually I think it will mash up just fine. It might be a little more rustic than with the food processor, but it'll still be delicious.
Put this bean mixture over low heat and once it's hot again, add all the shredded cheese and stir until melted. You could use any cheese that melts well like cheddar cheese, pepper jack cheese, or monterey jack cheese.
Then taste for salt and pepper. Mine definitely needed a good pinch of both. Then serve it up with chips and fresh cilantro on top if that's your thing.
Variations for this bean and cheese dip
This is an incredibly flexible bean and cheese dip. Let's go through some options!
Spicier version. This version is more savory than spicy. If you want it spicier, add some green chiles to the base or salsa or hot sauce.
Protein boost. To make this a more filling dip, you could add some shredded chicken to it and use it as a taco or burrito filling with some rice and/or cream cheese.
Tex-Mex Filling. Use the base bean dip with some rice as a filling for enchiladas, quesadillas, or use it as a nacho topping!
Baked Version. You could transfer the dip to a baking dish, top with cheese and bake for 15-20 minutes for a beautiful baked version of the dip.
This is really delicious. The dip has some heat and loads of flavor from the veggies, beans and cheese. As I said, it also stays a pretty smooth consistency when it's cold so it's fine to serve at any temperature.
I think it's best warm though because then the cheese is really melted and awesome.
This might seem like a bit of work for some bean and cheese dip, but trust me, your guests will love it. Or if you don't have guests you can just house the whole thing by yourself. Either option is fine.
Bean and Cheese Dip
This delicious, cheesy bean dip is easy to prepare and tastes great hot and melty or cold. Learn how to make it and it'll be a favorite tex-mex dip!
Ingredients
4

Tablespoons

butter

1

red pepper

,

minced

1

poblano pepper

,

minced

1

jalapeno

,

minced

½

onion

,

minced

1

15 oz. can pinto beans

1

15 oz. can black beans

8

ounces

cheddar cheese

,

shredded

½ – 1

Cup

water

½

Teaspoon

ground cumin

Salt and pepper

,

to taste

Cilantro

,

garnish

Tortilla chips

,

for serving
Instructions
Mince up veggies into very small pieces. If you have a processor, just give them a quick whirl in the food processor until they are minced, but definitely not a paste.

Melt butter in a medium pot over medium heat and when hot, add all the veggies.

Cook for about 5 minutes until veggies are soft.

Drain beans in a colander and then rinse quickly under cold water. Add beans to veggie mixture.

Cook for a few minutes until beans are really soft.

Either use the processor to blend up the entire mixture until smooth (you can also use a blender at this point), or add the water to the pot and mash up the beans with a fork or masher until they are pretty smooth. If you're blending or processing, add water until smooth. If you don't have a processor the dip may not end up quite as smooth, but just call it rustic and eat it anyway.

Add dip back to the pot if you processed it and heat over low heat. Add the cheese to the pot and stir until melted. Add spices and taste for salt and pepper.

Serve immediately with cilantro and chips. The dip is great warm or cold.
Nutrition
Serving:
1
bowl
|
Calories:
177
kcal
|
Carbohydrates:
3
g
|
Protein:
7
g
|
Fat:
15
g
|
Saturated Fat:
9
g
|
Polyunsaturated Fat:
1
g
|
Monounsaturated Fat:
4
g
|
Trans Fat:
0.2
g
|
Cholesterol:
43
mg
|
Sodium:
233
mg
|
Potassium:
98
mg
|
Fiber:
1
g
|
Sugar:
1
g
|
Vitamin A:
1000
IU
|
Vitamin C:
34
mg
|
Calcium:
214
mg
|
Iron:
0.3
mg
Did you make this recipe?
Here are some other great recipes to try!