Let's rank the five most important things about the Super Bowl this weekend:
5) The actual game. It will probably be over-hyped and unless you are a Ravens or 49ers fan, you probably aren't itching to actually watch this game.
4) The coach story. Two brothers head coaching the two teams in the Super Bowl? I can't wait to see the mini-series based on their childhoods.
3) Beer.
2) The Commercials. There will probably be at least three good ones. I'm guessing that one of the many Geico mascots will also be featured. Personally, I'm rooting for the talking dollar bill stack.
1) Food. Wings. Nachos. Chili. It's all available!
Over the weekend, Betsy challenged me to come up with an original treat for the Super Bowl that was healthy(ish). This Bean and Beet Dip is what I came up with and it's really delicious. It's almost like hummus but has a much different flavor and might be even more addictive!
Bean and Beet Dip
This is a healthy snack for game day that includes white beans and roasted beets blended with flavorful herbs and served with toasted breads.
Ingredients
3

cups

cooked Cannellini beans

1

large golden beet

,

roasted, peeled

2

cloves

garlic

½

cup

liquid

,

from beans, stock, or water

1

lemon

,

juice only

¼

cup

olive oil

2

tablespoons

fresh dill

2

tablespoons

fresh mint

Pinch

of salt and pepper

1

baguette

,

sliced and toasted
Instructions
If you are using dried beans, soak them overnight in cold water. Then boil them in a large pot with a few bay leaves until they are tender (about an hour). Drain and measure out required amount for recipe.

For beet, slice in half and roast at 350 degrees for about an hour until it's very soft. Let the beet cool slightly, peel, and roughly chop.

Add beans, beet cubes, garlic, and liquid to a food processor and pulse. Add in lemon juice and oil and continue to pulse until it's smooth. If the mixture is very thick, you might need to add more liquid.

Add in herbs and season with salt and pepper.

Slice baguette into thin slices and toast for a few minutes in the oven.

Serve dip with toasts and drizzle dip with extra olive oil and sprinkle with extra dill and mint.
Nutrition
Serving:
0.25
Cup
|
Calories:
199
kcal
|
Carbohydrates:
28
g
|
Protein:
7
g
|
Fat:
8
g
|
Saturated Fat:
1
g
|
Polyunsaturated Fat:
1
g
|
Monounsaturated Fat:
5
g
|
Sodium:
379
mg
|
Potassium:
102
mg
|
Fiber:
5
g
|
Sugar:
3
g
|
Vitamin A:
67
IU
|
Vitamin C:
8
mg
|
Calcium:
83
mg
|
Iron:
3
mg
Did you make this recipe?
Bean and Beet Dip
Beans and Beets
I used dried beans for my version of the dip because I wasn't really sure how many cups of beans I wanted to add (three) and also dry beans are just dirt cheap.
They do take a bit of planning though because you need to soak them overnight and then simmer them slowly for about an hour. I tossed a few bay leaves into mine for extra seasoning also.
At the end of the day though, this is a dip. Feel free to grab a few cans of white beans and use those instead of cooking them.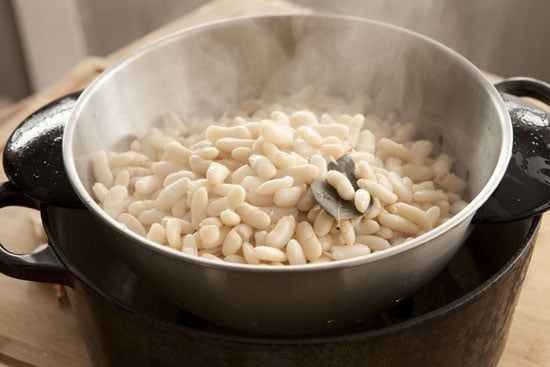 For the beet, I recommend hunting down a golden beet. I think most supermarkets carry them these days. You can absolutely use a normal beet but it will really change the color of the dip. That's not a bad thing necessarily, but just a heads up.
Whatever beet you do use, just chop it in half and roast it, cut side down, in a 350 degree Fahrenheit oven for about an hour. It should be really tender.
These were my beans and beets ready to go.
Making the Dip
Honestly, that's the hardest part of the recipe. Now you just toss everything together and puree the crap out of it. If you don't have a food processor, you could also use a blender, but you might have to add a bit more liquid to get it to blend which will make the final dip thinner.
If you just pulse the beets, beans, and garlic together, there won't be enough liquid to really make it a good consistency.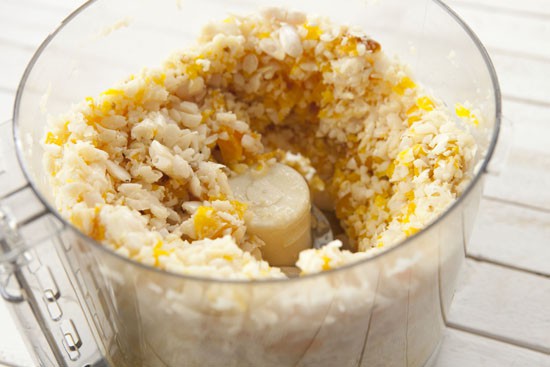 When it comes to the liquid you do add, I recommend the juice from a lemon, some olive oil, and either vegetable stock, water, or the liquid that you cooked the beans in.
If you're using canned beans, don't use the liquid from the can. Rinse the beans before you add them to the dip.
That liquid should be enough to bring everything together and the dip will become a really beautiful golden color.
Now you can add in your herbs also. Don't skimp on them!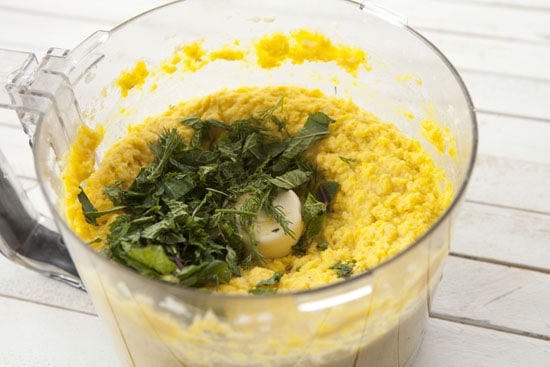 Pulse that all together and taste it for salt and pepper. It will almost certainly need a big pinch of both.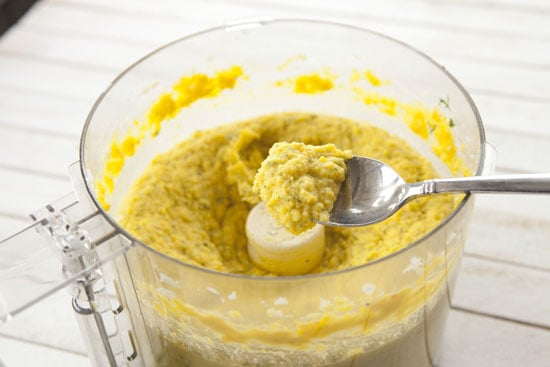 You could serve this Bean and Beet Dip with chips, pita chips, or little toasts.
I sliced up a baguette and toasted it. I like the little toasts because they really stand up to the thick dip.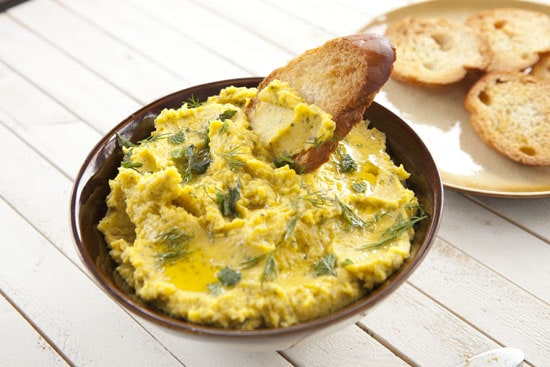 If you're looking for something a bit different to serve during the game this weekend, I highly recommend giving this Bean and Beet Dip a shot. It's very different and people probably won't be able to identify the two main ingredients, which is kind of fun.
Of course, you don't need a game to make this. It would be good for any snack and keeps really well also.