Recently, I've been hitting the gym like a boss. A few dude friends and I formed a little club called DADSTRONG (yes it has to be in all caps). DADSTRONG is formed of either recent dads or soon-to-be dads. We go to the gym twice a week (okay once a week) and pump iron, talk about dad stuff, and mostly flex in the mirror.
It's a good time and is usually followed by enough beer to counteract whatever possible benefits we gained by flexing. DADSTRONG.
The staff at our gym has a cork board where they hang up recipes. They just photocopy stuff from cookbooks and magazines and hang them up without attribution. I guess that's cool?
Anyway, for like the last month this recipe for Balsamic Roasted Beets has been hanging on the cork board. The last thing I crave after a workout is a beet, but the idea kind of seeped into my brain over the last month and I eventually just found myself sticking beets in my grocery cart so I could make them.
They are super easy and good enough to sway even a beet-hater.
Rosemary Roasted Beets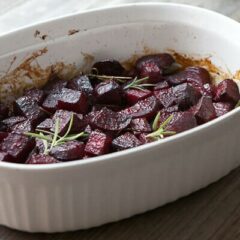 Tossed with rosemary and glazed with a slightly sweet honey and balsamic vinegar glaze. These beets are so delicious!
Ingredients
4

medium beets

,

peeled and cubed

1

tablespoon

olive oil

Salt and pepper

2

sprigs of rosemary

1

tablespoon

honey

1

tablespoon

balsamic vinegar
Instructions
Preheat oven to 375 degrees F. Peel beets and cut them into 3/4-inch cubes (no need to measure).

Toss cubed beets with a drizzle of olive oil, rosemary sprigs, and salt and pepper. Transfer beets to a baking dish lined with foil (for easy clean up).

Bake beets for about 25 minutes until they are fork tender.

Drizzle beats with honey and vinegar and stir to combine. Return to oven and turn heat up 425 degrees F. Roast for another 5-10 minutes.

Serve beets while warm as a side dish.
Notes
Recipe from the cork board at the gym.
Nutrition
Serving:
1
bowl
|
Calories:
86
kcal
|
Carbohydrates:
13
g
|
Protein:
1
g
|
Fat:
4
g
|
Saturated Fat:
1
g
|
Polyunsaturated Fat:
0.4
g
|
Monounsaturated Fat:
3
g
|
Sodium:
65
mg
|
Potassium:
274
mg
|
Fiber:
2
g
|
Sugar:
10
g
|
Vitamin A:
27
IU
|
Vitamin C:
4
mg
|
Calcium:
15
mg
|
Iron:
1
mg
Did you make this recipe?
Balsamic Roasted Beets
The Hardest Part
The hardest part of this recipe is peeling the beets. While normally I just roast beets whole and then peel them, this recipe really benefits by cubing the peeled beets and then roasting them so you can glaze them evenly.
The two best ways to peel a beet is with a good veggie peeler or with a simple paring knife. Either works fine, but your hands will get a little stained.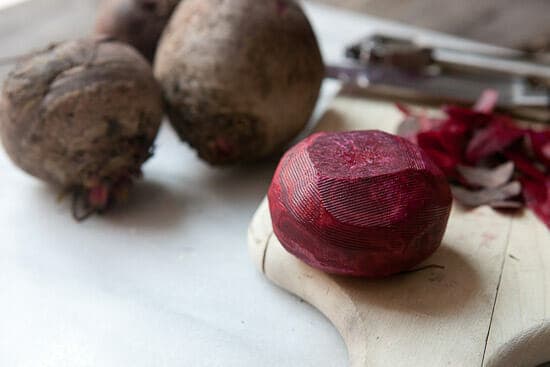 Once you peel the beets, cube them into roughly 3/4 inch cubes. It doesn't have to be perfect.
Toss the beauties with some olive oil, a few rosemary sprigs, and a big pinch of salt and pepper.
Baking the Beets
Beet clean up is a little rough, especially if you have white baking dishes so I like to line my baking dish with foil before baking.
These will need to roast at 375 degrees F. for about 25 minutes until they are fork tender.
The Glaze for Balsamic Roasted Beets
Once the beets have roasted, there might be a lot of juice in the baking dish. Just go ahead and carefully drain that out. It'll make the glaze too watery.
Then drizzle in some honey and balsamic vinegar and stir everything together to coat.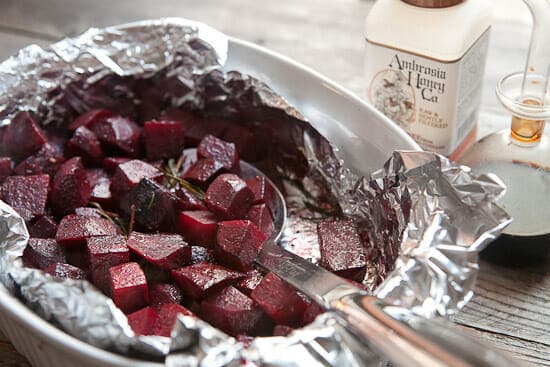 Then back in the oven for another 5-10 minutes and crank up the heat to about 425 degrees F. to give the glaze a chance to really caramelize.
That's all there is to it, you have Balsamic Roasted Beets. An easy side dish, for sure, but one that goes with a lot of meals (even Thanksgiving if you're looking for a last minute side).
One final note: If you are a Portlandia fan, be sure to check out one of my favorite skits: 911 Beet Emergency (sound). Hat tip to my friend Sean for the reminder on this skit!
Have a great Thanksgiving tomorrow everyone! I hope everybody makes it safely to wherever they are going.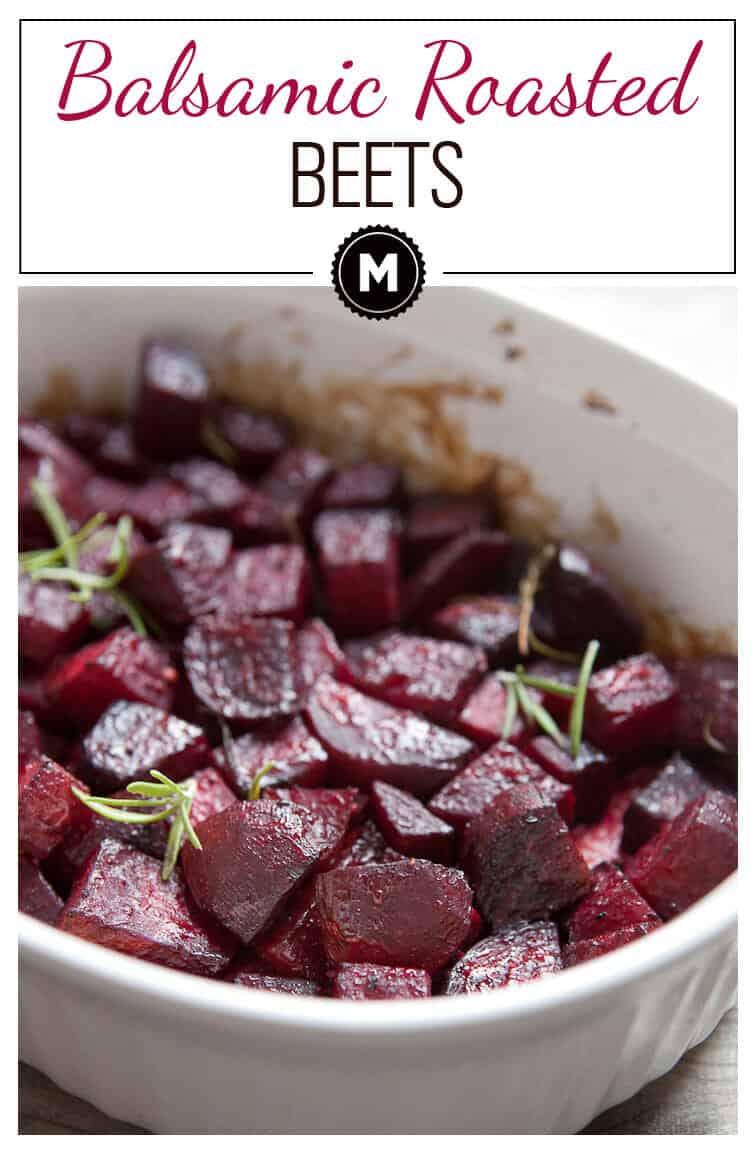 Be sure to check back over the weekend! I'll be publishing another Ultimate Guide like my Homemade Pizza Guide!
More easy side dishes!