This recipe is a good example of how a recipe can be lifted from an 8 rating to a 10 rating with one small addition. In this case the addition happens to be the hardest part of the recipe (balsamic sauce), but it's worth it. I guess you can leave it out if you're okay with just an EIGHT for a breakfast, but if you want a 10-rated breakfast sandwich, you'll want it.
The first time I made this delicious thing, I left the glaze off and it was good. Juicy strawberries, crispy bacon, peppery arugula. It was a sandwich I would eat without question. The glaze just takes it from that to, like, food truck levels. During the spring, when strawberries are at their best, you could start a truck that only sold these strawberry breakfast sandwiches and do just fine.
Or you could just make for you and your friends.
Strawberry Breakfast Sandwiches
Easy and flavorful breakfast sandwich with fresh, sweet strawberries, arugula, crispy bacon, and a quick balsamic glaze!
Ingredients
8

strips bacon

,

cooked crispy

8-10

ripe strawberries

,

sliced thin

2

cups

baby arugula

¼

cup

mayonnaise

4

large eggs

,

over-easy or sunny-side up

4

good hard rolls
Glaze:
½

cup

balsamic vinegar

¼

cup

sugar
Instructions
Preheat oven to 350 degrees F. Bake bacon on a baking sheet for 15-20 minutes until very crispy. Toast rolls.

For glaze, add balsamic vinegar and sugar to a small pot over low heat. Heat, stirring constantly, until mixture simmers. Keep heat low and stir for 6-8 minutes until mixture thickens. It should coat the back of a spoon. Remove from heat and let cool.

Fry eggs in a little butter or oil until they are cooked to your liking. I recommend leaving the yolks soft. If you want to do them sunny-side up, fry them for about 2 minutes until the whites are cooked, then cover them with a plate or lid for 30 seconds to set the top of the egg.

To make a sandwich, slather a little mayo on the bottom of a roll. Add a handful of arugula and sliced strawberries. Top with crispy bacon, cooked egg, and drizzle with glaze.

Serve immediately!
Nutrition
Serving:
1
Sandwich
|
Calories:
556
kcal
|
Carbohydrates:
45
g
|
Protein:
16
g
|
Fat:
34
g
|
Saturated Fat:
9
g
|
Polyunsaturated Fat:
10
g
|
Monounsaturated Fat:
12
g
|
Trans Fat:
0.1
g
|
Cholesterol:
199
mg
|
Sodium:
700
mg
|
Potassium:
309
mg
|
Fiber:
2
g
|
Sugar:
21
g
|
Vitamin A:
503
IU
|
Vitamin C:
16
mg
|
Calcium:
96
mg
|
Iron:
3
mg
Did you make this recipe?
Strawberry Breakfast Sandwich
Alright. Let's get the hard part out of the way first: the glaze. It's not actually that hard, but it does require a little patience and you can easily burn it if you heat it too fast or too hot. Just stir together the vinegar and sugar in a small pot over low heat. Stir constantly until the sugar dissolves.
Once it's simmering, stir it for 6-8 minutes until it thickens. It should coat a spoon and should be like a light syrup. It'll continue to thicken as it cools.
Besides that, bake some bacon in a 350 degree oven on a sheet pan until it's really crispy. Depending on the thickness of your bacon, that'll be anywhere from 15-25 minutes. Just keep an eye on it.
Also, wash some baby arugula and slice some ripe strawberries. Use the ripest you can find. Really sweet berries make the sandwich even better.
I made one version of this sandwich on an English muffin and it wasn't sturdy enough. You need a decent roll for it. It doesn't have to be anything too fancy, but something sturdy. I recommend toasting them for a few minutes while your bacon bakes.
The last thing you need to prep is an egg. I recommend doing these over-easy or sunny-side up so the yolk is still soft. My personal preference is sunny-side up just because it looks good. Cook the egg for about 2 minutes on medium with some butter or oil and then cover it for 30 seconds with a plate or lid to set the top of the egg.
Assembly
Not hard at this point, but the order I recommend starts with a schmear of mayo. You might be inclined to skip this, but it kind of brings everything together. You don't need a lot, but a thin layer is nice.
Then arugula and strawberries.
Then crispy bacon and egg.
Then drizzle on that delicious sauce.
Cut this in half if that's your style. It's a messy situation, for sure, but one that I think you'll love.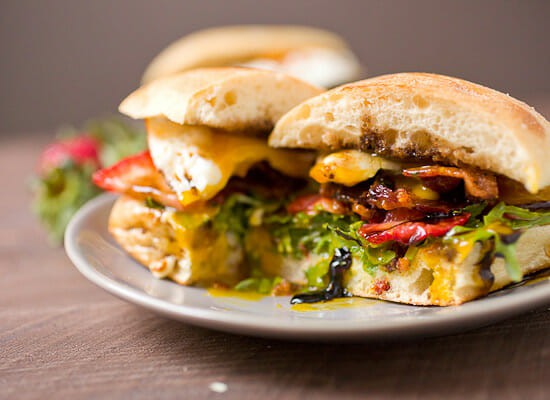 Bacon strawberry breakfast sandwiches.
Say hello to your new favorite breakfast.