Betsy loves browsing through food magazines and cookbooks and selecting items for me to try out. Sometimes I think she picks dishes that will stump me… That was not the case with this Bacon and Spinach Baked Eggs recipe though from an old Bon Appetit (09/2010). This dish was very easy and, in my opinion, just a perfect quick breakfast!
I used individual ramekins to make these bacon spinach baked eggs into personal servings but if you don't have ramekins you could make a larger casserole style dish with the same toppings and fillings like I did in my baked egg casserole a while ago.
The key of course to any baked egg dish is to use the best eggs you can get and not to over-bake them.
This recipe was updated on May 18, 2019 to include some new photos and directions!
Individual Baked Eggs
These individual baked eggs are perfect for breakfast or a group brunch. Everything you want in a breakfast.
Ingredients
4

pieces

of toast

,

cut to fit (original recipe uses English muffins, but I just used some no knead bread)

4

strips of bacon

5

ounces

of fresh spinach

4

large eggs

¼

cup

grated Parmesan cheese

Lemon zest

,

optional

Butter or non-stick spray for ramekins

Salt and pepper
Instructions
Toast bread or english muffins and cut to fit ramekins.

Cook bacon strips in a skillet over medium-high heat. Season with fresh ground pepper. Cook until crispy, about 8 minutes.

Remove bacon to a paper-towel-lined plate and let drain. Pour out oil in the pan but leave about 1 Tablespoon.

Add spinach to pan and cook until wilted, about 1 minute.

Butter or spray with nonstick spray 4 ramekins (you can also layer the ingredients in a small casserole dish).

Add toast to bottom of ramekins. Top toast with bacon and divide spinach evenly on top of bacon.

Crack eggs right in the middle of the spinach. Add a Tablespoon of cream to each ramekin.

Bake at 350 degrees until whites are firm and yolks are still soft, about 15-20 minutes.

Cool for a minute and serve!
Nutrition
Serving:
1
Ramekin
|
Calories:
192
kcal
|
Carbohydrates:
3
g
|
Protein:
11
g
|
Fat:
15
g
|
Saturated Fat:
5
g
|
Polyunsaturated Fat:
2
g
|
Monounsaturated Fat:
6
g
|
Trans Fat:
0.05
g
|
Cholesterol:
184
mg
|
Sodium:
351
mg
|
Potassium:
315
mg
|
Fiber:
1
g
|
Sugar:
0.4
g
|
Vitamin A:
3623
IU
|
Vitamin C:
10
mg
|
Calcium:
117
mg
|
Iron:
2
mg
Did you make this recipe?
Bacon and Spinach Baked Eggs
These baked eggs are actually very easy to make. To start, toast some bread or English muffins (you'll probably have to cut them down a bit to fit the ramekins if you're using them).
Meanwhile, get some nice bacon frying in a skillet.
Add some pepper to the bacon and cook it until it's nice and crispy. It'll probably take about 8 minutes over medium-high heat to crisp up. Might be a bit longer depending on how thick your bacon is.
Move your bacon to some paper towels to drain and pour out all the oil in the pan except about 1 Tablespoon.
Add all your fresh spinach to the same pan along with a few drops of water and sautee it until it's wilted. The spinach will cook down really fast and have a great flavor because of the tiny amount of bacon grease.
Filling the Ramekins
You can pile these baked egg ramekins pretty high. Start by making sure to lube up your ramekins with either butter or give them a quick spray with non-stick spray.
Once the ramekins are buttered/sprayed, wedge in a piece of toast or an English muffin.
Next, crumble up the bacon and add it on top of the toast. About a strip per ramekin is enough but you could do 1 1/2 strips if you want to get crazy.
Then evenly divide your spinach between the dishes. Make a little well in the middle of the spinach for your egg to sit.
Crack the egg right in the middle of the dish. Sprinkle the egg with some parmesan, lemon zest, and salt and pepper and you're in business!
Bake these guys at 350 F˚ until the egg white is set but the yolk is still slightly soft, about 15-20 minutes. Let them cool for a minute and serve them up!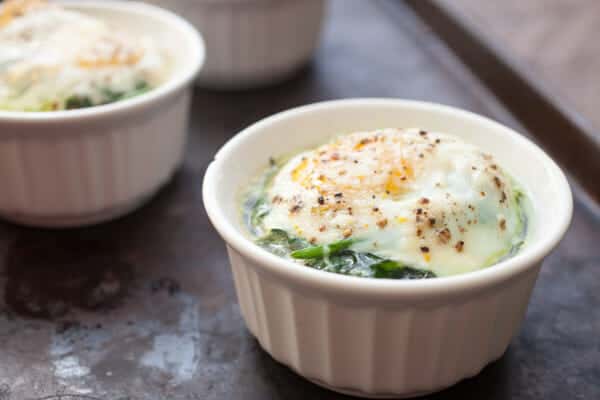 These bacon and spinach baked eggs are really fun to eat. As you break through the layers in the dish, the egg mixes with all the fillings and toast and makes for a really filling breakfast even though it doesn't look like a huge amount of food.
If you wanted to make this into a larger casserole, I would layer toast in a square baking dish and top with the same ingredients and then crack 4-6 eggs on top and bake it for probably 30 minutes. That would work just fine I think!
Here are a few other great Egg recipes!