Sometimes I get carried away. This started as a breakfast casserole that I could serve my little dude. I thought I would put some veggies in it, whisk up a few eggs, and freeze the casserole in small portions for quick breakfasts.
But, instead of a few veggies, I put basically all the veggies. I also put a bunch of pesto in it because… I seriously have no idea why.
I gave a chunk of it to the dude for a taste test. He looked at me like I had lost my mind.
It was maybe a bit much for a one year old, but it was just right for an adult. So much flavor. So much texture in this pesto breakfast casserole.
7 Veggie Pesto Breakfast Casserole
This breakfast casserole has about as many veggies as you can pack into one dish. Eat a good breakfast, people!
Ingredients
2

tablespoons

olive oil

1

cup

sliced mushrooms

½

red pepper

,

chopped

½

green pepper

,

chopped

1

leek

,

chopped

1

cup

broccoli florets

1

cup

grated carrots

2

cups

shredded frozen potatoes

½

cup

sweet corn

¼

cup

pesto

8

large eggs

½

cup

milk

Salt and pepper

Hot sauce

,

for serving
Instructions
Preheat oven to 375 degrees F. Slice mushrooms, chop peppers, rinse and chop leeks, and cut off broccoli florets. Whisk eggs with milk and set aside.

In a large skillet over medium heat, add olive oil along with mushrooms, peppers, leeks, broccoli, and carrots. Cook for 6-7 minutes until veggies soften and mushrooms release their liquid.

Add in shredded potatoes and corn to the skillet and cook for a few more minutes. Season with salt and pepper.

Spread the veggies out in a 9×13 baking dish and dot with pesto. Then pour in egg mixture and spread it around so the eggs are even. Season with salt and pepper.

Bake the casserole for 40-45 minutes until eggs are puffed and cooked through and edges are browned a bit.

Cool the casserole for a few minutes, slice, and serve with hot sauce!
Nutrition
Serving:
1
piece
|
Calories:
275
kcal
|
Carbohydrates:
24
g
|
Protein:
12
g
|
Fat:
15
g
|
Saturated Fat:
4
g
|
Polyunsaturated Fat:
2
g
|
Monounsaturated Fat:
6
g
|
Trans Fat:
0.02
g
|
Cholesterol:
222
mg
|
Sodium:
216
mg
|
Potassium:
666
mg
|
Fiber:
4
g
|
Sugar:
5
g
|
Vitamin A:
4846
IU
|
Vitamin C:
52
mg
|
Calcium:
108
mg
|
Iron:
2
mg
Did you make this recipe?
Pesto Breakfast Casserole
The veggie Lineup
How could you not love these colors!? These are five of the seven veggies in the final casserole. I didn't count the red and green peppers as separate veggies because that would be straight up cheating.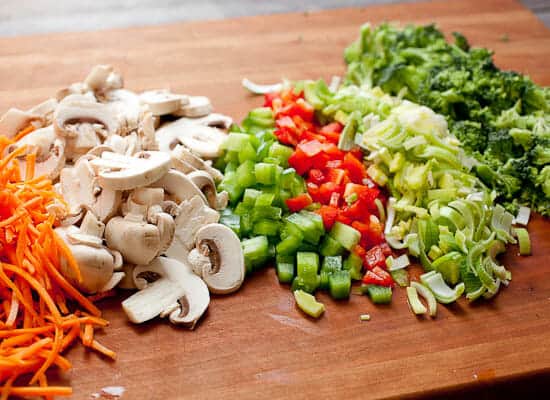 Add a little olive oil to a skillet along with those veggies. Cook them for a few minutes until they soften. Your goal here is to cook out a lot of the liquid in the veggies so your casserole doesn't get watered down.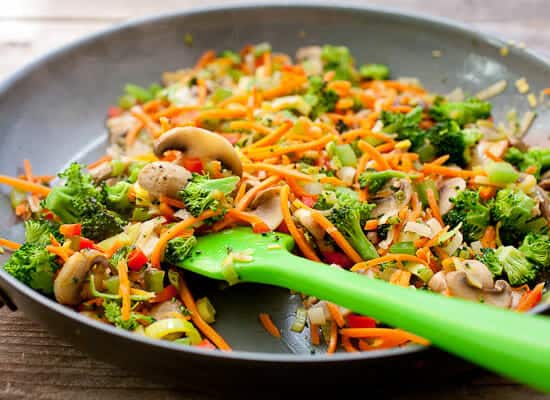 Next, add the potatoes and corn. I used frozen for both and it worked great!
Toss those in the skillet and season with salt and pepper.
You could leave the potatoes out if you wanted a sturdier casserole. They actually lighten it up a bit by spreading out the eggs.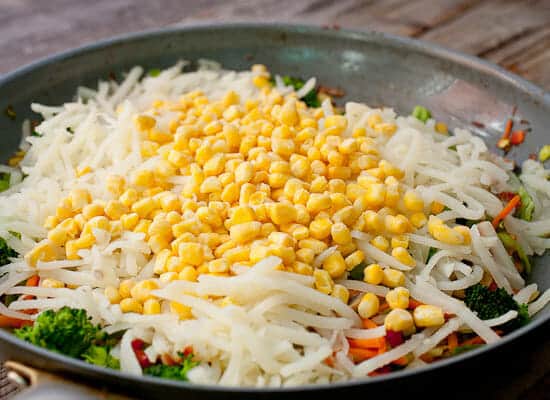 Once everything is warmed together, spread the filling out in a 9×13 casserole dish and dot the whole thing with pesto.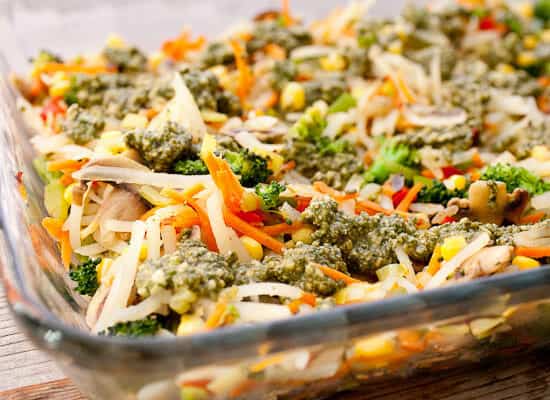 Finishing the Casserole
There's barely room for eggs in this dish. It's crazy.
But pour them in anyway.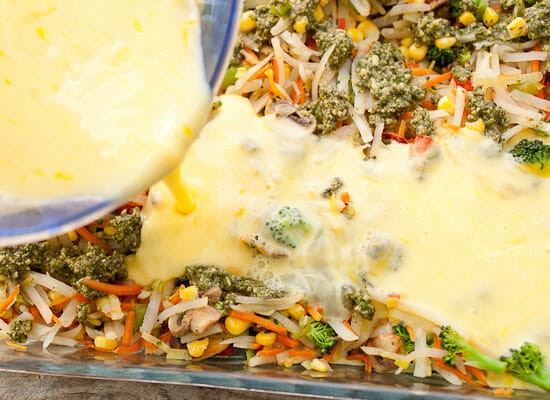 You'll have to use a spoon to mush around the veggies so the eggs distribute evenly. I just love the colors in this dish.
CHEESE NOTE: I almost always add cheese to an egg casserole like this, but I thought this had plenty of flavor. If you wanted to add cheese, I would do a sharp cheddar or maybe just some Parmesan.
Bake this guy for 40-45 minutes at 375 degrees F.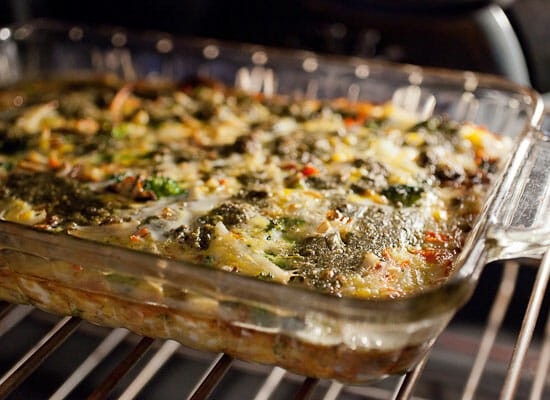 Let this cool a bit and then slice it up and serve it up. I like how the pieces stay together nicely. It's a sturdy casserole!
Oh. ALSO: Hot sauce = Essential.