One of my favorite things about August is being able to find what I like to call the "sink peach." It's a peach that's so ripe it can really only be eaten over the sink or outside.
The sink peach is one of the simple food experiences I look forward to all year.
You don't need to use your sink peaches for this Peach Beignets recipe. You want ripe, in-season peaches though which should be pretty easy to find this time of year.
There is nothing too complicated about this recipe. It follows the KISS (Keep It Simple Stupid) recipe method: Take the best fruit you can find and fry it with sweet dough. Hard to go wrong!
Fresh Peach Beignets
Homemade beignets stuffed with a fresh peach filling and fried golden brown. Dusted with lots of powder sugar, obviously.
Ingredients
Dough:
¾

Tbsp.

active dry yeast

¼

cup

sugar

¾

cup

warm water

4

eggs

,

beaten

¾

Tbsp.

kosher salt

4

cups

all-purpose flour

,

plus extra

¾

cup

unsalted butter

,

soft
Filling:
3

ripe peaches

,

peeled and diced

¼

cup

sugar

Pinch

of salt

3

quarts

oil

,

for frying

Powdered sugar
Instructions
Combine yeast and sugar in a large bowl. Then add the eggs and water.

Once the mixture is bubbling, add the salt and flour. The dough will be very wet. After you add your flour, stir it well, but don't worry if there are some lumps. Finally, beat in the softened butter until the dough is smooth and very soft. If it's really sticky, add more flour by the handful.

Let this dough rise in the bowl at room temperature for at least 2 hours. It will at least double in volume.

You can punch it down a bit at this point and can use it right away or store it in the fridge for up to 7 days (in airtight container).

When you ready to make the beignets, dust the dough with some flour.

Roll the dough out until it's 1/8-inch thick. Use more flour if the dough is sticking. Then take a knife or, even easier, a pizza cutter, and slice up the dough into 2X2 inch squares. Let the dough rest for 10 minutes after you cut it.

Preheat oil to 350 degrees in a large pot or deep-fryer. Working with a few beignets at a time, add a small amount of peach filling to each square and fold it over itself, pinching the edges. Fry dough squares in batches for about 2-3 minutes per side until they are golden brown.

Take them out with a slotted spoon and transfer to a paper towel to drain quickly. Then dust with powdered sugar. Use a heavy hand here.

For peach filling:

Dunk peaches in boiling water or 45 seconds. Remove and rinse with cold water. Carefully peel peaches and dice. Toss diced peaches in a colander with sugar and a pinch of salt and sit aside for later.
Nutrition
Serving:
3
beignets
|
Calories:
601
kcal
|
Carbohydrates:
69
g
|
Protein:
10
g
|
Fat:
32
g
|
Saturated Fat:
13
g
|
Polyunsaturated Fat:
5
g
|
Monounsaturated Fat:
13
g
|
Trans Fat:
1
g
|
Cholesterol:
128
mg
|
Sodium:
581
mg
|
Potassium:
185
mg
|
Fiber:
3
g
|
Sugar:
20
g
|
Vitamin A:
835
IU
|
Vitamin C:
2
mg
|
Calcium:
31
mg
|
Iron:
4
mg
Did you make this recipe?
Peach Beignets
Beignet Dough
I wish I could tell you that the dough for these Peach Beignets was so complicated that you should never make it, but it's dumb simple. The truth is that all enriched doughs (donuts, etc.) are really easy to make. You can use a mixer if you have one, but you don't need it to make the dough.
Start by combining the yeast, sugar, and water in a bowl and let them get frothy.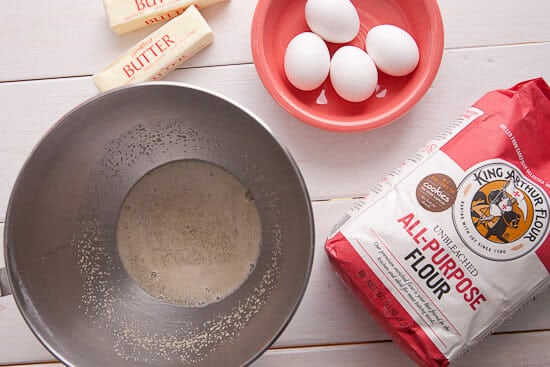 Then mix in the eggs and salt and slowly add in the flour. You should have a nice soft dough.
The only hard part is beating in the butter, which should be soft but not melted. If the dough is super sticky after you mix in the butter, you can add more flour. It's actually a more flexible dough then you would think, but the end result you are going for is a soft and smooth dough.
Dust this with a little flour and let it rise for about two hours.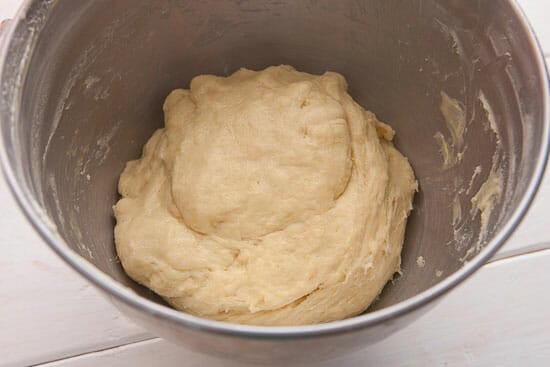 After a rise, the dough will be super soft and really easy to work with. That's all there is to it and this is the secret to really perfectly fried Peach Beignets.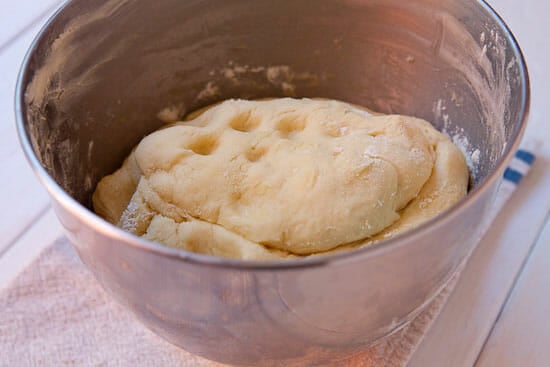 KISS Filling
There are only three ingredients to this filling because that's all you need. You do want to peel the peaches though or you'll have little fuzzies in your Peach Beignets.
Dunk them in some boiling water for 45 seconds and the skins will slide right off.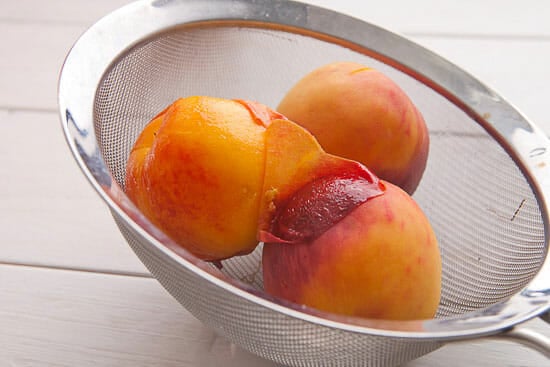 Then dice up the peaches and toss them with sugar and a pinch of salt. I recommend letting the filling drain in a colander so extra liquid will drain off.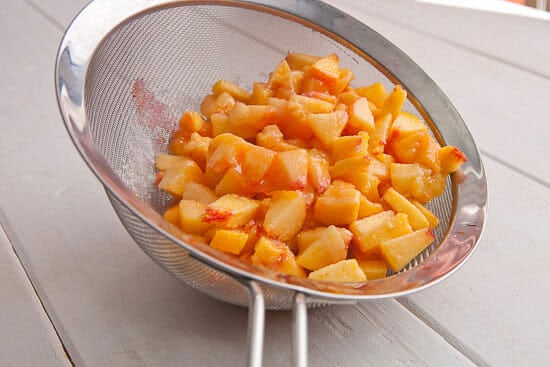 Making the Beignets
This is far from a science, but basically you want to work with 1/3-1/2 of the dough at a time and roll it into a fairly thin sheet. You'll need to dust the dough with some flour so it isn't too sticky.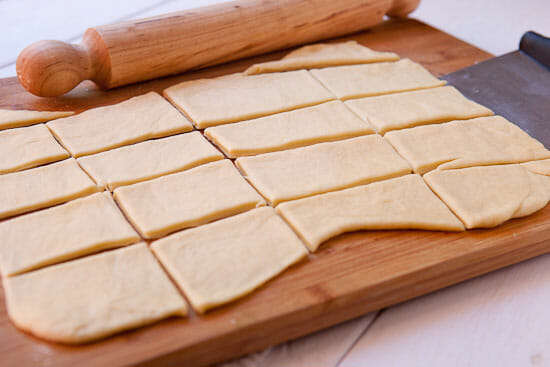 Then add some peach filling to each square and fold it over itself. Press the dough together to really seal the edges so the beignets don't fall apart as they fry.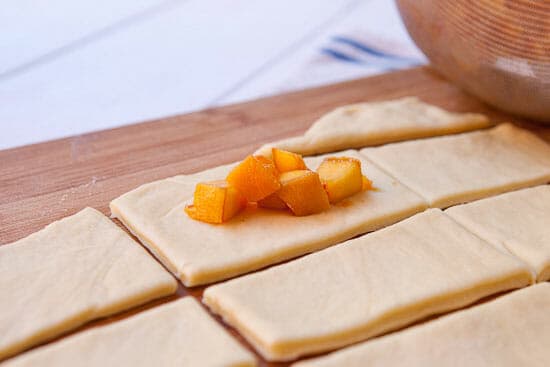 Testing Testing
Any time I'm trying a fried thing for the first time, I recommend doing a test batch. I folded up a beignet square with some filling and tossed it in 350 degree oil for about three minutes.
This was my test result.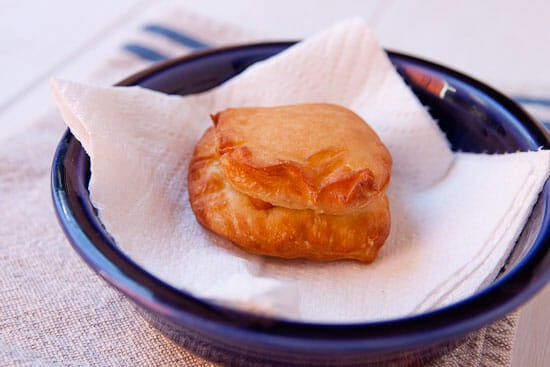 Looked good on the outside, but once I bit in, I knew I needed to fry them for another minute or so. It was a bit raw on the inside (but still delicious).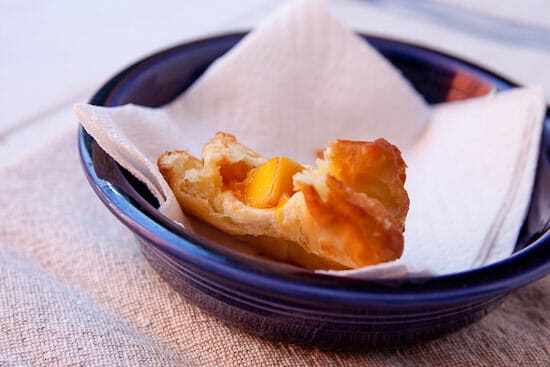 The Real Deal
I felt confident enough after the test to work in larger batches. The reason why testing is important is because your fry time might vary a bit depending on the size of your beignets, the amount of oil you have, and how you fold them up. So really it's best to just test one and adjust accordingly.
I found about two minutes of frying and then a flip was good for mine.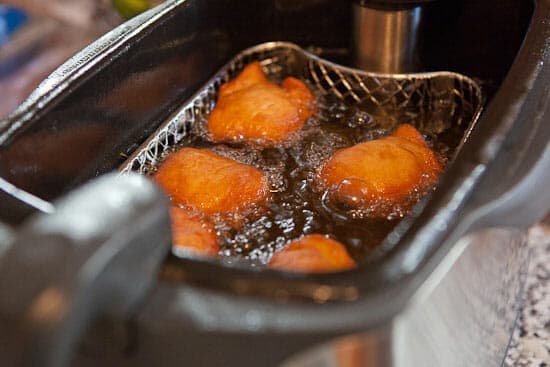 As with any beignet, no amount of powdered sugar is too much.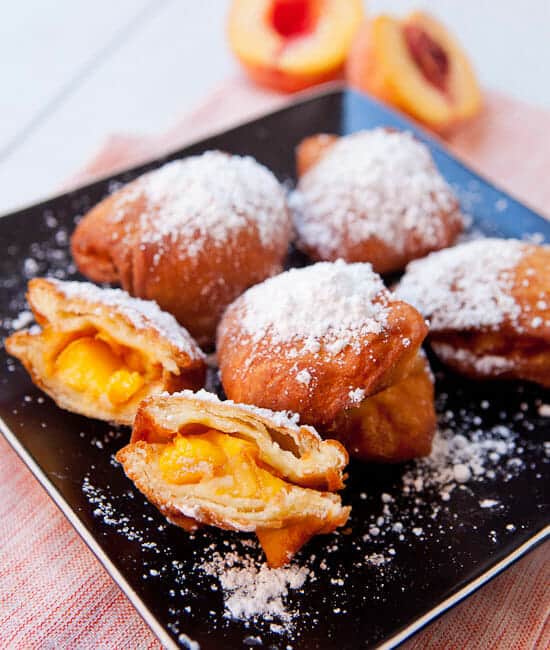 These Peach Beignets are damn near perfect. The outer crust is crispy and then their are layers of dough and the soft peaches in the center.
These are worth all the work. Make the dough. Fry them up. Make it happen.