I'm generally very opposed to labeling recipes with a time. The whole 30 minute meal fiasco is something that I don't really sign on to. But this Homemade Donut Hole Recipe is worth labeling with a time because you really can make them in about 30 minutes.
Sometimes, I think it's important to really put some emphasis on how doable a recipe is. This is that time. This donut hole recipe has no yeast in it but uses a few other leavening ingredients that make for one very delicious donut hole!
Normally, I'm sure you know, donut holes are the remains of donuts. What's poked out. These donuts have most likely been rising with yeast for hours. It makes it almost impossible to make donuts and donut holes on a whim.
But, if we just focus on the donut hole, there are some shortcuts we can take that get us really close to the real deal in a fraction of the time.
I'm not going to lie to you and tell you that these are as good as a perfectly prepared yeasted donut, but they are very tasty. Trust me when I say that your friends and family will not complain if they happen to end up on your breakfast table.
30 Minute Donut Holes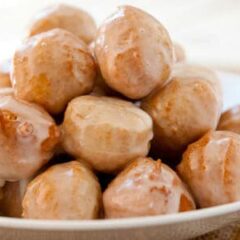 Donut holes in around 30 minutes flat. No joke it's doable and they are just as good as most donut shops. Don't forget the maple glaze!
Ingredients
1

cup

all-purpose flour

1

cup

whole wheat flour

3

tablespoons

sugar

1 ½

teaspoons

baking powder

½

teaspoon

cinnamon

½

teaspoon

kosher salt

1

cup

milk

1

large egg

1

teaspoon

vanilla

¼

cup

unsalted butter

,

melted

2

quarts

vegetable oil

,

for frying
Maple glaze:
2

cups

powdered sugar

2

tablespoons

milk

1

tablespoon

maple syrup
Instructions
In a large skillet or pot, heat oil over medium heat until it reaches 350 degrees F.

Stir together flours, baking powder, cinnamon, sugar, and salt in a medium bowl. In a separate bowl, whisk together egg, milk, and vanilla. Stir wet stuff into dry stuff and stir until it's just combined. Stir in melted butter until the batter is mostly smooth.

Dust a clean surface heavily with flour and scoop donut dough out onto the surface. Cover with flour and press the dough out into a 1/4-inch thick layer. Use a small round cookie cutter to punch out holes. You should get about 3 dozen.

Fry donut hole rounds in batches in 350 degree oil for about 90 seconds per side. Flip them as they fry so they don't get too cooked/heavy on one side.

When donut holes are golden brown (probably around 3 minutes), remove with a slotted spoon and let drain on a few paper towels. Finish frying all the donut holes.

Stir together glaze ingredients and dunk each hole in the glaze. Use a fork to shake off extra glaze and let donut holes cool/harden a bit. Serve while warm or at room temperature.
Nutrition
Serving:
3
Donuts
|
Calories:
1539
kcal
|
Carbohydrates:
42
g
|
Protein:
4
g
|
Fat:
163
g
|
Saturated Fat:
27
g
|
Polyunsaturated Fat:
91
g
|
Monounsaturated Fat:
37
g
|
Trans Fat:
1
g
|
Cholesterol:
27
mg
|
Sodium:
165
mg
|
Potassium:
93
mg
|
Fiber:
1
g
|
Sugar:
6
g
|
Vitamin A:
176
IU
|
Vitamin C:
0.003
mg
|
Calcium:
68
mg
|
Iron:
1
mg
Did you make this recipe?
Homemade Donut Hole Recipe Batter/Dough
Yeasted donuts are generally made with an enriched dough which is really soft and pretty easy to work with. It does require some rising time (usually a few hours) and that makes it pretty much impossible to just whip up a batch.
The secret to these donut holes with no yeast though is that they are sort of half dough and half batter. Think of the thickest pancake batter you can think of.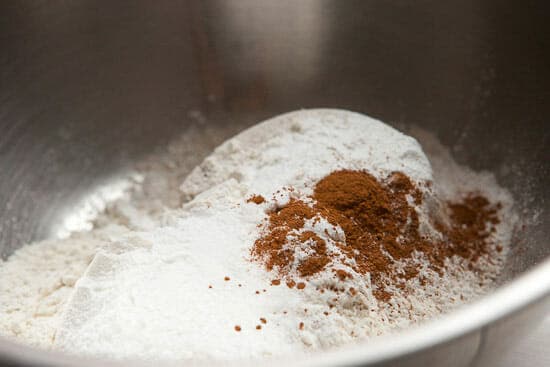 The dry stuff is pretty standard. I like to use half whole wheat flour not necessarily for health reasons (it's fried dough, people), but because it adds a little something to the flavor.
The other trick is baking powder. Instead of yeast, the dough/batter gets its leavening from baking powder like a pancake batter would.
The liquid parts of the dough/batter are familiar: milk, eggs, vanilla, butter. No need to fix any of that.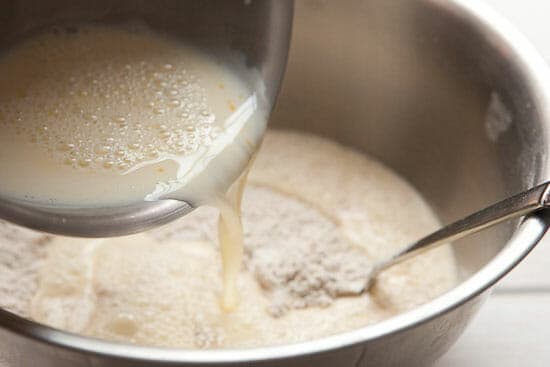 Stir everything together and then fold in the melted butter and you'll be left with a very firm donut hole batter. You couldn't really knead it if you wanted to, but you also couldn't pour it.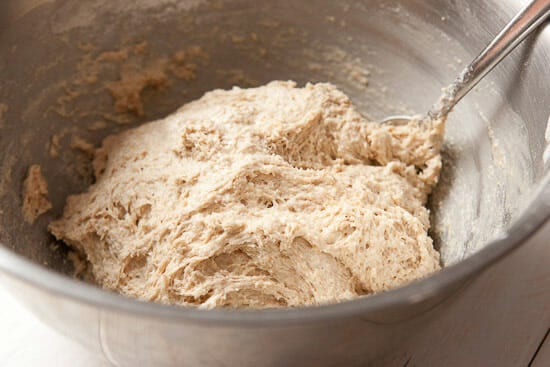 You can make some delicious donut holes out of this dough/batter.
Testing The Donut Holes
I don't always share failed versions of things in posts, but I thought this was particularly cool. It's a good demonstration on how just a small tweak of a recipe can drastically change the outcome.
The first time I tried these, I took a spoon and dropped spoonfuls of dough/batter into hot oil. The results were okay, but were more like slightly sweet hush puppies.
Did we eat them? Yes. But they weren't really what I was going for.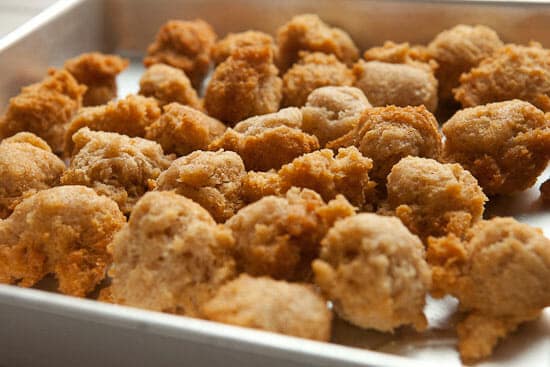 A Better Method for Donut Holes
Round two I tried a different method with great success. I started with the exact same dough/batter but instead of spoon dropping it, I scooped it out onto a very floured surface.
Then I floured the top really well and pressed it into a thin sheet about 1/4-inch thick. Get it?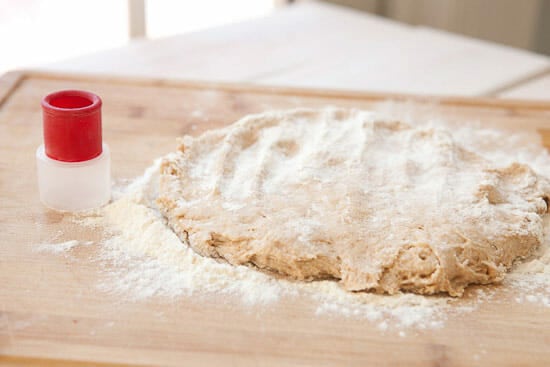 Then I took a little cookie cutter and punched out rounds!
This led to a much more uniform dough ball.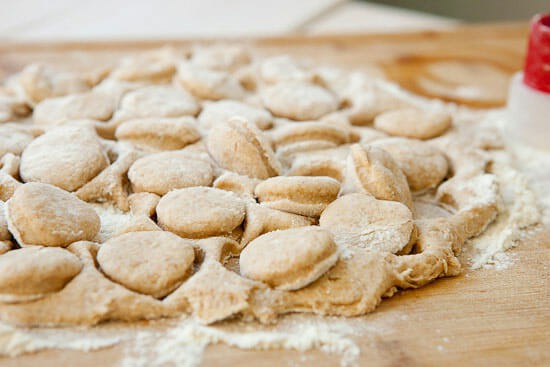 Frying the Homemade Donut Holes
As with most donuts, fry these guys in 350 degree F. oil. Flip them with tongs as they cook so they don't overcook on one side. You'll probably have to fry in a few batches.
They will cook really quickly though. 3-4 minutes per batch is more than enough.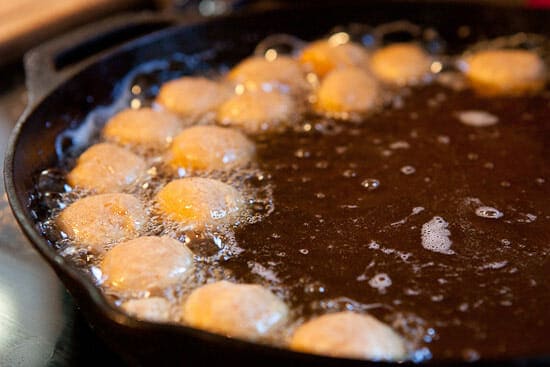 This version turned out much better. Not only were they more uniform, but they didn't have the hard edges of the failed version.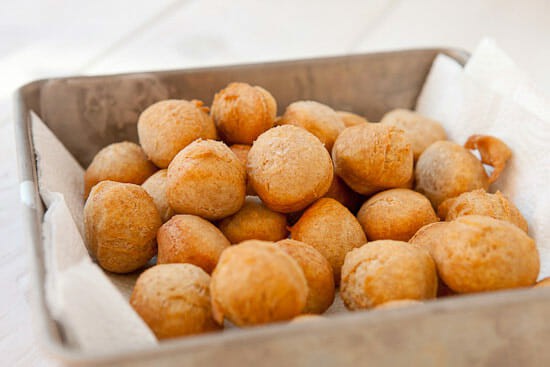 Donut Hole Glaze
These guys definitely need a glaze though so I just mixed up a quick one of powdered sugar, milk, and maple syrup. A quick dip is all you need.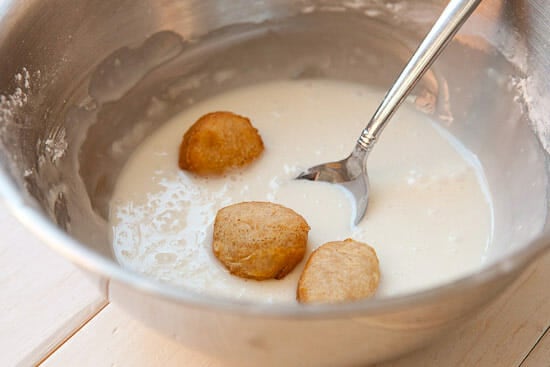 Time Review
I made these and photographed them in about 30 minutes so I have no doubt you can make it happen. Just to be thorough, here's the process I used.
1) Start oil preheating. Use a thermometer and get it going over medium heat to heat slowly while you make the batter/dough.
2) Make the batter/dough. This will take like five minutes max.
3) Roll out dough and punch out holes. Again, probably five minutes.
4) Fry holes. 8-10 minutes.
5) Let holes cool while you whisk up glaze and dunk them in!
In other words, I think this donut hole recipe can officially be called a 30 minute recipe!
Oh… and in case you're wondering I do not think you could make full donuts using this method. They would end up being too heavy and not have the right texture. But, the little bite-sized nuggets work just fine!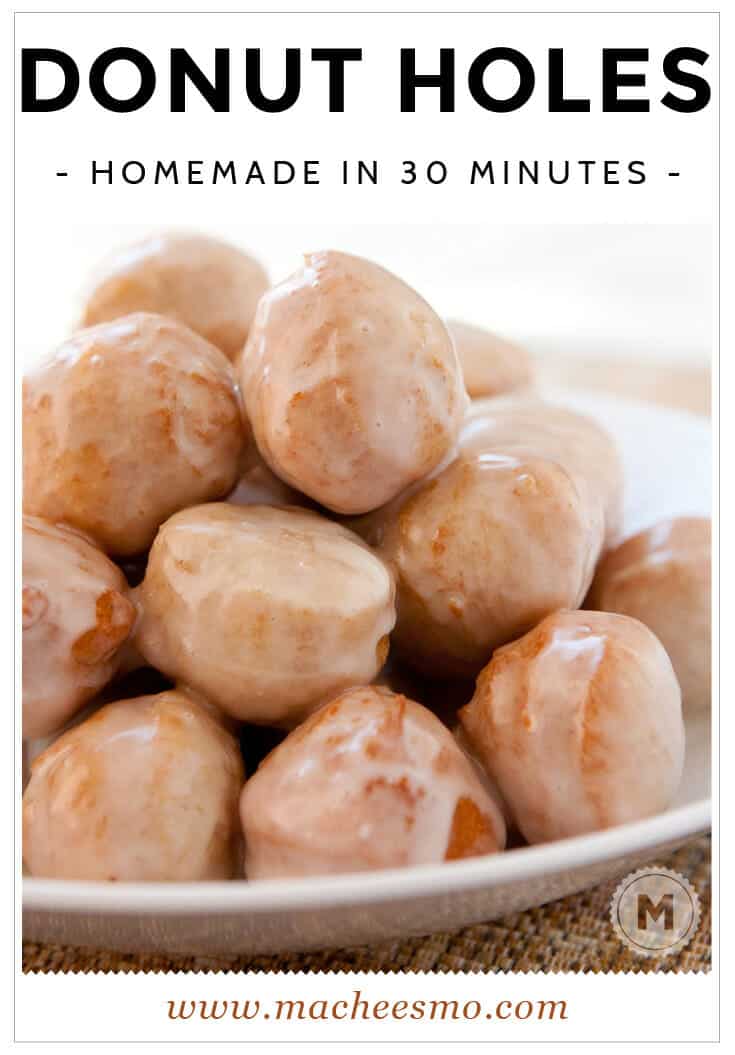 Here are a few other delicious dessert recipes!