I realized something while I was making these Berry Crepes a few weeks ago: Crepes are easier to make than pancakes.
The French know this.
For some reason, most Americans see crepes as some sort of exotic thing that are not makable in the home kitchen, but that couldn't be farther from the truth. Crepe batter is actually easier and has less ingredients than pancake batter. Also, crepes cook faster and are easier to judge than pancakes (although you'll probably mess up one).
I realized all of this because I almost never make crepes and usually opt for pancakes for a weekend brunch, but I still found these easier. If you compare my current favorite pancake recipe with this Berry Crepes recipe, for example, this is hands down easier.
Triple Berry Crepes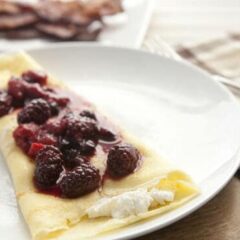 Homemade crepes topped with a simple berry sauce made from Blackberries, Raspberries and Blueberries then stuffed with lemon ricotta filling!
Ingredients
Basic Crepes:
1

cup

all-purpose flour

1

teaspoon

kosher salt

1

tablespoon

sugar

2

large eggs

1½

cups

milk

2

tablespoons

unsalted butter

,

melted (plus some for cooking)

Powdered sugar

,

garnish
Ricotta filling:
1½

cups

ricotta cheese

1

lemon

,

zest only
Berry Sauce:
2

cups

assorted berries

⅓

cup

sugar

1

tablespoon

lemon juice

1

tablespoon

water

1/2

teaspoon

vanilla extract

Pinch

of salt
Instructions
For Crepes:
Whisk together ingredients (except melted butter) in a medium bowl. It should be a very thin batter. Let sit for at least 15 minutes. Then stir in melted, but cool, butter.

Add a small dab of butter to a large nonstick skillet and swirl around over medium heat until melted.

Pour in about 1/3 cup of batter to the pan and immediately swirl the batter around to spread it around the pan in a thin layer. Cook for about 90 seconds on that side.

Flip crepe carefully with a thin spatula and cook for another 30-60 seconds on the second side until it's lightly browned.

Smear crepe with some of the ricotta filling and top with berry syrup.
For filling:
Stir together ricotta and lemon zest and set aside.

For the syrup, wash berries and combine them with other ingredients in a small pot over medium heat. Stir until the mixture is just starting to bubble. Then kill the heat and let he syrup cool. You don't want the berries to completely break down from over-cooking.

Serve crepes with sauce and sprinkled with powdered sugar.
Nutrition
Serving:
1
large crepe
|
Calories:
551
kcal
|
Carbohydrates:
67
g
|
Protein:
20
g
|
Fat:
24
g
|
Saturated Fat:
14
g
|
Polyunsaturated Fat:
1
g
|
Monounsaturated Fat:
6
g
|
Trans Fat:
0.2
g
|
Cholesterol:
155
mg
|
Sodium:
728
mg
|
Potassium:
384
mg
|
Fiber:
4
g
|
Sugar:
36
g
|
Vitamin A:
895
IU
|
Vitamin C:
18
mg
|
Calcium:
337
mg
|
Iron:
3
mg
Did you make this recipe?
Berry Crepes
Berry Time
You can put almost anything in or on a crepe, but since berries are in season these days and fresh and cheap, I went that route. Almost any berry will work, but I went with the classic trio: blueberries, blackberries, and raspberries.
You could just toss these on fresh, but I decided to make a very quick syrup with them. Basically, I just tossed the washed berries in a small pot with the other syrup ingredients and cooked them gently for a few minutes until the sugar was dissolved.
The berries will release some of their liquid but should still stay looking like berries. You want to just heat them up but not cook them so much that they break down.
This was after 3-4 minutes of gentle heat. That's all it takes.
You can serve this syrup warm or cool. It's delicious either way.
Crepes are Easy
Okay. Let's get down to business on these Berry Crepes. The cool thing about crepes is that the batter is way easier to pull together than waffle or pancake batter in my opinion. While a pancake batter needs to be in the sweet spot between thin and thick so the pancake puffs a bit, but doesn't get too thick, this batter is just thin. After all, the whole point is that you end up with nice thin crepes.
Honestly, I just whisk all my ingredients together in a bowl. It's such a wet batter that the order doesn't really matter.
Don't whisk in the melted butter though until you are ready to cook. The one trick with the crepe batter is that it helps to let it sit for 20-30 minutes before using it so the flour absorbs the liquid. You can make the filling and syrup though while your batter sits.
When you are ready to make a crepe, you just need a large skillet (nonstick works best). Melt some butter in the skillet over medium heat and then pour in about 1/3 cup of batter assuming you have a twelve inch pan.
Once the batter hits the pan, start swirling the pan so the batter spreads out to the edges. The is really the only tricky part of making a crepe. Ideally, the batter will get all the way to the edges of the pan, but you might mess up one or two of them until you get the hang of it.
This was my first crepe of the day and it wasn't great.
Cook the crepes quickly for about 90 seconds on the first side and then 30 seconds on the second side. The crepe should be lightly browned but still flexible enough to fold.
My second crepe turned out great!
For the filling, I just stirred together some ricotta and lemon zest. Nothing crazy, but it gives some substance to the crepes. The lemon cuts some of the sweetness of the syrup.
Once your crepe comes out of the pan, give it a schmear of ricotta filling.
Fold it over itself a few times and serve it with the berry syrup.
Looks kind of fancy, but I swear that once you get the hang of it you'll see that these Berry Crepes are easy to make and really tasty.
Anybody else agree with me? Crepes are easier than pancakes? Am I crazy? Leave a comment!