It's the middle of August and I'd be willing to bet that you could use something frozen and delicious right about now. I teamed up with a bunch of other wonderful bloggers and we are bringing you nothing but delicious frozen ice cream recipes all week! Be sure to check out the end of this post for an awesome giveaway and links to all the other bloggers!
The frozen yogurt trend is about at capacity I think. In most towns and cities you can find a fro-yo place where you buy the frozen yogurt by weight and top it with whatever floats your boat.
What I really like though, is just a good tart frozen yogurt. It can be tough to find now because so many of these stores add in ridiculous flavors and loads of sugar. Personally, I like my frozen yogurt tart and then I can top it with sweet stuff on my own.
It turns out frozen yogurt is really easy to make at home… easier than ice cream by a lot. But, it's not as easy as just churning yogurt in an ice cream maker. There are a few small tricks that will get you to tart frozen yogurt paradise.
Tart Frozen Yogurt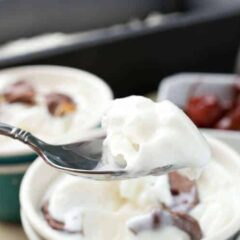 This quick tart frozen yogurt recipe is faster than ice cream and great for piling high with delicious toppings!
Ingredients
3

cups

whole fat yogurt

1

cup

Greek yogurt

¾

cup

sugar

½

teaspoon

vanilla extract

Pinch

of salt
Instructions
Whisk together yogurts with sugar, a pinch of salt, and vanilla.

Add yogurt mixture to a chilled ice cream maker. Churn for 20-25 minutes until mixture is desired consistency. I like it best served soft like this.

Serve tart fro-yo with toppings like chocolate, candy, fresh fruit, etc.

You can freeze this for later in an airtight container. Try to keep the fro-yo creamy by stirring it every 30 minutes as it freezes. Also, let it thaw for 20 minutes when you pull it out of the freezer so it softens a bit.
Nutrition
Serving:
1
cup
|
Calories:
315
kcal
|
Carbohydrates:
55
g
|
Protein:
12
g
|
Fat:
6
g
|
Saturated Fat:
4
g
|
Polyunsaturated Fat:
0.2
g
|
Monounsaturated Fat:
2
g
|
Trans Fat:
0.003
g
|
Cholesterol:
26
mg
|
Sodium:
103
mg
|
Potassium:
357
mg
|
Sugar:
55
g
|
Vitamin A:
184
IU
|
Vitamin C:
1
mg
|
Calcium:
278
mg
|
Iron:
0.1
mg
Did you make this recipe?
Yogurt Choices
The yogurt aisle at grocery stores is out of control. Here's the most important parts of choosing a good yogurt for this process.
First, choose a yogurt with live cultures. These give the yogurt some nice tang.
Second, don't use a lowfat yogurt. Sure, it might be less caloric, but it'll also turn into a slushy since it has more water in it. I guess your call but if you use lowfat, you're on your own.
You actually don't have to use Greek yogurt, but I like the mix. If you were to use all greek yogurt, it would be too thick, but I like a 3-1 mix of whole yogurt and Greek yogurt.
Also, it should go without saying, but stay away from any flavored yogurts.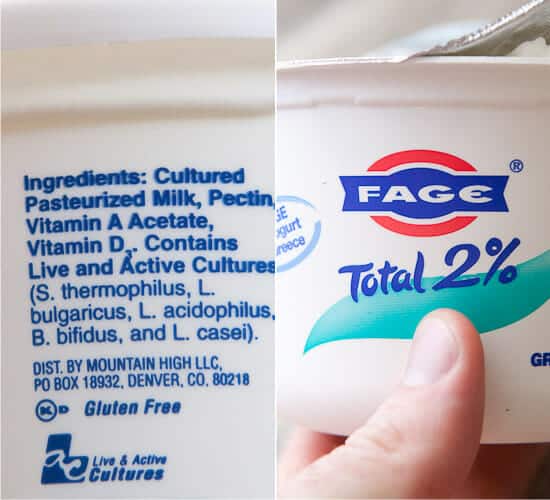 Once you have your yogurts, this is so much easier than ice cream.
Just whisk the yogurts together with sugar, vanilla, and a pinch of salt. You need some sugar in this recipe as it helps keep the mixture smooth while churning, but you don't want to overdo it.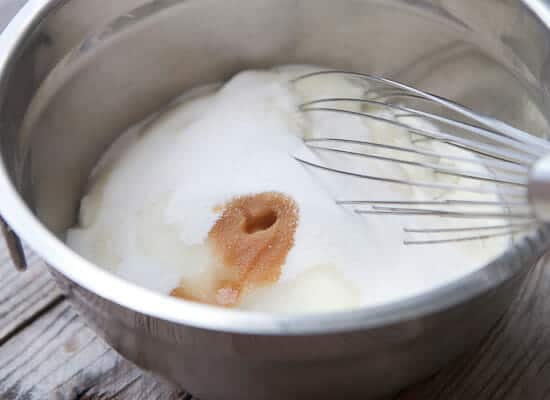 After you whisk it all together, feel free to give it a taste. It should be delicious just like this. Keep in mind that as it churns, it will lose some of the sweetness. The end result won't be as sweet (and will be more tart) than the mix tastes at this point.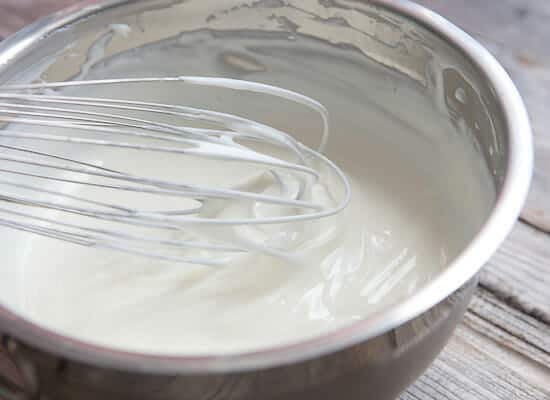 Churning the Frozen Yogurt
This really couldn't be easier. I used to use a KitchenAid attachment for churning ice cream, but I finally upgraded to a better ice cream maker. It does a great job and is sturdier for sure.
Just add your yogurt mix to the ice cream maker and start churning!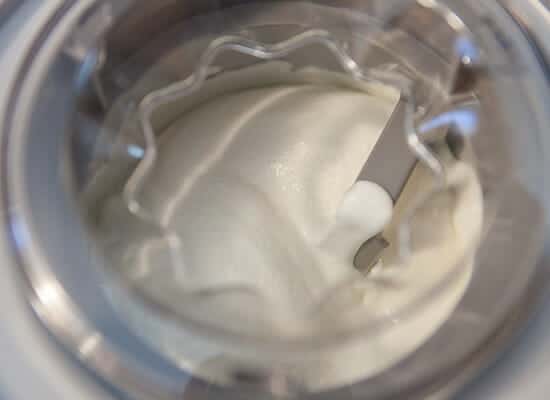 This will need to churn for 20-25 minutes to get to the right soft-serve texture.
This was after about 15 minutes. Getting there, but still not sturdy enough.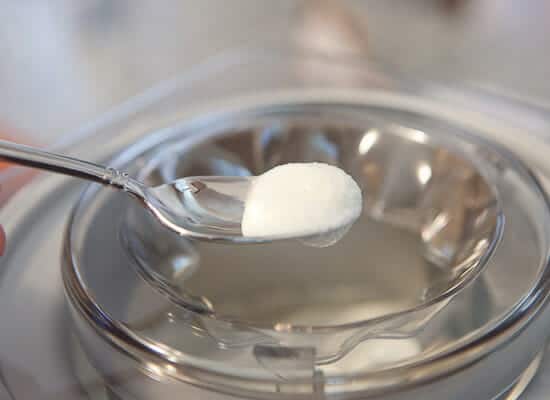 After 25 minutes, my tart frozen yogurt was thick and marvelous.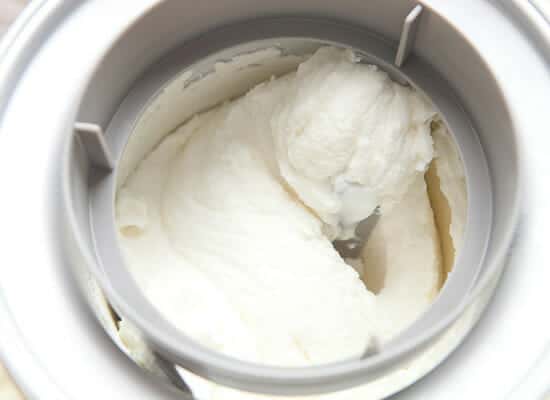 Good stuff!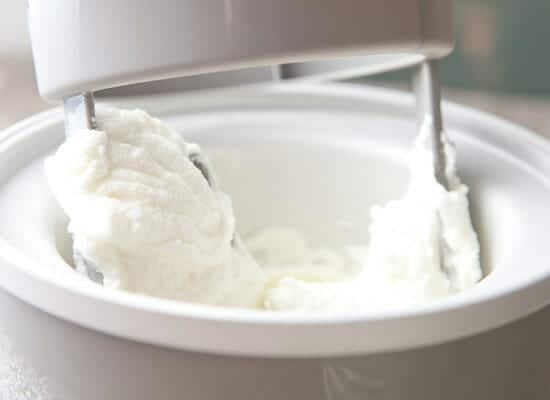 Serving Tips
Here's my best advice: Serve this frozen yogurt soft. It's really best right out of the churner. If you're making this for dessert, just start the churner before you sit down to eat and let it churn! It'll be perfect for dessert time.
If you do want to store it for later, freeze it in an airtight container. Try to stir the yogurt as it freezes (every 30 minutes or so) to try to keep it creamy. At the end of the day though, I still found my frozen yogurt to get pretty icy in the freezer. The way to solve the problem though is just to let it thaw for 20 minutes before serving it.
It's really just best at a soft-serve texture (which is why all the stores serve it this way). So try to eat at that consistency.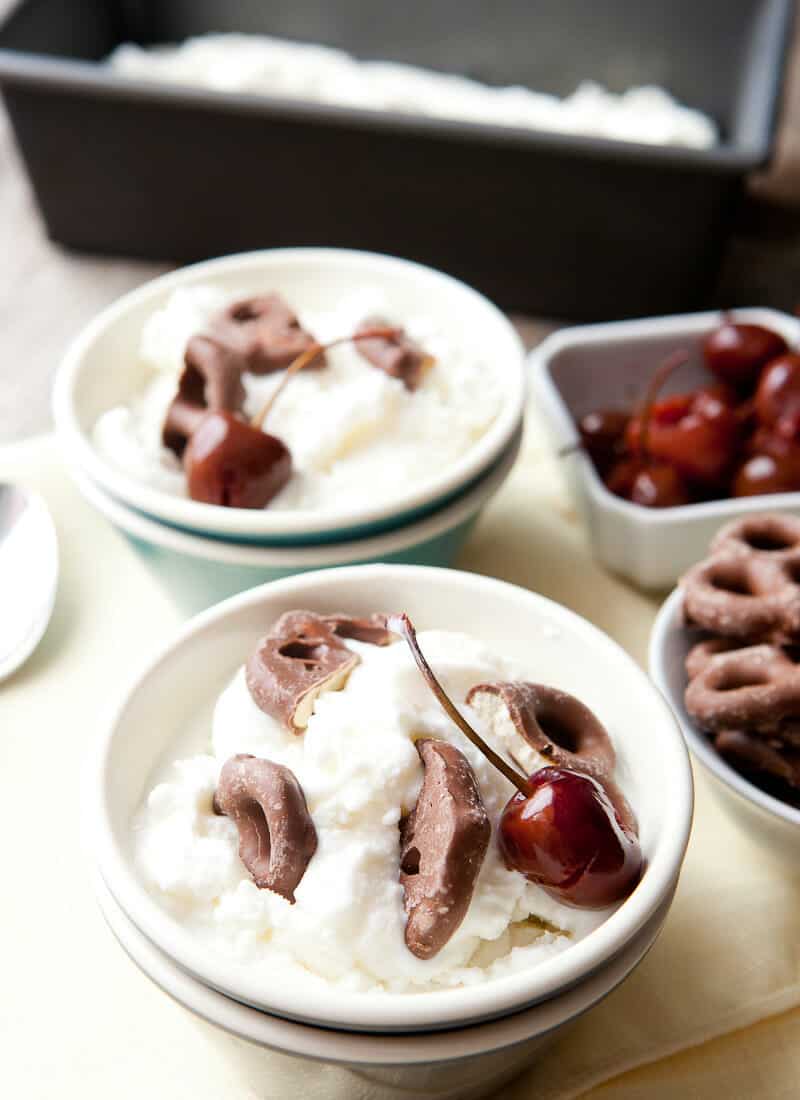 It should go without saying, but toppings are seriously limitless. Candy. Fruit. Syrups. Pretzels. Cereals. It's all up for grabs.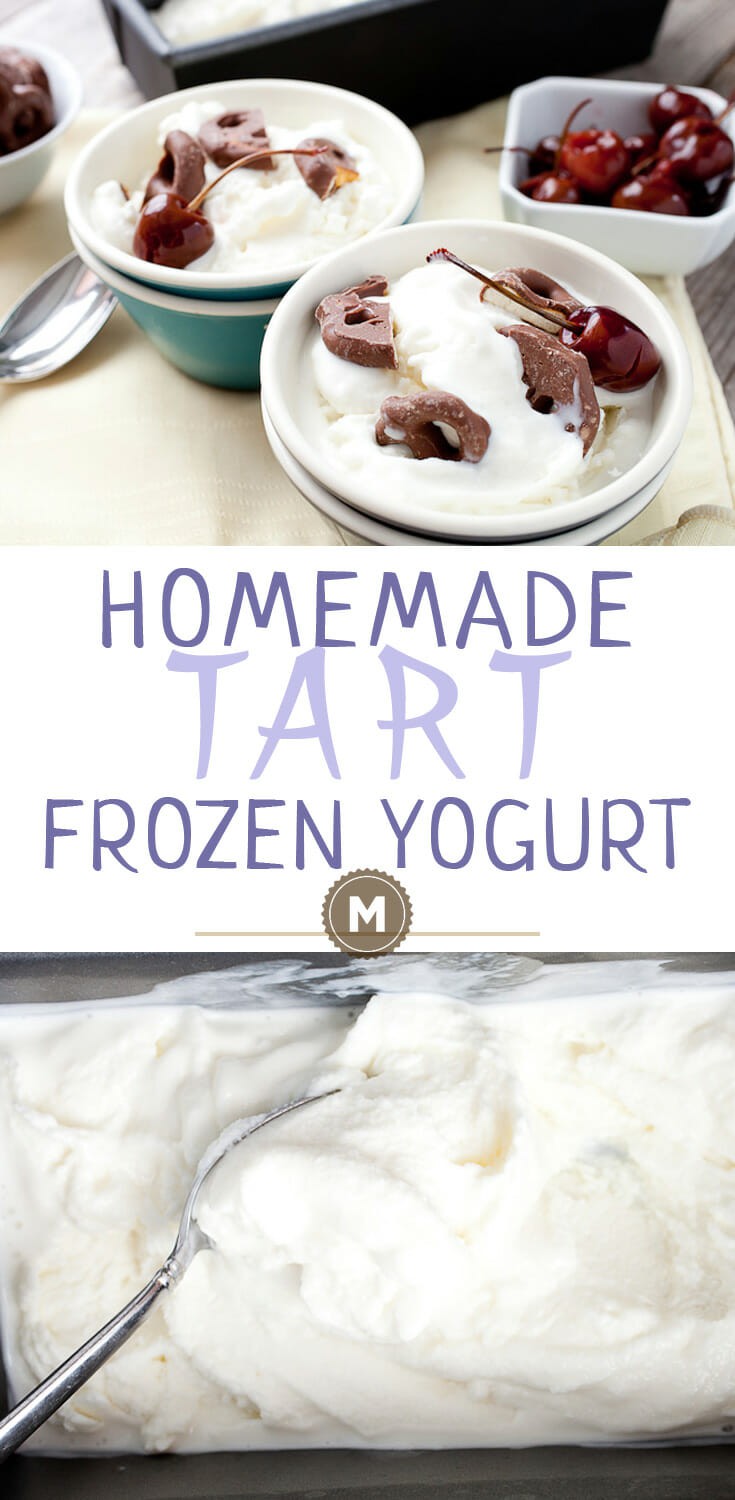 My favorite topping was a few of my homemade cocktail cherries and some chocolate pretzels. Perfection!