Well, I finally found it!
I've been on the hunt for a sauce that's as versatile as marinara but with a bit more pizzazz. It's not that I have anything against marinara sauce, but it can get a bit old after awhile.
Not only is this sauce as useful, but it can be argued that it's even easier to make because you don't even have to cook it! Just a quick pulse in a blender or food processor and then you can start slathering.
It's hard for me to think of a dish in the Italian/Spanish recipe index that you couldn't serve with this sauce. It just goes with everything!
Spicy Romesco Sauce
This spicy romesco sauce is a simple twist on the classic spanish sauce that's good on almost anything! Easy to make and easy to use!
Ingredients
4

dried chiles

,

soaked (new mexico or guajillo)

1

large roasted red pepper

1

clove

garlic

½

cup

slivered almonds

1

cup

tomato puree

¼

cup

fresh parsley

2

tablespoons

red wine vinegar

1

teaspoon

paprika

Pinch

cayenne pepper

½

cup

olive oil

Salt and pepper
Instructions
Soak dried chiles with 4 cups boiling water for 30 minutes. Then remove chiles and cut off stems. Use a paring knife to cut down the side of each chile and scrape out the seeds.

Chop up chiles and add to a food processor with roasted red pepper, tomato puree, garlic, and almonds. Pulse until mostly smooth.

Add parsley, vinegar, paprika, cayenne, and a pinch of salt and pepper and pulse to combine. Drizzle in olive oil and continue to pulse. Taste sauce and adjust seasoning to your liking.

Store finished sauce in the fridge, but serve it at room temperature or warm over any protein or pasta.
Nutrition
Serving:
0.25
cup
|
Calories:
239
kcal
|
Carbohydrates:
8
g
|
Protein:
3
g
|
Fat:
23
g
|
Saturated Fat:
3
g
|
Polyunsaturated Fat:
3
g
|
Monounsaturated Fat:
16
g
|
Trans Fat:
0.002
g
|
Sodium:
18
mg
|
Potassium:
325
mg
|
Fiber:
2
g
|
Sugar:
4
g
|
Vitamin A:
1307
IU
|
Vitamin C:
34
mg
|
Calcium:
36
mg
|
Iron:
2
mg
Did you make this recipe?
Spicy Romesco Sauce: A Twist on the Classic
This original sauce isn't intended to be spicy. It's a savory sauce, but I had some dried chiles on hand and am always looking for a way to infuse a bit of spice into sauces like this.
You can absolutely leave the chiles out if you want, but in my opinion they are a nice improvement.
I used a mix of New Mexico chiles and Guajillo chiles. If you wanted a more mild chile you could use ancho chiles.
Just soak the chiles in hot water for about 30 minutes to bring them back to life.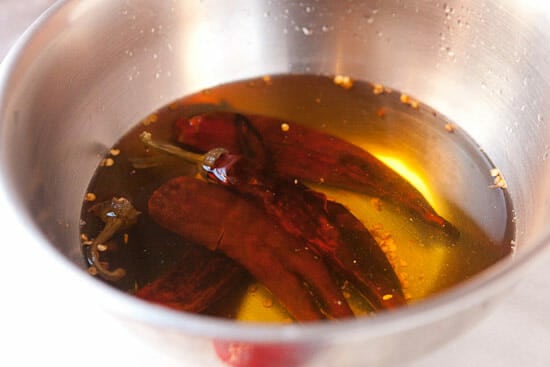 There's still tomato sauce in this recipe (just a bit), but the original base of this sauce comes from roasted red peppers. You need one whole roasted red pepper. It should measure a bit over half a cup in size if you chopped it up.
It's okay to add more red pepper also. Just don't skimp on it.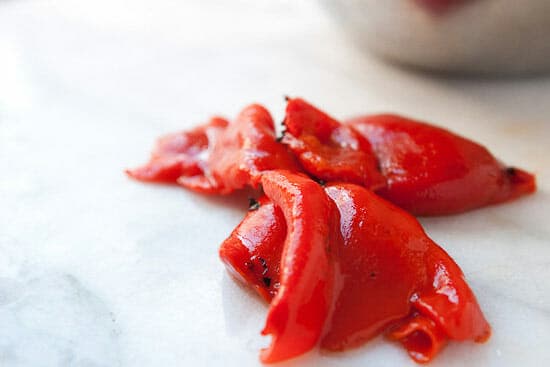 Making the sauce couldn't be easier. Once your chiles are soaked, remove them from the water and chop off the stems. Then slice them open and scrape out the seeds. Chop up the chiles and add them to a food processor with the tomato puree, red pepper, almonds, and spices.
Pulse this all together until it's in a rough paste and then add the other ingredients.
Add the olive oil in a drizzle near the end and just pulse it until the sauce comes together.
Most importantly, when the sauce is done, give it a taste!
It'll need a pinch of salt and pepper for sure, but you might also want to add in some more spice or a bit more vinegar for extra tang. It's up to you!
Just off the top of my head, here are five great ways you could use this sauce:
– On lightly pan fried or roasted chicken.
– As a pasta sauce.
– Served over grilled pork.
– As a dip for appetizers like meatballs or fried cheese.
– With broiled shrimp.
In other words, with almost anything.
If you've tried romesco sauce, leave a comment! I'd love to see what other people use it for.