If I told you that I once ate an entire red onion in one sitting you would probably feel very bad for my loving wife, Betsy.
But you know what? I did it and I can't take it back now. Nor do I want to frankly because when you slice red onions really thinly and fry them they just turn out to be these crispy little delicious strings. They have a slight spice to them that you wouldn't get with normal onions.
And that made it impossible for me to stop eating them.
Red Onion Strings
Red onions soaked in buttermilk and fried. They have a nice tangy flavor that goes great with a homemade ranch dipping sauce.
Ingredients
2

large red onions

,

sliced thin

3

Cups

buttermilk

3

Cups

all-purpose flour

1

Tablespoon

paprika

1

Tablespoon

kosher salt

1

Tablespoon

black pepper

2

quarts

oil

,

for frying
Homemade Buttermilk Ranch:
1

Cup

buttermilk

1

Cup

Greek Yogurt

¼

Teaspoon

paprika

⅛

Teaspoon

dried mustard

¼

Teaspoon

fresh dill

1

Teaspoon

fresh parsley

1

Teaspoon

fresh chives

1

Teaspoon

lime

,

or lemon juice

1

pinch

of salt and pepper
Instructions
Slice onions thinly and soak in buttermilk for at least 30 minutes.

For ranch, dice fresh herbs finely and mix together with other ingredients in a mason jar. Shake for 10 seconds to combine well. You can also whisk everything together in a bowl.

Set up a fry station with a thermometer. Heat oil to 350 degrees.

Mix flour with spices (paprika, salt, pepper).

Drain onions and let sit for a few seconds.

Dip onions in flour and coat lightly. Then transfer straight to the fryer.

Fry for about 5 minutes until they are golden brown. Work in batches and make sure your oil stays hot.

Let drain on a paper towel for a minute and serve immediately!
Nutrition
Serving:
1
bowl
|
Calories:
614
kcal
|
Carbohydrates:
92
g
|
Protein:
24
g
|
Fat:
16
g
|
Saturated Fat:
5
g
|
Polyunsaturated Fat:
3
g
|
Monounsaturated Fat:
7
g
|
Trans Fat:
0.03
g
|
Cholesterol:
29
mg
|
Sodium:
2029
mg
|
Potassium:
640
mg
|
Fiber:
5
g
|
Sugar:
16
g
|
Vitamin A:
1346
IU
|
Vitamin C:
4
mg
|
Calcium:
371
mg
|
Iron:
5
mg
Did you make this recipe?
Prepping the Onions
These aren't rocket science to make. You need some onions obviously. Might as well get the biggest ones you can find!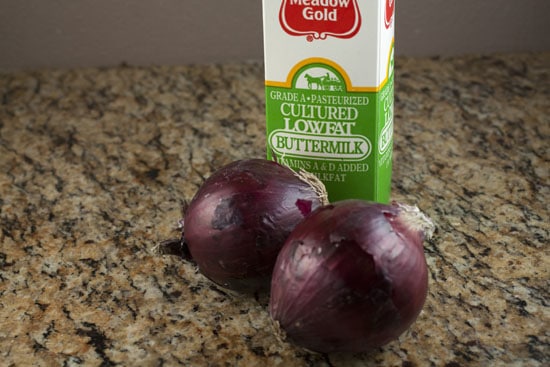 The key to these suckers is to slice them as thin as possible. If you wanted to be exact about it you could use a mandoline slicer. If I were making a bunch of them, I would. But for just a few, I think it's easier and good practice just to slice them up with a sharp knife.
And frankly, I kind of like it when the strings are a bit irregular.
If you sliced them too thick though they would be over-powering. So keep them on the thin side. And I wasn't going for onion RINGS really so it doesn't matter if they are whole rings.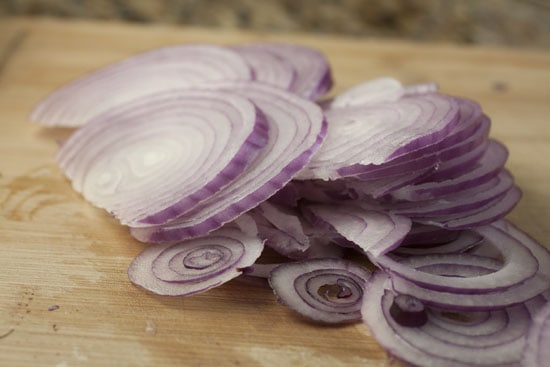 Let these guys soak for at least 30 minutes in some buttermilk. The buttermilk will actually pull out some of the strong onion flavor and mellow them out a bit. This is a good thing considering how strong red onions can be.
The Dipping Sauce
Honestly, these are good enough to be eaten on their own. But I was in the mood to make some salad dressing and a good ranch dressing happens to be a good dipping sauce also.
If you've never had real buttermilk dressing before, I highly recommend it. It's a lot different than the stuff in the store. It requires some fresh herbs and stuff, but it's really simple to mix up assuming you have most of the ingredients.
Make sure to mince all your fresh herbs really finely so they mix well.
You could whisk everything together in a bowl, but I prefer the mason jar method. Just stick everything in a jar and give it a good shake!
After about 10 seconds of shaking you should have a really nice dressing.
This will keep in the fridge for one or two weeks without a problem and it'll get stronger as it sits in the fridge.
Be especially careful of the dill. It can completely over-power the other flavors if you over-dill it.
Frying the Strings
When you're ready to make the strings, set up your fry station. As always, I recommend using a good deep fry thermometer to make sure your temperature is correct. You're shooting for 350 degrees.
When you're ready to go, drain the buttermilk off the onions. I just throw mine in a colander and let them sit for a few seconds to make sure most of the buttermilk has drained off.
Then give them a quick toss in your flour and seasoning. Obviously, make sure to stir the flour and seasoning so it's mixed well.
A light coating is all you need.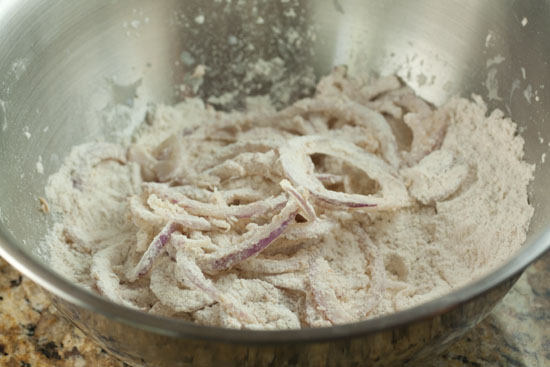 Then straight into the fryer!
You'll want to work in batches to make sure the temperature of your oil doesn't drop too much. Depending on the size of your pot, two onions will take three or four batches probably.
These are looking great though.
These guys will need 5 minutes to fry nicely and turn golden brown. Don't rush them.
Use a slotted spoon or tongs to get these guys out of the hot oil and let them drain for a few seconds on a paper towel.
This probably isn't a surprise to you, but these are best if you eat them right away!
The dipping sauce is good, but completely optional. These are delicious as-is.
Not much beats these guys with a good burger so the next time you're grilling out, give them a shot!