Meatloaf isn't really sexy. Or at least it is pretty difficult to make it sexy and convince someone that it could be. The recipe in this post though, is the best meatloaf I've ever had. The problem with most meatloaf, in my opinion, is that they are either dry, too heavy, or they just taste like hamburger slathered with ketchup.
This meatloaf has none of those problems.
Magnificent Meatloaf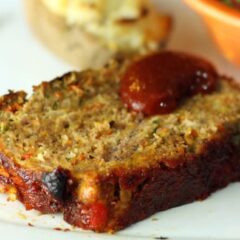 The fail-proof way to make magnificent meatloaf at home!
Ingredients
1

pound

ground sirloin

1

pound

ground turkey

1

onion

,

minced

1

carrot

,

minced

1

red pepper

,

minced

1

poblano pepper

,

seeded and minced

3

garlic cloves

,

minced

½

Teaspoon

cayenne pepper

1

Teaspoon

chili powder

1

Teaspoon

dried thyme

½

Teaspoon

black pepper

1 ½

Teaspoon

kosher salt

6

ounces

bread crumbs

,

I like Italian flavored Panko.

1

egg
Glaze:
1

Cup

ketchup

2

Teaspoons

cumin

1

Teaspoon

Worcestershire sauce

1

Teaspoon

hot sauce

,

adjust to your liking

2

Tablespoons

honey
Instructions
Preheat your oven to 325 degrees Fahrenheit.

To make the glaze, combine all ingredients well. Taste it and adjust to your liking. It should be pretty strong if you are tasting it by itself.

For all the vegetables, be sure to mince them very finely. If you have a food processor, it's easiest to pulse them a few times in that.

Add a small drizzle of oil to a large skillet over medium heat. Add the onion, carrot, peppers, and garlic to the pan and cook until veggies soften, just a few minutes.

Once veggies are cooked, add them to a large bowl with all the other meatloaf ingredients. Use your hands to really mix everything together well.

Pack the meatloaf into a 9×5 loaf pan. Then invert the pan on a baking sheet (I like to line mine with parchment for easy cleanup).

Bake the meatloaf free-form for 15 minutes, then remove it and coat it with some glaze every 15-20 minutes. The meatloaf will need to bake for 60-70 minutes to be cooked through.

Let the meatloaf cool for 5 minutes before slicing and serving. Serve it with extra glaze on the side!
Nutrition
Serving:
1
Slice
|
Calories:
460
kcal
|
Carbohydrates:
43
g
|
Protein:
38
g
|
Fat:
15
g
|
Saturated Fat:
5
g
|
Polyunsaturated Fat:
2
g
|
Monounsaturated Fat:
6
g
|
Trans Fat:
1
g
|
Cholesterol:
120
mg
|
Sodium:
1298
mg
|
Potassium:
804
mg
|
Fiber:
3
g
|
Sugar:
19
g
|
Vitamin A:
2843
IU
|
Vitamin C:
46
mg
|
Calcium:
103
mg
|
Iron:
5
mg
Did you make this recipe?
Preheat your oven to 325 and then make your glaze. Just combine all that stuff in a bowl and stir it up well. Taste it and adjust to your liking. It should be pretty strong if you are tasting it by itself.
Then get these guys ready:
You need to make sure that these are very finely chopped. I recommend peeling everything and then pulsing it a few times in the food processor. You don't want it to be a paste, but just really small piece. The only thing I chopped by hand was the poblano because I wanted some larger chunks of that in the final product.
Cook your veggies. This is really important. Not only does it draw out tons of flavor, but it will also help bind your loaf together later. If you were to put them in raw, it might work, but I wouldn't trust it. Just saute your very finely chopped veggies (along with your chopped garlic) for about 3 minutes in bit of oil. You don't want the veggies browned, just softened a bit.
Get a large bowl and combine all your dry ingredients. Mix these up well. If you don't use Italian bread crumbs maybe add a bit more thyme and some oregano to get the same spices in the mix.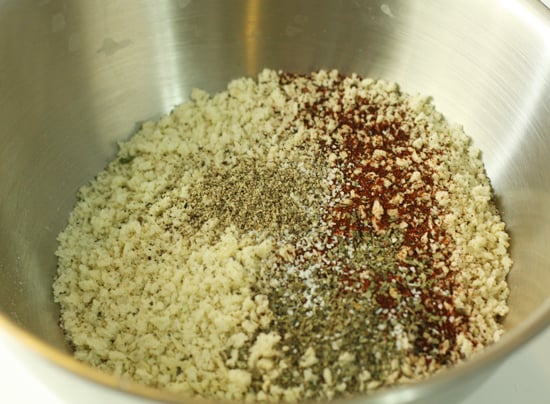 Then it is pretty easy. Stir in your veggies and then both your ground meats. Once it is all mixed together, add your one egg. You don't need more than one.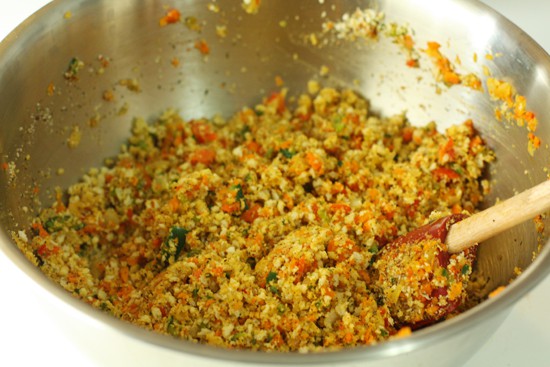 The real trick of this recipe is that you don't actually cook it in a loaf pan. Instead you use the loaf pan to form it, but then you cook it free form. This is a great change from the normal way to cook meatloaf for two reasons: First, if lets some of the fat drain away instead of just sitting in the loaf pan. Second, you can glaze the entire surface of the loaf!
I'm using a 10 inch loaf pan for this guy.
This needs to cook until it has an internal temperature of 155 degrees. For me this was about an hour of cooking. After it is in the oven for 15 minutes, take it out and give it a complete coat of the glaze mixture. I glazed it again after about 15 more minutes in the oven. Because the glaze rocks.
Once this is done, let it cool for 5 minutes before slicing and serving.
This may not appear to be a very glamorous meal, but it is really tasty. The leftovers are best if eaten over the next day or two. While it will keep for a week probably, it starts to dry out a bit after a few days. Best application for leftovers: Meatloaf sandwich.
I've had a lot of meatloafs in my life and dislike most of them. This guy, however, was really packed with flavor and super-moist. For meatloaf, it is pretty freakin' sexy.