When I was coming up for meals to make for my frozen week I did a lot of research on what types of dishes freeze well.
Lasagna came up on almost every google search and forum that I read as the best frozen meal.
The problem was that everyone had a different opinion about how to freeze lasagna correctly. Some said you shouldn't freeze meat versions, some said you should freeze the lasagna before cooking it, some after.
I compiled all of this info in my noggin and came up with a great lasagna recipe that freezes very well. Also, I'm pretty sure that I came up with the best way for how to freeze lasagna! Feel free to debate if you want, but I'm pretty sure I nailed it.
Mushroom, Beef, and Sausage Lasagna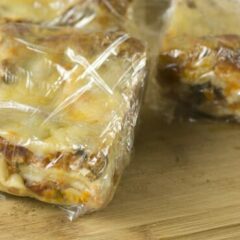 My foolproof method that will reheat perfectly and is stored in easy-to-serve sizes. Plus, my delicious lasagna recipe!
Ingredients
1

pound

ground beef

1

pound

spicy Italian sausage

8

ounces

crimini mushrooms

,

sliced thin

½

onion

,

diced

4

cloves

garlic

,

minced

1

can

tomato sauce (28 oz.)

¼

cup

tomato paste

½

cup

fresh basil

,

chopped

½

cup

fresh parsley

,

chopped

24

ounces

cottage cheese

2

large eggs

1

pound

mozzarella cheese

,

grated

1

cup

Parmesan cheese

,

grated

12

oz

lasagna noodles

,

boiled

Salt and pepper

Olive oil
Instructions
Add a good drizzle of olive oil (2 tablespoons) to a large, high walled skillet or pan over medium heat. Once the oil is hot, add the mushrooms, onions, and garlic along with a pinch of salt. Cook until mushrooms soften, about 5 minutes.

Remove veggies and add ground beef and sausage to the pan. Cook until the meat is cooked through, about 10 minutes. Tilt pan and spoon out most of the fat that has collected. Then stir veggies back into pan.

Add tomato sauce and paste to the pan and stir to combine. Simmer for about 20 minutes.

Add half of the fresh basil and parsley to the filling and turn off the heat.

In a separate bowl, combine cottage cheese, eggs, and remainder of fresh herbs.

Cook noodles according to package in heavily salted water with about 1 tablespoon of olive oil added in.

In a large baking dish or lasagna pan, add a layer of noodles followed by half of the meat filling. Top with half of the cottage cheese mixture, then half of the mozzarella and parmesan cheese.

Top with another layer of noodles, then the last of the cottage cheese mixture, then the rest of the meat filling. Top the whole dish with the remainder of the grated cheeses.

Bake the lasagna at

350

°F

for 30-40 minutes until it's hot in the center.

Serve immediately.

TO freeze, let lasagna cool to room temperature then transfer to fridge to cool and solidify.

Slice lasagna into individual servings and remove them from the pan. They should stay perfectly together if they are cold.

Wrap each serving in plastic wrap and then store all the individual servings in freezer safe plastic bags.

To reheat, microwave frozen lasagna on high for 4-5 minutes.
Nutrition
Serving:
1
plate
|
Calories:
856
kcal
|
Carbohydrates:
45
g
|
Protein:
54
g
|
Fat:
51
g
|
Saturated Fat:
22
g
|
Polyunsaturated Fat:
4
g
|
Monounsaturated Fat:
19
g
|
Trans Fat:
1
g
|
Cholesterol:
192
mg
|
Sodium:
1766
mg
|
Potassium:
1053
mg
|
Fiber:
3
g
|
Sugar:
9
g
|
Vitamin A:
1548
IU
|
Vitamin C:
15
mg
|
Calcium:
572
mg
|
Iron:
4
mg
Did you make this recipe?
How to Freeze Lasagna: Start with a Good Lasagna
I didn't really understand why a meat version wouldn't freeze just fine and it turns out I was right. This version contains meat and it freezes just fine, but if you wanted to make a vegetarian version, it would also freeze well. If I were going to make a veggie version of this lasagna, I would double or triple the mushrooms and add in some crumbled tempeh or tofu along with some spices like cumin and red pepper flakes to make up for the spice that would be in the sausage.
Assuming you are making the above recipe though, start by adding a good drizzle of oil to a high-walled pan (or use a pot). Get your pan hot over medium heat and then add the mushrooms, onions, and garlic.
Cook these until they are soft, about 6 minutes.
Once the veggies are cooked, remove them from the pan and add the beef and sausage. Cook those things until they are well-browned and cooked through. If there's a lot of fat in your pan at this point, spoon out as much of it as you can.
Then stir the veggies back in along with the tomato sauce and paste.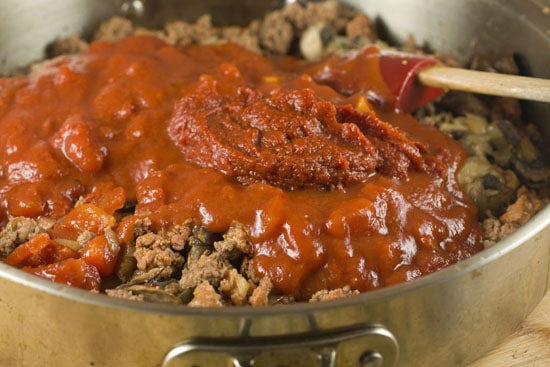 Stir this all together and let it simmer for about 20 minutes, then kill the heat and season the filling with salt, pepper, and half of the fresh herbs in the recipe.
Besides the meat filling, you need to make the creamy half of the filling.
Normally, this is ricotta cheese, but I used cottage cheese for this version and loved the result. Just stir the cottage cheese together with the eggs and the rest of the fresh herbs.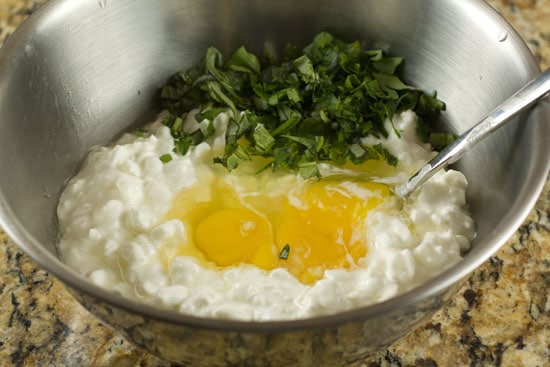 Obviously, you'll also need some lasagna noodles.
Just cook yours according to the package. Make sure to salt your cooking water well (1 tablespoon kosher salt per gallon of water) and also add a drizzle of olive oil to the water to keep the noodles from sticking together.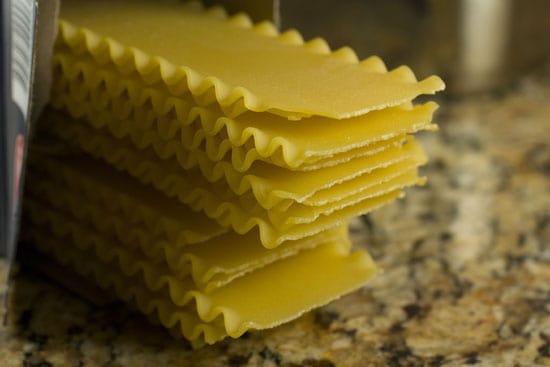 There's no real right way to stack all these things into a large baking dish, but this is the order I did:
Layer of noodles –> Layer of 1/2 the meat filling –> Layer of 1/2 the cottage cheese mixture –> Half the mozzarella and Parm –> Another layer of noodles –> The rest of the cottage cheese mixture –> The rest of the meat mixture –> Top everything with the rest of the mozzarella and Parmesan.
Get it?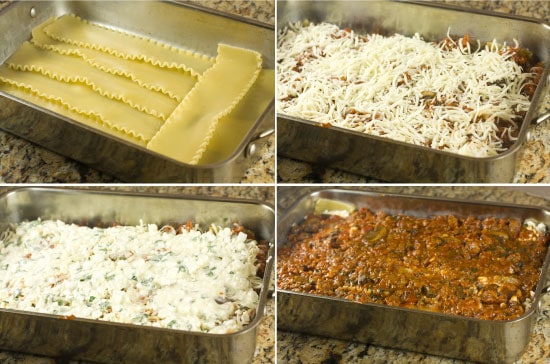 You'll be left with this beautifully thick baked casserole that's ready for the oven!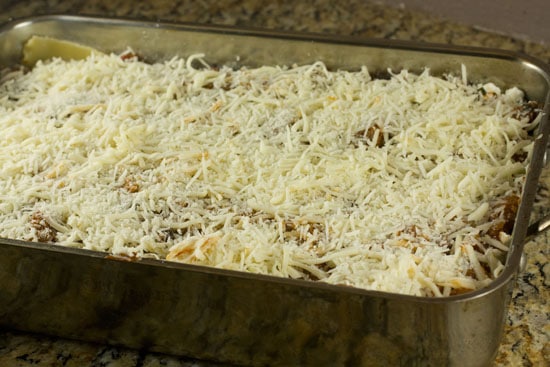 Bake this whole thing at 350 degrees for 30-40 minutes until the middle is bubbling and hot and the edges are nice and browned.
This is one big dish of delicious.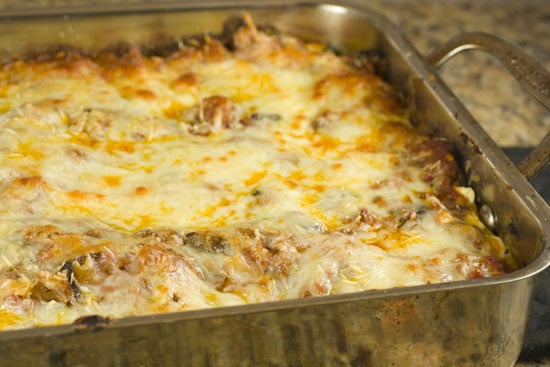 Freezing the Lasagna
Some people advocated for freezing the lasagna before you cooked it. This makes approximately zero sense to me.
You just spend all this time making a lasagna. Why wouldn't you want to eat it immediately?
So bake the thing, eat it, and then deal with the leftovers.
What I don't recommend doing is freezing the lasagna in one big chunk. You'll have a heck of a time getting it thawed and cooked correctly.
Instead, let the lasagna cool to room temperature for an hour or so and then store the lasagna in your fridge overnight. As the lasagna chills, it will solidify and make it really easy to cut.
Once the lasagna is cool, just chop it into individual servings. This recipe will get you about 8-10 large servings of lasagna so even if you ate some, you should have a bunch of servings to freeze.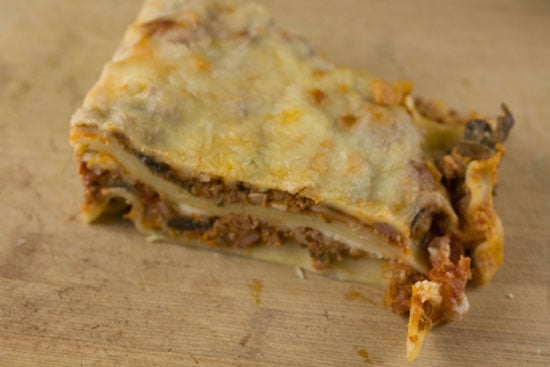 Then wrap each serving in plastic wrap. Make sure it's wrapped very tightly.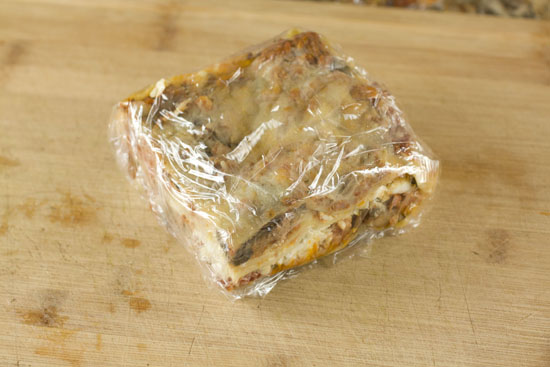 Then store all the individual lasagna pieces in a large freezer-safe plastic bag.
These will freeze beautifully and be very easy to thaw. This is how to freeze lasagna!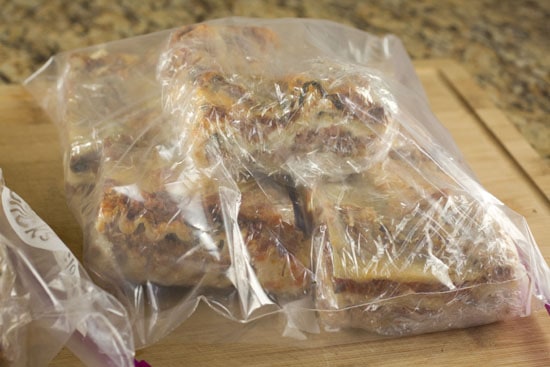 Reheating the Lasagna
The best way to reheat this lasagna is in the microwave, honestly. Just cook it on high for 4-5 minutes and it'll be perfect. This might sound strange but I actually thought the frozen and reheated lasagna was better than it was on day one.
Maybe that's just my pain meds talking though!
I can't think of a lasagna recipe that this how to freeze lasagna method wouldn't work for. Give it a shot the next time you need to stock up on frozen meals!