I'm almost always against devices that just do one thing. I simply don't have enough room in my kitchen for a million different single-use tools.
I don't need an avocado slicer, an apple corer, or any other nonsense.
There are some special exceptions to this rule though. First, if you need a single-use device because it's the only way to actually make the thing you are trying to make, then you might want it.
Second, you probably want to make sure that you would make the thing with enough frequency to warrant the single-use device.
For me, a waffle iron falls squarely in this group. You can't make waffles without it and I like waffles!
I'm starting to think that a popover pan is also in this list of single-use devices that are worth it. These Ham and Cheese Popovers are definitely worth it.
Ham and Cheese Popovers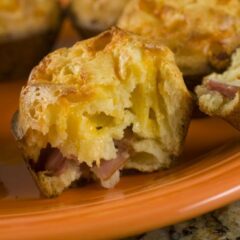 I took a basic recipe for light and airy popovers and then stuffed them full of delicious ham and gooey cheese! Delicious!
Ingredients
1

cup

all-purpose flour

1 ½

teaspoons

kosher salt

Pinch

of sugar

2

large eggs

,

room temp

1

tablespoon

unsalted butter

,

melted and cooled (plus some for pan)

1

cup

milk

,

room temp

3

ounces

ham

,

diced

4

ounces

cheddar cheese

,

grated
Instructions
Combine dry ingredients for batter in a bowl.

Combine room temperature milk and eggs in a bowl. Add wet to dry ingredients and combine well. Stir in melted butter.

Preheat oven to 425 degrees. Lightly butter a muffin or popover pan.

Pour a small dollop of batter into each popover tin. Then add a small pinch of ham and cheese to each tin. Pour batter over filling to cover. Fill each tin about ¾ full.

Bake popovers for 15 minutes at 425, then reduce heat to 375 and bake for another 20-25 minutes.

Popovers are done when they are puffed and browned on top. Remove from oven and let cool briefly, then serve them up!
Nutrition
Serving:
1
Popover
|
Calories:
249
kcal
|
Carbohydrates:
18
g
|
Protein:
13
g
|
Fat:
14
g
|
Saturated Fat:
7
g
|
Polyunsaturated Fat:
1
g
|
Monounsaturated Fat:
4
g
|
Trans Fat:
0.1
g
|
Cholesterol:
92
mg
|
Sodium:
910
mg
|
Potassium:
159
mg
|
Fiber:
1
g
|
Sugar:
2
g
|
Vitamin A:
393
IU
|
Calcium:
197
mg
|
Iron:
1
mg
Did you make this recipe?
Ham and Cheese Popovers
A Popover Problem
I tried this recipe a few times using a muffin tin thinking that I could figure out how to get the signature popover puff. It never really worked out though. I tried the recipe without the filling, I tried starting with a cold pan and a hot pan, I tried using butter and no butter.
Every time gave me popovers that were definitely edible, but not really popped.
So, while you can make this recipe in a muffin tin, I think you'll have better results with a popover pan.
That said, if you just want to give the recipe a shot, try it out in a muffin tin. Betsy and I still ate all of these Ham and Cheese Popovers. They were basically like a light muffin stuffed with ham and cheese.
If you find yourself wanting to make them again (I do), then maybe splurge for the special pan.
The Batter
This batter is very similar to a pancake batter. The key to success with it (so I hear) is to have your ingredients at room temperature.
On one of my popover attempts I actually didn't let my eggs and milk warm up a bit and my results were even worse. So that's definitely an important step.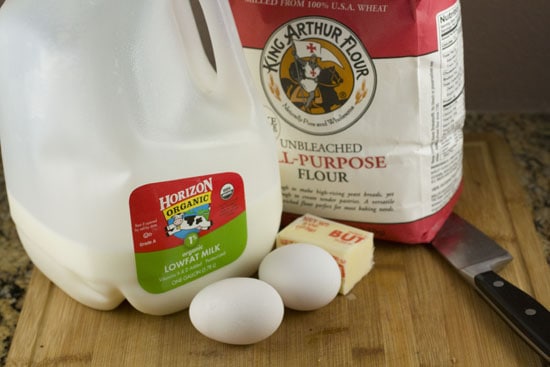 To make the batter, just whisk together the dry ingredients in a medium bowl.
In a separate bowl, go ahead and combine the milk and eggs. Add the wet ingredients to the dry ingredients and then stir in your butter.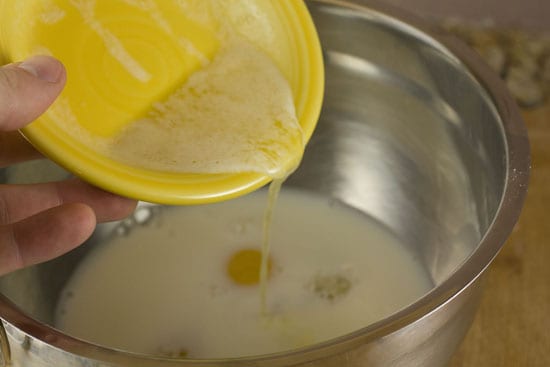 Whisk everything together until your batter is incorporated smoothly. It should be a pretty wet batter.
There's no leavening ingredients in the batter which might sound weird, but all the leavening is just from the rapid heat. Steam from the batter gets trapped and causes the popover to do its thing.
The Fillings
Fillings are optional and I think most popovers are just plain, but I thought it would be fun to add some flavor, especially since I figured my texture would never be perfect without the special pan.
Baking the Popovers
The best results that I had for these guys was when I let the batter sit for about 30 minutes at room temperature after mixing it. I think that helped it come to room temperature.
When you're ready to bake, preheat your oven to 425. Pre-heat the pan you are planning on using for 5 minutes in the oven.
Then take the pan out and quickly butter it or spray it with some nonstick spray.
Then pour a small dollop of batter in the bottom of the tins. Add some ham and cheese to it next. You don't need to go crazy with the fillings. A little goes a long way.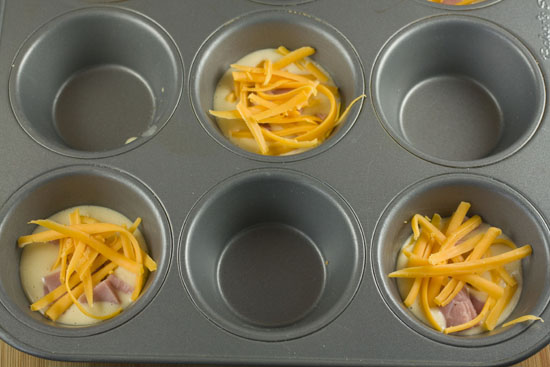 Then add more batter to fill the tins almost to the top.
This is ready for the oven!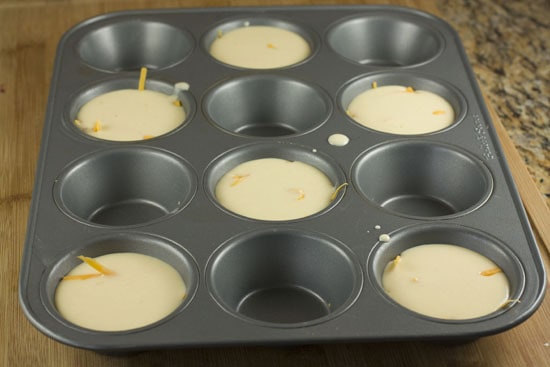 Bake the Ham and Cheese Popovers at 425 for 15 minutes, then turn the heat down to 375 and bake for another 20-25 minutes until they are a nice deep brown color.
Definitely don't open the oven during the cooking time. If you do, a lot of heat will escape and that will kill whatever popover action you are getting.
Like I said, mine were actually still pretty tasty even though they didn't achieve maximum height.
I cut into one so you could see the delicious fillings and the airy inside.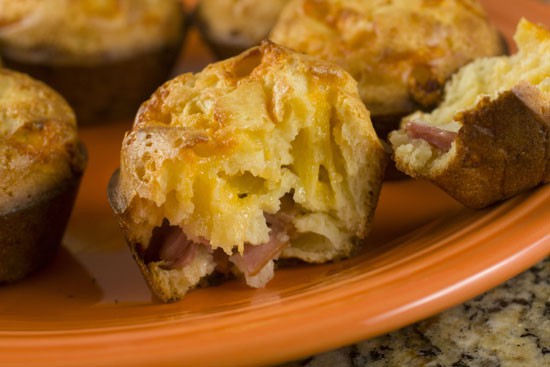 I categorize this as a fail, but it's a pretty minor fail. These Ham and Cheese Popovers were still very delicious!
I was never able to get the best rising on my popovers which makes me think it was pan-related.
If anyone is a popover expert, share your secrets!