Phew! Betsy and I just had a heckuva move to the Denver area involving a uHaul reservation mess up (that ended up weirdly helping us), a urine-covered cat, and a very substantial and hellish trip to Ikea.
We are mostly setup in Denver now though and it is quickly setting in that we have no friends. HA!
That's okay though because I have all you lovely readers to keep me company.
For my first post from Denver, let me drop some knowledge on you: Cauliflower is not French Fries. But, guess what. There is a recipe that makes cauliflower pretty darn tasty and, if I had the choice, I would say that I would order this Curry Roasted Cauliflower over French Fries 64% of the time.
Curry Roasted Cauliflower
Roasted until crispy and delicious! This is a super simple recipe for a healthy veggie side that you'll make again and again!
Ingredients
1

large cauliflower head

,

cut into florets

Olive oil

Kosher salt

Curry Powder
Instructions
Preheat oven to 500 degrees Fahrenheit. Cut florets off of cauliflower and toss liberally with olive oil, salt, and curry powder. Add the cauliflower to a baking sheet in a single layer.

Cover with foil and bake at 500 degrees F. for 15 minutes.

Remove foil and continue to bake, stirring every 8-10 minutes, until the cauliflower is well-browned, about 30-35 minutes.

Serve immediately!
Nutrition
Serving:
1
Side
|
Calories:
36
kcal
|
Carbohydrates:
7
g
|
Protein:
3
g
|
Fat:
0.4
g
|
Saturated Fat:
0.2
g
|
Polyunsaturated Fat:
0.04
g
|
Monounsaturated Fat:
0.1
g
|
Sodium:
43
mg
|
Potassium:
430
mg
|
Fiber:
3
g
|
Sugar:
3
g
|
Vitamin C:
69
mg
|
Calcium:
32
mg
|
Iron:
1
mg
Did you make this recipe?
Curry Roasted Cauliflower
Barely a Recipe
Because I sometimes do very illogical things, the week before we moved I ordered a slew of new books which arrived literally as I was packing books. Why did I not just have Amazon send them to my new home? These are questions that will never be answered.
One of the books I got silly-ordered was the first book from my long-time blogging friend Darya called "Foodist." Aside from having a beautiful cover and being incredibly readable, Darya tossed out hints of this Curry Roasted Cauliflower recipe in the first few chapters. She sells it as a way to make cauliflower taste as good as French Fries!
I had to try it. The good thing about this recipe (and many of the recipes in this book which is more of a philosophy book then a cookbook) is that it's dumb simple. You couldn't screw it up if you tried.
Basically you just cut up a big head or two of cauliflower and spread out the florets in a baking pan.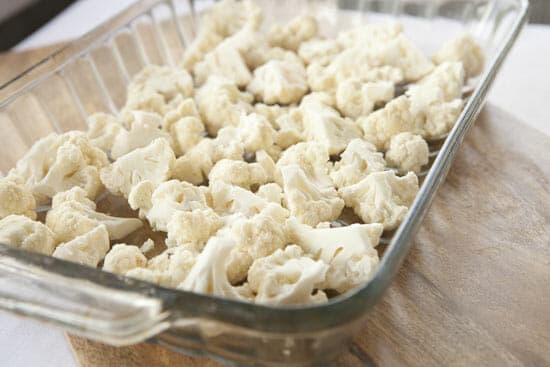 For the seasonings, she doesn't even specify amounts, but the word "liberal" comes to mind. You want olive oil, salt (kosher or sea) and curry powder. Sprinkle and toss liberally, people.
Preheat your oven to 500 degrees Fahrenheit and then cover the cauliflower with foil and bake for about 15 minutes so they start to steam.
Then remove the foil and continue to roast until the pieces start to brown around the edges, 30-35 minutes should do the trick. I like mine damn near burned.
They turn a little bit crispy and are very delicious. Betsy and I can polish off almost a whole head of cauliflower between the two of us!
I would absolutely say these Curry Roasted Cauliflower bites taste as good as French fries. They aren't French fries exactly, but I would order Curry Roasted Cauliflower over French fries frequently if I had the choice.
Review and Giveaway!
I read a bunch of food/eating philosophy books over the years and my favorite tend to have a few key features:
1) They are easy to process. If you can't make your way through the book, what good does it do?
2) They are gimmick-free. They might explain why you should eat vegetables and how to incorporate more into your diet, but they won't say only eat green vegetables!
3) They are funny. This is personal preference but I hate up-tight writing.
To be completely honest, Darya nails all of these points. She obviously knows her stuff and the book is very well-researched, but it's a breeze to read and take in.
If I had to summarize the book in one blog-sized paragraph I would say that it's about learning how to recognize habits in our lives and then how to positively change those habits. The slant of the book is on health-related habits, but you can apply most of the advice to a wide range of things.
For example, if you find yourself craving sweets while you watch TV at night, it might not be that you are actually craving ice cream, but that you have a habit of eating while watching TV. Try a cup of tea instead and see if that fixes the craving?
Meanwhile, she's hilarious. One of her footnotes, for example, reads: "Don't confuse scientists (Ph.D.s) and medical doctors (M.D.s). Because it is not part of their training, the vast majority of M.D.s don't know jack about nutrition."
ZING.
If you are interested in forming better habits and possibly losing weight without dieting, this is a great book to check out. You should buy it.
Or even better, you should win it for free.
The Giveaway!
Because I like this book and Darya's writing, I'm giving away three copies!
Just leave a comment below answering this question and you're entered to win.
What's your favorite simple and healthy weeknight meal?
I will ship to U.S. or Canada and will pick winners in a week on June 6th at 8PM Eastern time!
Winners!
Here are the winners of the Foodist giveaway!