Pancakes are one of the categories of foods that I pretty much refuse to buy pre-mixed. That might sound snobby or whatever, but pancakes mixes are seriously just flour plus some baking soda and stuff. It's just doesn't add much time to make it from scratch and the final results are so much better.
Now that I've gotten that mini-rant out of my system, let's take it a step further. These pancakes have kind of an annoying step in the batter-mixing process. It involves egg whites and sore forearms, but the final Cloud Cakes are seriously the lightest and most fluffy pancakes I've ever had. Hence the name!
I first saw this recipe from Chris Kimball. He said that thanks to this recipe, pancake making is something he can do better than most people. Now that the cat is out of the bag, you can too.
Cloud Cakes
Pancakes so light and fluffy that they are like biting into tiny little clouds. These are the best buttermilk pancakes I've ever made.
Ingredients
1 ½

cups

all-purpose flour

1

tablespoon

sugar

½

teaspoon

baking soda

¾

teaspoon

salt

1 ½

cups

low fat buttermilk

,

room temperature

¼

cup

sour cream

3

egg whites

,

room temperature

2

egg yolks

,

room temperature

2

tablespoons

unsalted butter

,

melted and cooled

Vegetable oil or butter

,

for cooking

Maple Syrup

Butter

,

for serving
Instructions
Whisk together flour, sugar, baking soda, and salt in a large bowl. In a separate bowl, whisk together buttermilk, sour cream, melted butter, and egg YOLKS. Be sure to be careful when separating egg whites and yolks. No yolks can be in the whites.

Note: Your buttermilk and eggs should be at room temp, but if you are a bad planner, just add them to a microwave safe bowl and microwave them on LOW (defrost) in 30 second bursts until they warm up slightly.

Stir wet ingredients into dry ingredients. Don't worry if there are a few clumps.

In a separate, clean bowl, add egg whites and whisk until they form soft peaks that hold a bit.

Once whites are whipped, gently fold them into the other batter, being careful not stir. Try to keep the mixture as light as possible. Again, don't worry about mixing completely. Some white streaks are okay.

Heat about 1/4 cup of oil or butter on a large griddle or in a nonstick skillet over medium heat. Add 1/3 cup of batter per pancake.

Cook for about 3-4 minutes until bubbles start to form on the top of each pancake and the edges start to firm up. Then flip and cook for another 2-3 minutes on the second side.

Serve cloud cakes right away with butter and maple syrup. These are best served right away but you can keep them warm in a 200 degree Fahrenheit oven for 15-20 minutes while you finish cooking the others.
Nutrition
Serving:
3
pancakes
|
Calories:
340
kcal
|
Carbohydrates:
45
g
|
Protein:
12
g
|
Fat:
12
g
|
Saturated Fat:
7
g
|
Polyunsaturated Fat:
1
g
|
Monounsaturated Fat:
3
g
|
Trans Fat:
0.2
g
|
Cholesterol:
124
mg
|
Sodium:
754
mg
|
Potassium:
252
mg
|
Fiber:
1
g
|
Sugar:
9
g
|
Vitamin A:
438
IU
|
Vitamin C:
1
mg
|
Calcium:
141
mg
|
Iron:
2
mg
Did you make this recipe?
Cloud Cakes
A Lighter Batter
The dry part of this recipe is pretty standard for a pancake mix. It's mostly flour with some sugar and salt and some baking soda to give the pancakes a little lift. Stir all this stuff together in a large bowl.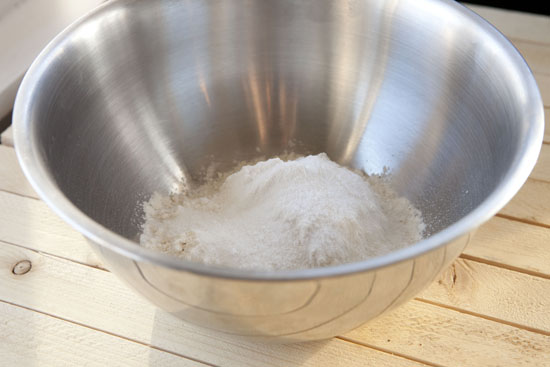 In a separate bowl, combine the egg yolks, buttermilk, and sour cream. Ideally, these would be at room temperature, but if you're impatient like me, just stir all the ingredients together in a microwave safe bowl and zap them on LOW (defrost) for 30 second bursts until they heat up a bit. They should be slightly cool to the touch still.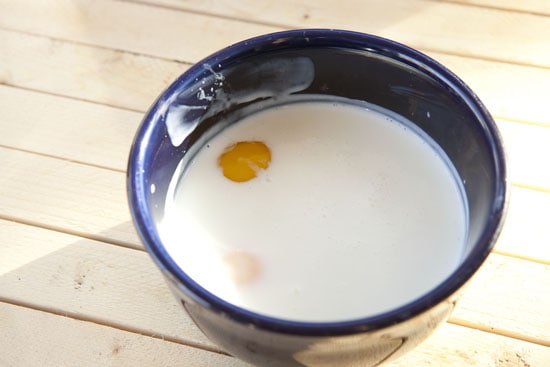 Whisk those wet ingredients together and then stir them into the dry ingredients.
Don't overmix the batter at this point. It's fine if there are some lumps. The batter will be very thick at this point. Much too thick for pancakes.
The Annoying Part
The key part of making this Cloud Cakes recipe is to separate the egg whites from the egg yolks and then beat the egg whites until they hold soft peaks. You can use a mixer for this, but I always just do it by hand. It takes about two minutes of pretty furious beating to get to this stage.
NOTE: When separating the eggs, be very careful not to get any yolk in the white mixture. If you do, they will never beat correctly and you'll have to start over.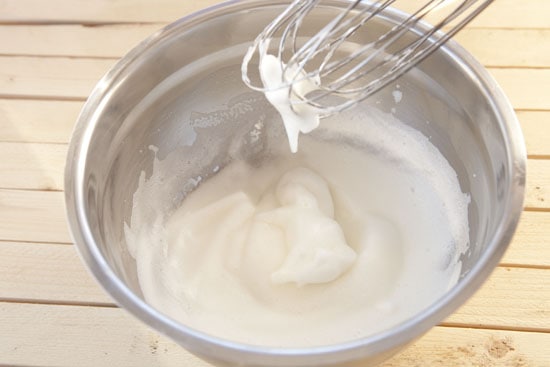 Once your egg whites are nice and light (think clouds), then gently fold them into the batter.
Note that I didn't say stir. You want to get a big spoon or spatula and gently FOLD the whites in. That will lighten up the batter an keep as many bubbles as possible in the batter.
Again, don't over-mix this batter. It's okay if there are some lumps or streaks of egg whites. It's all good.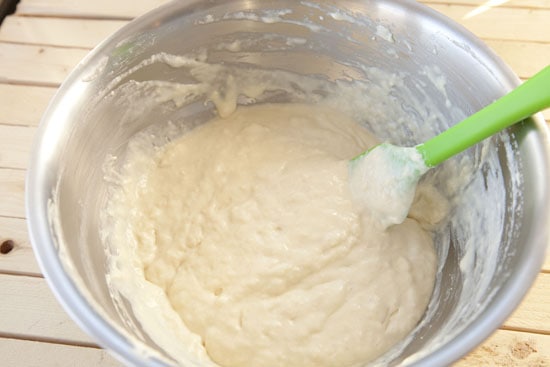 Cooking the Clouds
Use a nonstick skillet or a big griddle and heat some oil or butter over medium heat. Then scoop out about 1/3 cup measurements once the pan is hot.
The pancakes should cook for 4-5 minutes on the first side. When they are ready to flip, bubbles will form on the surface and they will start to firm up around the edges.
These are just about ready to flip.
Cook the cloud cakes for 3-4 minutes on the second side and then serve them as soon as possible!
Optionally, you can keep the cakes warm in a 200 degree Fahrenheit oven while you cook the other cakes, but they really are best right off the pan.
Butter and good maple syrup are essential.
I've made a lot of pancakes over the years here at Macheesmo and if I'm not counting pancakes with crazy add-ins, these Cloud Cakes are about as good as it gets.