If there's a sample of something in a store, what's the maximum number of those samples you can take before feeling bad?
For me, it's usually two. If I take more than two samples, then I'll just buy it because I clearly like it.
This almost never happens.
But last week while I was strolling through a store I frequent, they had these perfectly ripe bing cherries out to sample.
I think I had 8.
I actually re-planned my shopping route in the store so I could pass the cherries as many times as possible.
So yea, I bought some. I ate most of them like candy, but I saved just enough to work on these Cherry Crepes.
Bing Cherry Crepes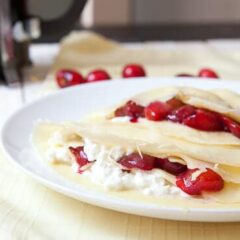 Homemade crepes are impressive and easy! Stuffed with a slightly tart cottage cheese filling and topped with sweet and juicy fresh cherries.
Ingredients
Basic Crepe Recipe:
1

cup

all-purpose flour

1

teaspoon

kosher salt

1

tablespoon

sugar

2

large eggs

1 ½

cups

milk

2

tablespoons

unsalted butter

,

melted + some for cooking
Other business:
1

cup

cottage cheese

3

cups

fresh cherries

,

pitted

1-2

tablespoons

sugar

2

tablespoons

water

½

lemon

,

juice only
Instructions
For crepe batter, whisk together milk and eggs. In a medium bowl, stir together flour, salt, and sugar. Then whisk in liquid and finally add the melted butter. You can make this a few hours in advance, but at a minimum let it rest for 10-15 minutes before making crepes.

For cherries, use a chopstick to poke through the center and poke out the seed. If you place the cherry over an empty bottle, the seed will fall into the bottle. Once all your cherries are seeded, cut them in half and add them to a small pot with a drizzle of water, a pinch of sugar, and 1/2 lemon (juice only).

Cook the cherries over medium-low heat for 5-8 minutes until cherries just start to break down but still hold their shape. Most of the liquid should be evaporated into a thin syrup. Remove from heat.

To make a crepe, add 1 teaspoon of unsalted butter to a large nonstick skillet over medium heat. Once melted, add 1/2 cup of crepe batter and swirl the batter around to cover the skillet in a thin layer.

Let crepe cook for 1-2 minutes until it's just cooked through, then flip and cook for another 30 seconds or so. For some reason the first one is always the hardest so don't worry if it's a mess, just move on to the second one. Don't worry about adding more butter between crepes unless the pan is very dry.

When crepe is cooked, slide it out of the skillet onto a plate. Add about 1/4 cup of cottage cheese (or other soft cheese) to half the crepe and fold it over. Then spoon on some cherry syrup and fold the crepe over again, making a triangle.

Serve immediately!
Notes
You can make all the crepes in advance and keep them warm in a 200-degree F. oven for 10 minutes or so without a problem. After that they will start to dry out.
Nutrition
Serving:
1
crepe
|
Calories:
399
kcal
|
Carbohydrates:
55
g
|
Protein:
16
g
|
Fat:
14
g
|
Saturated Fat:
7
g
|
Polyunsaturated Fat:
1
g
|
Monounsaturated Fat:
3
g
|
Trans Fat:
0.2
g
|
Cholesterol:
117
mg
|
Sodium:
815
mg
|
Potassium:
506
mg
|
Fiber:
3
g
|
Sugar:
27
g
|
Vitamin A:
585
IU
|
Vitamin C:
14
mg
|
Calcium:
193
mg
|
Iron:
2
mg
Did you make this recipe?
Cherry Crepes
Crepe Secrets
Guys and gals, it's just a fact that crepes are easier than pancakes. You know how I know?
I make a lot of pancakes and I still have a hard time getting them perfect. Usually I'll have to make one or two and adjust the batter a bit depending on the day.
Not true with crepes. They just work assuming you have a decent nonstick pan.
The batter is actually easier than pancake batter. There's no leavening ingredients at all. It's just flour and dairy.
Whisk together the eggs and milk and then whisk that into your dry ingredients.
Stir in the melted butter last.
It should be a really thin batter… much thinner than pancake batter.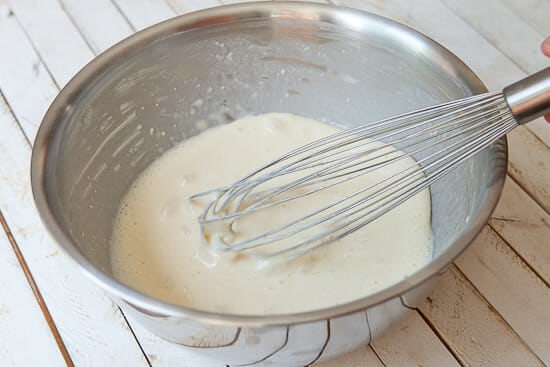 Crepe batter gets better as it sits (because the flour absorbs more liquid) so make the batter first and then deal with the cherries.
It's the Pits
There's really no way around it. Pitting a few cups of cherries sucks.
But just look at these beauties!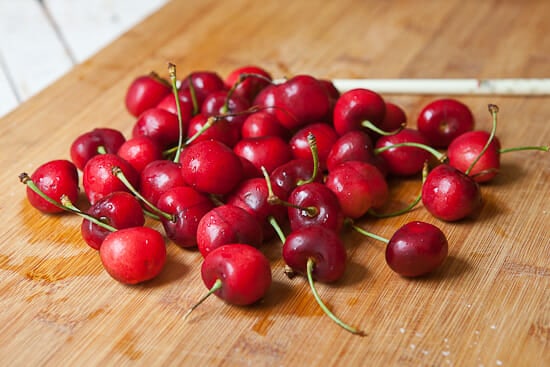 Unless you happen to own a cherry pitter, the best tool for pitting cherries is a chopstick. You can just push the big end of the stick into the cherry and it will push the seed out.
If you sit the cherry on an empty bottle, the seed will fall into the bottle for easy disposal!
Seriously, the hardest part of this Cherry Crepes recipe is just pitting that many cherries.
Once you have that done, it's smooth sailing. While it would be fine to just fold the fresh cherries into a crepe, I thought it would be nice to cook them down a bit to make a light syrup.
I added the cherries to a medium pot over medium-low heat along with a drizzle of water and lemon juice and just a pinch of sugar.
The trick here is just to make sure you don't overcook the cherries. They should start to break down, but take them off the heat while they still hold their shape. The light syrup that coats them now will be perfect in the crepe.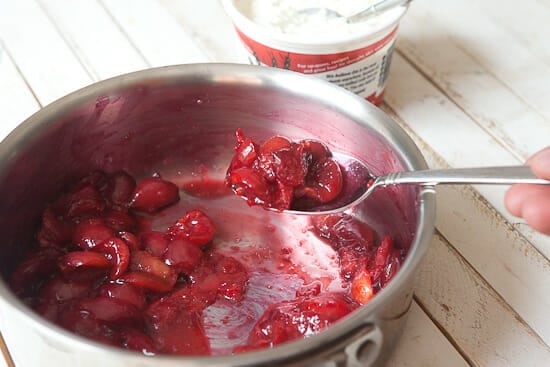 Making Crepes
There's some rule of the cosmos that makes it near impossible to make the first crepe perfectly. I think maybe this is why people think they are hard.
Seriously though, I always mess up the first one either by not getting the pan hot enough or ripping the crepe… like this.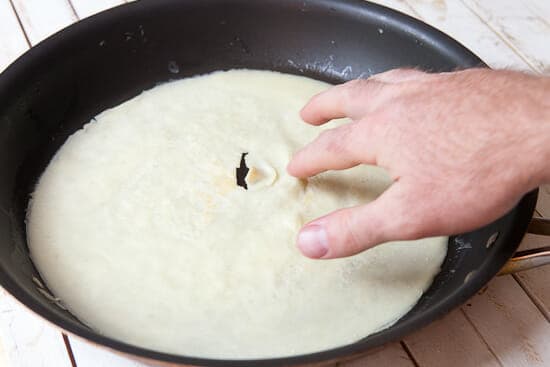 But then my second and so forth crepes come out great!
I cook mine by adding a small amount of butter to a large nonstick pan over medium heat. Once it's melted, add about 1/2 cup of batter and swirl it around immediately to cover the pan. Then cook it for 1-2 minutes until it cooks through and flip it.
When the crepe is lightly browned, and still a bit flexible, slide it out of the skillet and add 1/4 cup (approx.) of cottage cheese to half of it.
If you wanted to get fancy, you could use ricotta, but I think cottage cheese is kind of nice.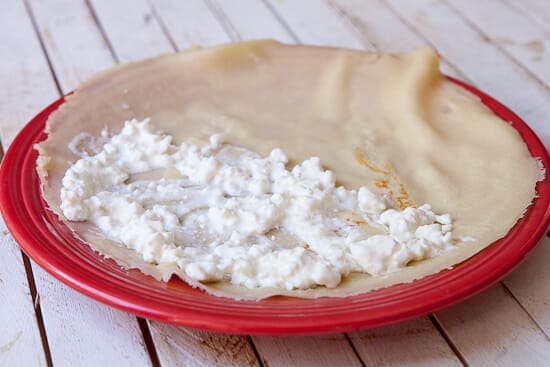 Fold the crepe over and then add some of the cherries to the crepe.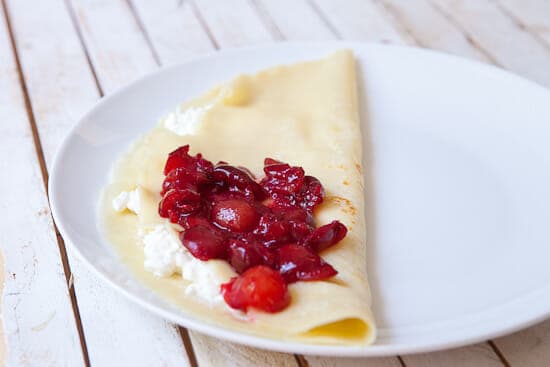 Fold it again (into a triangle) and you're ready to rock!
Chow down time.
The cottage cheese is just a little tart and the cherries are sweet and juicy. It's a perfect flavor combo and doesn't need anything else to finish it off (although you could dust with powdered sugar if that's your thing).
If you happen to see some ripe cherries on display, don't pass them up. They are just too good right now.