I'm not sure that I've ever been more thrilled about a poll result than when I saw that bourbon won last week's poll. This excited me for a number of reasons.
1) I already have bourbon. I always have bourbon. So I didn't have to go to the booze barn.
2) I very regularly sneak bourbon into all kinds of stuff because I find it delicious. Cakes, scones, sauces, whatever. Put bourbon in it.
Instead of giving you a single recipe for a bourbon thing, I decided to give you a recipe that you can use on dozens of things. When I say this is an all-purpose, any time glaze, I mean it.
Put it on chicken, pork, beef, or even grilled tofu. It'll be great.
All-Purpose Bourbon Glaze
This bourbon glaze starts with lots of bourbon and a few other tasty ingredients to make a glaze that's good on pretty much anything.
Ingredients
1

c.

bourbon

½

c.

brown sugar

½

c.

ketchup

2

tsp.

Braggs

,

or worcestershire sauce

½

lemon

,

juice only

¼

c.

apple cider vinegar

1

Big Pinch

salt and pepper
Instructions
Combine all the glaze ingredients into a small pot and bring to a simmer over medium heat.

Simmer, stirring regularly for about 20-25 minutes until the glaze reduces to about 1/3 of it's original volume.

Remove the glaze and let it cool slightly.

Put it on anything!
Nutrition
Serving:
2
tbsp.
|
Calories:
1144
kcal
|
Carbohydrates:
154
g
|
Protein:
2
g
|
Fat:
0.3
g
|
Saturated Fat:
0.04
g
|
Polyunsaturated Fat:
0.1
g
|
Monounsaturated Fat:
0.03
g
|
Sodium:
1500
mg
|
Potassium:
612
mg
|
Fiber:
2
g
|
Sugar:
142
g
|
Vitamin A:
619
IU
|
Vitamin C:
33
mg
|
Calcium:
134
mg
|
Iron:
2
mg
Did you make this recipe?
Bourbon Glaze Recipe
It's all about proportions
The key to any good glaze is nailing the proportions. You want a good base flavor which, in this case, is bourbon obviously. You need something that will give the sauce some body (ketchup). You want something sweet and something sour (sugar/vinegar). You want some acids as well.
Because this is mainly going on meat, you also want to make sure you give the glaze some savory flavor. You could add soy sauce or worcestershire sauce to get the savory flavor, but I chose to use some Braggs which is a fairly recent discovery for me. I'm finding that it's delicious on many things and it worked great in this glaze.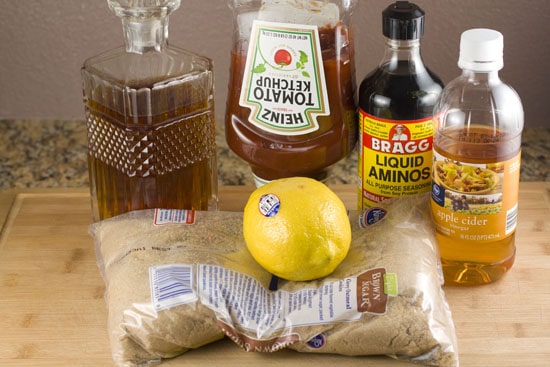 This Bourbon Glaze recipe is not hard to make and yet another piece of evidence for why you have no need for store-bought sauces.
Basically, you just throw everything together in a small pan.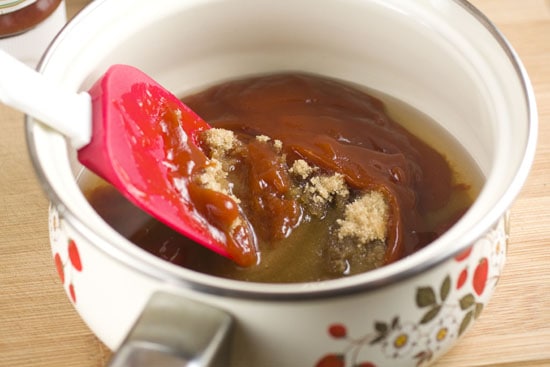 A cup of bourbon might seem like a lot, but remember that the alcohol will cook off and the flavors will reduce so it's good to start with a nice amount of it.
Honestly, you could even use more than a cup if you wanted, but that gets the job done.
Just bring this all to a simmer over medium heat and let it simmer until it reduces down to about a third of its original volume. Stir it regularly so the sugars don't burn.
It'll make your kitchen smell like a distillery which is just fine in my book.
Don't rush the reduction process, just let it do its thing and eventually you'll be left with this slightly thick, glossy sauce that will knock your socks off.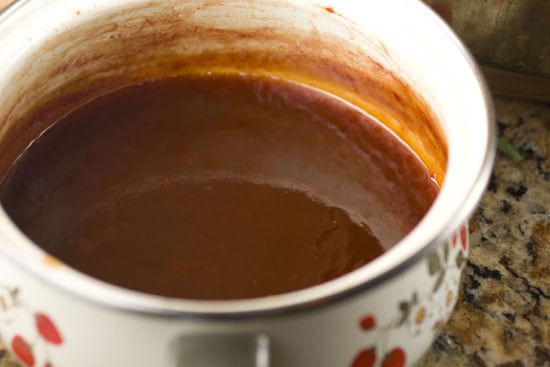 Glaze the world!
I'm almost positive that you could slap this stuff on pretty much anything and it will be good. Put it on some grilled chicken or a pork chop. Add a light coat of it to salmon or pork tenderloin.
If you're cooking any kind of roast, just slather it on.
I happened to have something interesting to try put it on this time around…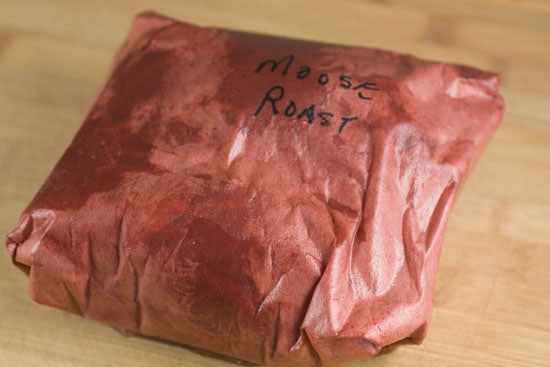 Yep. You read that right. Moose roast! My dad always brings me all kinds of various goodies when he visits (like Alaskan salmon) or in this case a moose roast.
I think I've only had moose once or twice so I was excited to try it and I figured it would be good to put a bunch of bourbon glaze on it also.
You, of course, do not have to go hunt down a moose to make this glaze.
I also decided to prep some good roast veggies to go with the moose. These are just some fingerling potatoes and carrots tossed with olive oil, salt, pepper, and dried thyme.
To cook the roast (you could do the same with a beef roast), I seared it well on high heat and then surrounded it with the veggies.
Then I just inserted my digital probe thermometer and stuck it in a 350 degree oven.
My target temp for the roast was 145 degrees, but starting at about 100 degrees, I began slathering on the glaze every 15 minutes or so.
It's hard to go wrong really.
To be completely honest, I didn't love the moose roast. It was a bit too gamey for me.
But that's neither here nor there.
The important part is that the glaze is really delicious and wonderful. I found myself sneaking spoonfuls of it while my roast cooked.
If you're grilling or roasting something soon, give this Bourbon Glaze recipe a shot! If you have questions on whether or not it would be good on something, leave a comment!
More Great Sauces!