Big news! Betsy and I are moving to Denver!
When we took the plunge to move from DC to Colorado a few years ago, we originally wanted to be in the Denver area, but Betsy's job brought us a bit further west to Grand Junction. We've really loved living here for a few years. The weather is awesome. We met some great people and got a fun dog out of it!
But, we decided we still wanted to be in a bit more of an urban/city environment so we're making the move! We have a few months still, but Betsy starts her job there June 1st so we will be there by then for sure.
To be honest, I haven't spent a ton of time in Denver but I've liked what I have seen so far. I'm excited to explore the mile high city.
In honor of the move, I took a classic Denver omelet and turned it into this Denver Burrito.
The Denver Burrito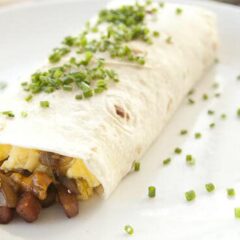 Classic Denver omelet ingredients wrapped in a tortilla. The ingredients lend themselves well to an awesome breakfast burrito.
Ingredients
2

large flour tortillas

,

or any large wrap

1

cup

diced ham

½

green pepper

,

diced

½

cup

diced white onion

8

ounces

cremini mushrooms

,

chopped

4

ounces

cheddar cheese

,

grated

3

large eggs

,

scrambled

1

tablespoon

olive oil

,

for filling

1

teaspoon

butter

,

for eggs

Chives

,

garnish

Salt and pepper
Instructions
Cube ham into small cubes. Dice peppers, onions, and mushrooms. Whisk eggs to scramble them lightly. Grate cheese so everything is ready.

Add olive oil to a large skillet over medium-high heat. Add ham and cook until ham starts to brown nicely and turn crispy, about 6 minutes. Stir occasionally.

Add in peppers, mushrooms, and onions. Season well with a pinch of salt and pepper and keep cooking until veggies are soft, about 3-4 more minutes.

In a small skillet, add butter over medium heat. Once melted, add in eggs and cook until scrambled. Try not to over-cook the eggs. You want them cooked, but still on the soft side.

Add cheese to pan with ham and veggies. Just toss it on top and let it start to melt from the heat from the pan.

Microwave tortillas on high for 20 seconds to soften them.

Divide eggs between two tortillas. Add ham and veggies to top of the eggs. The cheese should be nice and melted.

Wrap tortillas up. I had to leave one end open on mine because they were just so full. Garnish with minced chives and serve immediately!
Nutrition
Serving:
1
Burrito
|
Calories:
605
kcal
|
Carbohydrates:
28
g
|
Protein:
38
g
|
Fat:
39
g
|
Saturated Fat:
16
g
|
Polyunsaturated Fat:
4
g
|
Monounsaturated Fat:
13
g
|
Trans Fat:
0.1
g
|
Cholesterol:
338
mg
|
Sodium:
1454
mg
|
Potassium:
791
mg
|
Fiber:
3
g
|
Sugar:
7
g
|
Vitamin A:
1098
IU
|
Vitamin C:
27
mg
|
Calcium:
515
mg
|
Iron:
3
mg
Did you make this recipe?
Denver Burrito
The Burrito Filling
I'm not entirely sure why a Denver omelet has the things it has. Maybe there's some long lost story that explains it? Anyway, it always has green pepper, onion, mushroom, ham, and cheese. To the best of my knowledge, you have to include these things if you call something a "Denver" thing.
For the veggies, since they are going in a burrito, dice them pretty finely. You can leave the mushrooms a bit larger since they will shrink a lot during cooking.
Obviously, you'll need some tortillas, eggs, and cheese also. Essential breakfast burrito materials. Get the largest tortillas or wraps you can find. You're gonna need them. These are big burritos.
Start the Denver Burrito filling by adding a drizzle of oil to a large skillet over medium-high heat. Then add that ham and get it browning in the pan. It should start to turn crispy on the edges and brown nicely after 6-8 minutes.
Then add all the veggies and cook until the veggies start to soften, about 3-4 minutes. At this point, season the filling well with a pinch of salt and pepper.
Finishing the Burrito
One issue I always have with breakfast burritos is making sure the large amount of cheese I put in the burrito is well-melted. This time, to solve the problem, I just sprinkled all my cheese right on the filling while it's still in the pan. The residual heat will definitely melt the cheese, but don't stir the cheese into the filling. Just let it melt on top for a minute or two.
Meanwhile, you can scramble your eggs. No need to do anything fancy here. Just add a dab of butter to small skillet and then pour in the scrambled eggs. Cook them over medium heat until they are cooked through, but still on the soft side. I hate over-cooked scrambled eggs.
When you're ready to make the burritos, microwave the tortillas on high for about 20 seconds to heat them up and make them easier to work with.
Then pile on half of the eggs and filling. It's a pretty serious burrito.
Wrap it up, garnish it with chives, and dig in. Mine was so big that I had to leave one end open on the burrito.
Any normal breakfast condiments would work great on this Denver Burrito.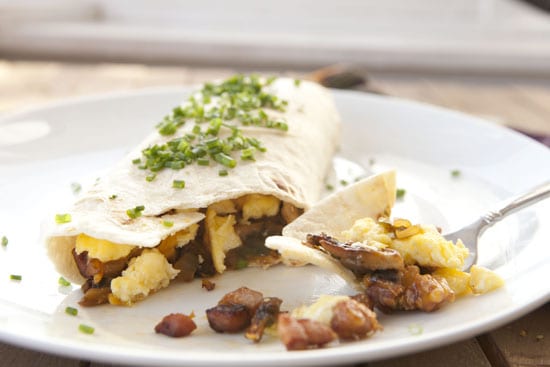 Any Denver readers out there?
Leave a comment! We are coming your way!