Six weeks ago today Betsy and I were shacked up in the hospital while our baby was poked and prodded. He lost a lot of weight after birth and also had some serious jaundice. We ended up staying in the hospital a few extra days and that meant one thing:
PUDDING.
At the hospital they had a communal fridge that a few rooms shared. The fridge happened to be right outside of our room and the nurses kept it super-stocked with healthy stuff like yogurts, hummus, and drinks. Oh… and pudding. Lots of pudding.
At first, I thought it was weird, but then Betsy said, "Hey… can you grab me one of those pudding?" I found myself grabbing two because dads need pudding too!
By the end of our stay, I'm pretty sure they were calling us the pudding room. I don't know how many pudding cups we ended up eating, but I'm sure I would be embarrassed if I knew the actual number.
Pudding has been on my mind since then so these guys happened. While the hospital only had vanilla pudding, I prefer tapioca and Betsy really likes chocolate so I figured mashing them together would probably work just fine.
Tapioca Trifle
Jars of tapioca trifle homemade with layers of chocolate pudding! These are the perfect dessert or make them in advance for a dinner party!
Ingredients
Coconut Tapioca Pudding:
⅓

cup

small pearl tapioca

¾

cup

water

1

cup

coconut milk

1 ½

cups

milk

¼

teaspoon

salt

½

cup

sugar

,

divided

2

eggs

,

separated

1

teaspoon

vanilla extract

⅓

cup

shredded coconut
Chocolate Pudding:
2

cups

milk

½

cup

sugar

⅓

cup

cocoa powder

3

egg yolks

4

teaspoons

cornstarch

2

teaspoons

vanilla extract

¼

teaspoon

salt

Chocolate for garnish
Instructions
For Chocolate Pudding:
Combine 1 1/2 cups milk, sugar, and cocoa powder in a medium saucepan over medium-low heat. Whisk and bring to a slight simmer.

In a medium bowl, whisk together 1/2 cup milk, corn starch, egg yolks, vanilla, and a pinch of salt.

Slowly whisk in about 1 cup of the hot liquid mixture into the egg yolk mixture in a steady stream. Then whisk the hot, tempered egg mixture back into the saucepan with the rest of the milk mixture. Return to low heat.

Heat the pudding over low heat, stirring regularly, scraping the bottom to ensure it isn't sticking. Continue to heat until the mixture is thick, 3-4 minutes.

Remove from heat and let cool until room temperature, whisking occasionally to prevent a skin from forming. Layer into jars or chill, covered with plastic wrap.
For Tapioca:
Combine tapioca with water in a medium saucepan. Let sit for 30 minutes off the heat.

Add coconut milk, milk, 1/4 cup sugar, salt, and egg yolks. Stir over low heat until mixture is simmering. Simmer, uncovered, stirring regularly, 10-15 minutes until pudding is thick.

Using a stand mixer or a whisk, beat the egg whites from the eggs with the sugar until they form soft peaks. Fold about a cup of the tapioca mixture into the egg whites, being careful not to over-stir the mixture. Then fold the egg white mixture back into the tapioca. Return to low heat and stir regularly for 3-4 minutes while mixture thickens.

When pudding is really thick, remove from heat and stir in shredded coconut and vanilla.

Layer puddings in jars, starting with chocolate and store in the fridge. Optionally garnish with shaved chocolate.
Nutrition
Serving:
1
trifle
|
Calories:
447
kcal
|
Carbohydrates:
60
g
|
Protein:
10
g
|
Fat:
20
g
|
Saturated Fat:
14
g
|
Polyunsaturated Fat:
1
g
|
Monounsaturated Fat:
3
g
|
Trans Fat:
0.01
g
|
Cholesterol:
169
mg
|
Sodium:
282
mg
|
Potassium:
432
mg
|
Fiber:
3
g
|
Sugar:
47
g
|
Vitamin A:
440
IU
|
Vitamin C:
0.5
mg
|
Calcium:
216
mg
|
Iron:
3
mg
Did you make this recipe?
These are delicious jars and they store really well in the fridge. The one downside is that you have to obviously make two kinds of pudding. We'll start with the chocolate and I'll tell you a secret.
Tapioca Trifle: Making the Chocolate
I don't find pudding to be particularly hard to make from scratch. It's basically a custard mixture like you would use for ice cream but typically has a little extra thickener in it. The tough part of it is controlling the heat to make sure it doesn't scorch.
Here's the secret: I think if you wanted to have a shortcut for these, you could use boxed pudding mix for the chocolate. I ran chocolate pudding through the homemade trials a while ago and it was one of the few trials I've done where the homemade version lost out.
I have improved my chocolate pudding since then though and this version is pretty spot on. So if you want to make your own, here's the deal.
Start with 1 1/2 cups milk, the sugar, and the cocoa powder in a medium pot. Whisk this together over medium-low heat until everything is dissolved.
Meanwhile, whisk together the other pudding ingredients (yolks, corn starch, etc.) in a medium bowl. Once the milk mixture is steaming hot, whisk about a cup of it into yolk mixture slowly to temper the eggs and raise their temperature.
Then whisk all that mixture back into the sauce pan. Continue cooking the pudding over low heat until it's nice and thick. You have to keep a close eye on it at this point as it can scorch easily and needs to be stirred regularly. It'll only take a few minutes to thicken nicely.
You can serve this stuff warm, room temp, or cool. It's all good.
Tapioca Time
Tapioca pudding is my absolute favorite because it isn't stupidly sweet and I love the texture. Also, tapioca is amazing. You start with just 1/3 cup of dried small pearl tapioca and the recipe ends up making over 3 cups of pudding. That's almost popcorn levels of expansion.
Before you start cooking the tapioca, soak the beads in water for about thirty minutes.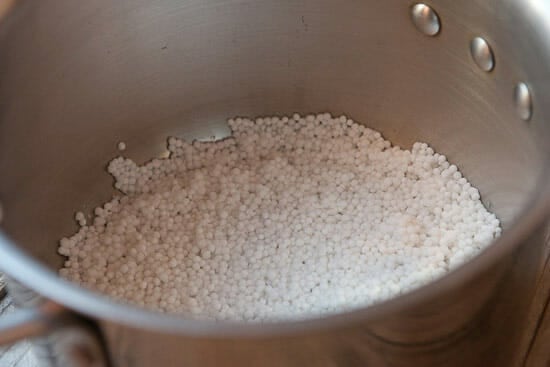 Then add the coconut milk, egg yolks, milk, half of the sugar, and the salt.
Stir this all together. Again, low heat is going to be your friend here. Scorching is a terrible ending.
Once everything is stirred together and starting to simmer, let it simmer over very low heat for 10-15 minutes and the mixture should get so rich and creamy. I love this stuff.
Meanwhile, you need to tackle the annoying step of tapioca: egg whites. They are used to thicken the tapioca but also lighten it a bit, if that makes sense.
Whisk the egg whites together with the rest of the sugar in the recipe until they hold soft peaks. You can use a stand mixer or just a whisk if you're feeling crazy.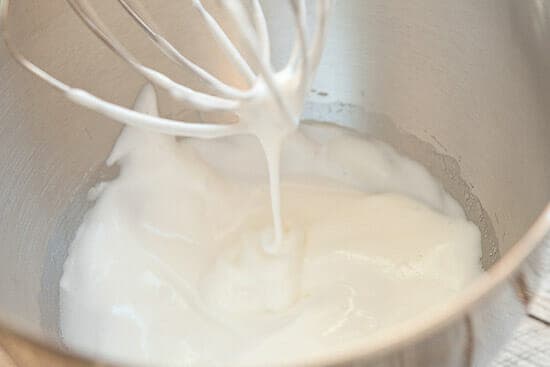 Then, just like you would temper the chocolate pudding, fold in some of the hot tapioca into the egg whites to warm them up. Your goal hear is to keep the egg whites nice and fluffy so try to gently fold the hot tapioca in. Don't stir it vigorously.
Then stir the warmed egg white mixture back into the pot and put it back on the heat (low) for 3-4 minutes.
Then stir in the coconut and vanilla once the pudding is thick.
Layering
Making these trifles is pretty easy once you have the puddings done. Just two tips:
1) Make sure everything is room temperature before you start layering. Let both puddings cool off. If you try to layer them while the pudding is hot they won't set up correctly and will also create a lot of condensation in the jars.
2) Start with chocolate. The chocolate pudding is heavier so put it on the bottom as your first layer.
A little shaved chocolate on top of each jar is a nice garnish if you have the time!
These keep great, covered, in the fridge for at least a week. No chance they make it that long though. They are just the perfect little dessert.
Leave a comment if you're a tapioca fan!