These next two weeks are filled with holidays and parties and I feel like I'm always on the look out for a good appetizer to bring to events that's something different.
This year for Thanksgiving, I made an interesting chutney that involved roasting pearl onions and while they were a bit of a pain to work with, they were incredibly sweet and delicious on their own.
I mentally bookmarked them as something I might be able to mix into a dip or something later and this is the result of that brain bookmark.
This Pearl Onion Dip dip ends up being a great mix of savory and sweet and is totally addicting.
Roasted Pearl Onion Dip
Flavorful roasted pearl onions and and lots of other good flavors make this a great holiday (or game day) appetizer, a sure-fire hit!
Ingredients
1

pound

pearl onions

,

roasted

2

tablespoons

olive oil

Kosher salt

Black pepper

1

cup

Greek yogurt

1

cup

Mascarpone cheese

1

tablespoon

worcestershire sauce

1

tablespoon

lemon juice

1

teaspoon

garlic powder

Dash of hot sauce

Fresh chives

,

garnish

Lemon zest

,

garnish

Crackers

,

for serving
Instructions
Preheat oven to 350 degrees F. Toss pearl onions with olive oil, a big pinch of salt, and a big pinch of ground pepper. Spread onions out on a baking sheet.

Bake onions for about 30 minutes, stirring once halfway through.

Let onions cool completely and then peel them by cutting off the root end of the onion and pushing out the sweet inner roasted onion, leaving just the paper layer. Don't stress to much if an extra layer sticks to the paper layer.

Add peeled onions to a small food processor and pulse a few times until roughly chopped. You can also chop them by hand obviously. You want some texture in the onions.

Add pulsed onions to a bowl with yogurt, mascarpone cheese, worcestershire sauce, lemon juice, garlic powder, and a dash of hot sauce. Stir together well.

While you can serve the dip immediately, it's best to let it chill for a few hours in the fridge.

Before serving, garnish dip with fresh chives and lemon zest and serve with crackers on the side.
Nutrition
Serving:
1
bowl
|
Calories:
265
kcal
|
Carbohydrates:
10
g
|
Protein:
7
g
|
Fat:
22
g
|
Saturated Fat:
11
g
|
Polyunsaturated Fat:
1
g
|
Monounsaturated Fat:
3
g
|
Trans Fat:
0.002
g
|
Cholesterol:
39
mg
|
Sodium:
73
mg
|
Potassium:
189
mg
|
Fiber:
1
g
|
Sugar:
5
g
|
Vitamin A:
530
IU
|
Vitamin C:
7
mg
|
Calcium:
111
mg
|
Iron:
0.4
mg
Did you make this recipe?
Pearl Onion Dip
Roasting the Onions
The Pearl Onion Dip dip itself is very easy to make happen, but the roasting of the onions is another ordeal entirely. I try to not sugar coat stuff here so I'll just say it: it's a pain in the ass.
First you have to toss the onions with some olive oil, salt, and pepper and spread them out on a baking sheet. No biggy.
Then roast them for about 30 minutes until they are nice and tender. Give them a stir halfway through just to make sure they are cooking evenly.
Once they come out of the oven, let them cool completely before trying to peel them. Peeling pearl onions is annoying but peeling hot pearl onions is just stupid.
The easiest way I found to peel these suckers once they were cool is to chop off the root end of the onion with a serrated knife and then just kind of squirt the onion out from it's paper layer.
Some will peel easier than others, but eventually you'll be left with a big bowl of beauties.
A quick note: You can find frozen pearl onions at any supermarket, but I wouldn't recommend them for this dish honestly. The issue is that they have already been cooked and peeled so roasting them is out of the question and it's the roasting that really develops the flavors for the Pearl Onion Dip dip.
Folding these whole guys into a dip would be a bit much so give them a rough chop. I actually pulsed mine in a mini food processor a few times. You want different textures in the onions.
Finishing the Dip
Rounding out the dip flavors is just a solid mix of savory, sweet, salty, and sour flavors. You'll want all of these things.
Stir everything together in a big old bowl and you're all set.
Once the Pearl Onion Dip is stirred together, taste it for salt and pepper and garnish it with a healthy handful of fresh chives and lemon zest.
It's good on pretty much any chip or cracker on the planet.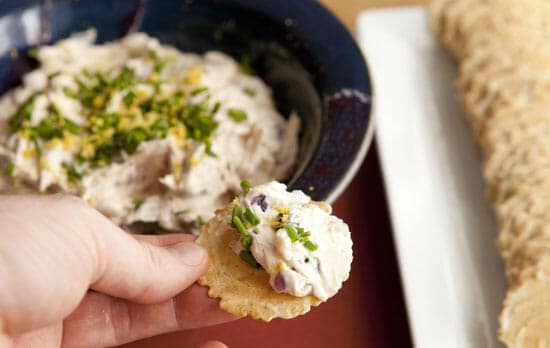 If you are stuck on appetizers this year, this Pearl Onion Dip is a great one. It has some interesting flavors that are definitely different from standard cheese dips.
Give it a shot and have a great holidays everyone!