These little breakfast toasts are a good reminder that in the world of the home cook fancy and easy do not have to be mutually exclusive. I consider these near-benedicts to be pretty fancy. They have pretty poached eggs on top, lots of color, and a perfect mix of crispy toast, creamy cheese, and crunchy veggies.
They are something I could see ordering at a fancy brunch place for sure.
But they take almost no time to make. Master the egg and you can make these on a weekday even since the veggie mix could be made in advance without too much issue.
There's really only one trick to making these toasts taste as delicious as they look: salt. Don't forget to salt the veggies separately and you'll be in good shape.
Ricotta Rainbow Veggie Toasts
These simple breakfast toasts are topped with loads of colorful veggies and perfect poached eggs for an easy and elegant way to start the day!
Ingredients
1

large carrot

,

peeled and grated

½

yellow or orange pepper

,

sliced thin

½

green pepper

,

sliced thin

4-5

radishes

,

sliced thin

1

large beet

,

peeled and grated

6-8

ounces

ricotta cheese

English muffins

Poached Eggs

Salt and pepper

Fresh scallions

,

garnish
Instructions
Peel and grate the carrot and stir together with the peppers and radishes. Add a pinch of salt to the veggies and let sit for a few minutes.

Grate beet separately and also add a pinch of salt.

Poach eggs in a medium pot. Bring the pot to a slight simmer and add a few tablespoons of vinegar. Swirl the water with a spoon and carefully crack in eggs. (Work in batches depending on the size of your pot). Cook the eggs for about 3 minutes until the whites are set, but they should still give a tiny bit when touched.

Remove eggs with a slotted spoon and carefully drain on a few paper towels.

Toast english muffins and smear each muffin with ricotta cheese. Top with salted beets and salted veggies. Then place on poached egg. Drizzle with olive oil (optional) and garnish with fresh scallions. Serve immediately!
Nutrition
Serving:
1
Toast
|
Calories:
97
kcal
|
Carbohydrates:
6
g
|
Protein:
6
g
|
Fat:
6
g
|
Saturated Fat:
4
g
|
Polyunsaturated Fat:
0.2
g
|
Monounsaturated Fat:
2
g
|
Cholesterol:
22
mg
|
Sodium:
65
mg
|
Potassium:
227
mg
|
Fiber:
2
g
|
Sugar:
3
g
|
Vitamin A:
3265
IU
|
Vitamin C:
33
mg
|
Calcium:
100
mg
|
Iron:
1
mg
Did you make this recipe?
Ricotta Rainbow Veggie Toasts
I used a mix of veggies that were easy to find but basically any crunchy veggie will work on these. Go crazy! If you do use beets though, I recommend keeping them separate or they will just stain all your other veggies. Taste will be the same but the colors won't be quite as fun.
Once you get your veggies prepped, add a big pinch of kosher salt to both bowls and stir it in. Let these sit for a few minutes.
When you're ready to make toasts the veggies should've lost a tiny bit of their liquid form the salt. This is a good thing!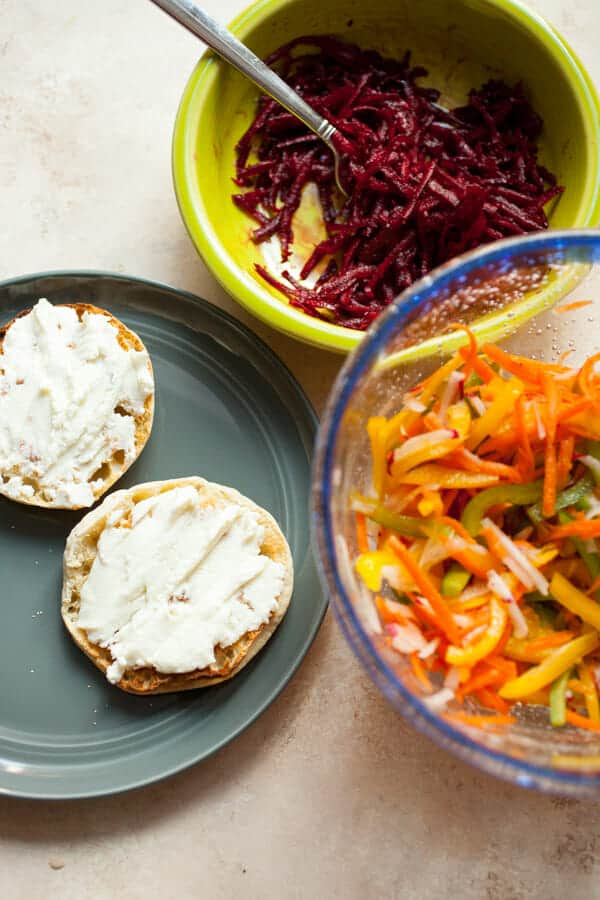 We've talked poached eggs a million times on this blog. As a reminder, you don't need molds or fancy equipment. Just a medium pot, a few inches of water, a splash of vinegar (I used apple cider vinegar on this particular day) and a few eggs. Crack them in and let them cook gently (no boiling) for about 3 minutes.
Remove them with a slotted spoon and let them drain on a few paper towels. I feel like I always mess up one so if you are cooking for others maybe toss in an extra egg or two just to make sure you have enough good ones to serve.
The finished toast is really fun and quite pretty in my opinion. Layer on some ricotta on toasted English muffins. Top with the shredded beets, other veggies, an egg, then some fresh scallion and maybe a drizzle of olive oil.
Breakfast is served! Enjoy!