I've been on the lookout for fun and simple salads these days that can work both for a dinner and also for lunch throughout the week. Basically, that just means that they have to be good warm and cold and also keep well for 4-5 days.
This salad is even easier I think because there's no need to roast a whole squash or anything. And the final product is healthy and flavorful.
The original recipe called this a Tabbouleh which it kind of is. It has a lot of the same ingredients, but to me tabbouleh means a very specific thing so I just called it a pilaf salad.
Rice Pilaf Salad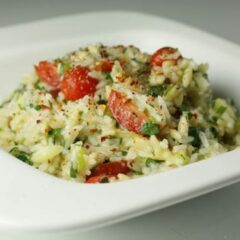 Rice and orzo pasta (pilaf) are mixed with flavorful veggies like scallions, parsley, tomatoes, and cucumbers to make a delicious pasta salad.
Ingredients
2

Cups

white rice

1

Cup

orzo pasta

3-4

scallions

,

chopped

1

Cucumber

,

seeded and diced

¾

Cup

flat parsley

,

chopped

1

cup

cherry tomatoes

,

diced

1

lemon

,

juice only

¼

Cup

extra-virgin olive oil

Salt and Pepper

Crushed red pepper

,

optional
Instructions
You can cook the rice and pasta together as I do in the post, but you can also just cook them separately according to the instructions for each and then mix them together.

Dice veggies and add them to the pilaf mixture.

For dressing, juice a lemon and then whisk in olive oil. Season with salt and pepper and pour dressing over the pilaf and veggie mixture.

Season the final salad with salt and pepper and a pinch of red pepper flakes if you want some spice.
Nutrition
Serving:
1
bowl
|
Calories:
417
kcal
|
Carbohydrates:
72
g
|
Protein:
9
g
|
Fat:
10
g
|
Saturated Fat:
1
g
|
Polyunsaturated Fat:
1
g
|
Monounsaturated Fat:
7
g
|
Sodium:
17
mg
|
Potassium:
342
mg
|
Fiber:
3
g
|
Sugar:
2
g
|
Vitamin A:
732
IU
|
Vitamin C:
24
mg
|
Calcium:
52
mg
|
Iron:
2
mg
Did you make this recipe?
The Pilaf
Pilaf can mean a lot of different things depending on the country. Mostly, it involves some rice and maybe some other grains. For this meal, you could definitely just use three cups of your favorite boxed pilaf. Most of them are pretty solid. I wouldn't get anything with too much spice though or it might over-power some of the other ingredients.
I decided to mix up my own pilaf with mostly rice and some orzo pasta. It ended up being very good and the different textures between the rice and pasta was nice.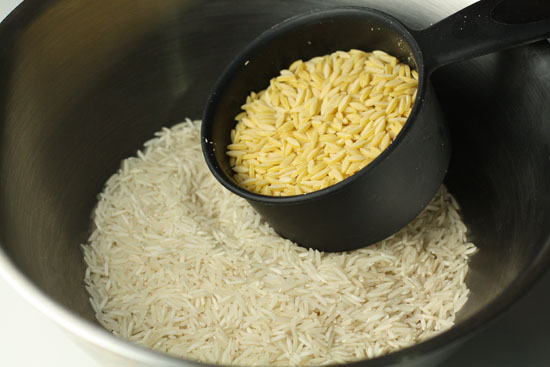 The one thing about doing it the way I did is it's kind of hard to know how to cook it. If you don't go the boxed route, then you'll have to change the prep a bit based on what rice you use (I used basmati). But basically I added on about 1/2 cup of water over what my rice instructions said. So my basmati rice said to use 1 3/4 – 2 Cups of water per cup of rice. So I used about 2 1/2 cups of water per cup of rice and pasta. So since I had 3 cups total of rice/pasta, I started with a little under 8 cups of water.
The next part is the cooking time. Unless you use instant rice (don't use instant rice), your rice will probably need more cooking time than the orzo. The orzo should take 8-10 minutes to cook so subtract that time from your total rice cooking time. For me that was about 10 minutes, so I cooked my rice for ten minutes as instructed on my rice package and then added my orzo straight in.
Keep an eye on it if you do this method. You might need to add a bit more water if it looks dry or if it looks to wet then just take the cover off and the extra water should evaporate pretty quickly.
The Veggies
I could see adding a bunch of different veggies to this salad, but I kept it pretty simple.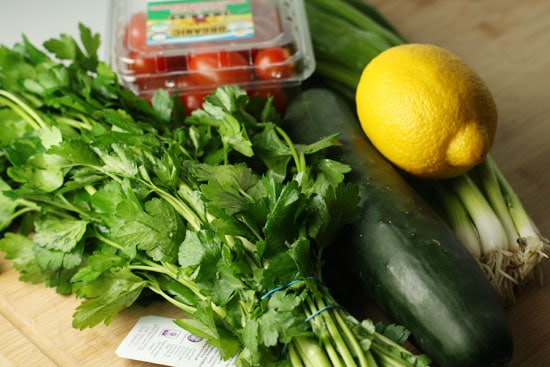 Chop up everything so they are basically the same size. I quartered the tomatoes and diced everything else.
For the cucumber, I half-peeled it, scooped out the seeds and diced it. Only peeling some of it gives the cucumber a great texture. Honestly, you could probably just leave all the peel on if you're in a hurry.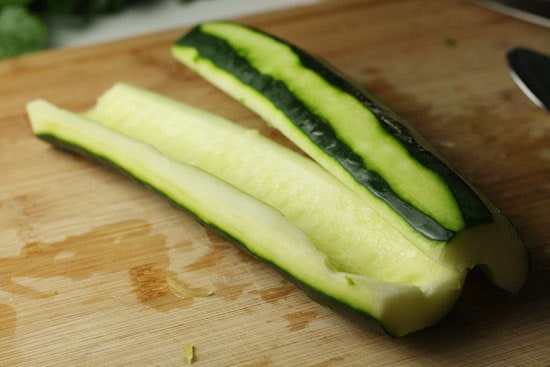 If you're half-way proficient with a knife, you should be able to bang out this stuff while your pilaf is cooking.
You'll end up with this big bowl of healthy color.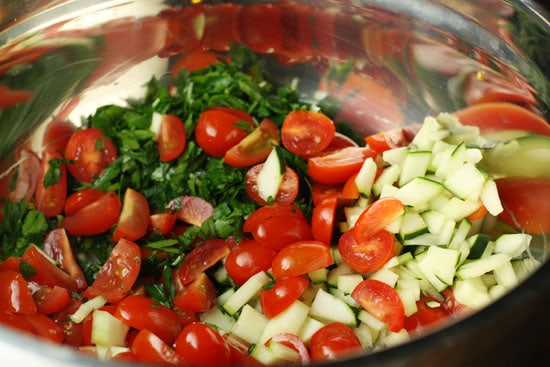 The Dressing
This salad uses one of my favorite simple dressings and reason number a million why jar salad dressing just isn't worth it. It's just lemon juice whisked with olive oil and a pinch of salt and pepper but it's really nice.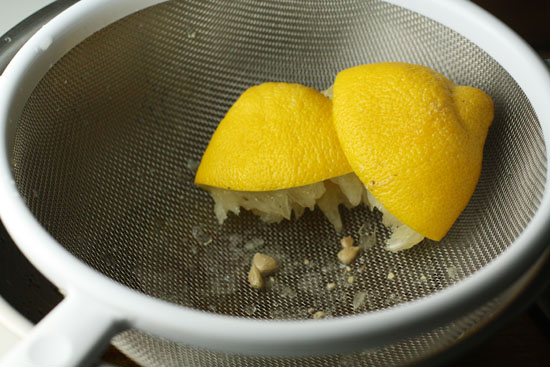 If you don't have one of these mesh strainers, you can just use your fingers to filter out the few seeds as you juice the lemon. Honestly though, mesh strainers are awesome. I use mine for all kinds of stuff.
Anyway, just whisk everything together and you'll end up with and light and refreshing lemony dressing. I added a few pinches of red pepper flake for spice, but it's totally optional.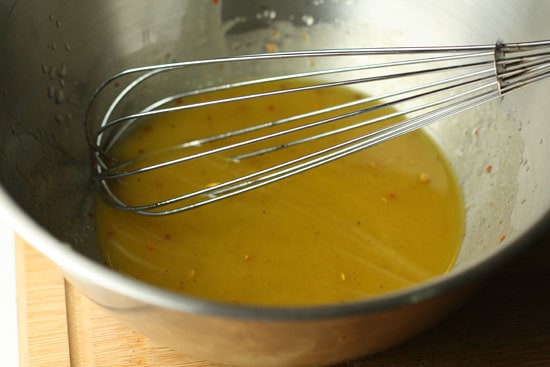 If you aren't using boxed pilaf, be sure to check on it a few times to make sure it's cooking nicely. My turned out really nice though. The rice and orzo finished cooking at the same time and the result had great texture.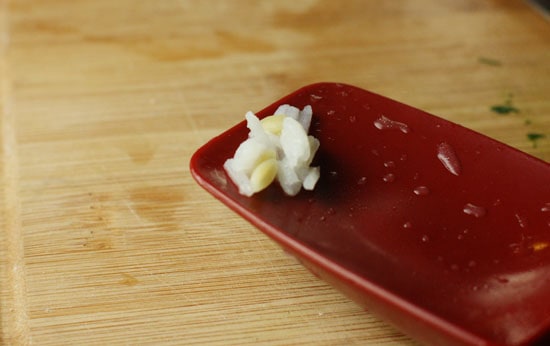 I think you know the next step. Just mix everything together and add the dressing! It'll look like a tiny amount of dressing for all that salad, but it's enough to get the job done.
I ate this for dinner right after I made it and it was delicious, but it was definitely better on day two after the flavors blended a bit more.
The only thing I think I might add to this if I make it again is maybe some kind of nut. A few toasted pine nuts could kick it up a notch.
Betsy and I are really enjoying these simple salads. Hopefully you guys are too!