Who would've thought that with all the disasters that have happened in the NFL this year (Ray Rice, concussions, etc.) the Super Bowl would be taken over by talks of ball pressure.
Did the Patriots knowingly deflate their balls?! Are they certifiable cheaters?! I'd be shocked if we ever find out the true answer to this.
Here are my only thoughts on the subject. The NFL should either:
A) Provide the balls for each game if they want the balls to be uniform. Teams should not be allowed to provide their own balls.
B) If teams are allowed to provide their own balls, they should be able to do whatever the heck they want to them! If one team likes their balls at a different pressure or scuffed up, so what? There are already so many variables that go into a football game, why spend so much energy caring about this one? If anything, it would probably just lead to more scoring which the NFL loves anyway.
Either way, I'm already very sick of the whole thing.
Instead of talk about something deflated, I wanted to eat something deflated. So I made flatbread. These beauties don't have any yeast in them so they stay non-puffed and turn into crispy, cracker-like crusts. Topping options are many, but I really like the Mediterranean spread I went with here.
Loaded Mediterranean Flatbreads
My favorite no yeast flatbread recipe topped with loads of Mediterranean toppings. A perfect appetizer or meal!
Ingredients
Dough:
2

cups

all-purpose flour

1

teaspoon

baking powder

1

teaspoon

kosher salt

½

cup

water

⅓

cup

milk

2

tablespoons

olive oil
Toppings:
Olive oil

Roasted red pepper

Kalamata olives

Banana peppers

Cherry tomatoes

Artichoke hearts

Feta cheese

Fresh basil
Instructions
To make Dough:
Stir together all ingredients in a medium bowl. Use your hand to knead the dough lightly until it forms a soft, smooth ball. If at any point the dough is very sticky, add a bit more flour. Knead the dough for 5-6 minutes. After dough is in a smooth, soft ball, cover with plastic wrap and let sit for a few minutes.
To make flatbreads:
Preheat oven to 425 degrees F. Cut dough in half and roll each half out on a lightly floured surface. When dough is rolled out into a roughly 8×12 rectangle, transfer it to a baking sheet.

Prick the dough with a fork all over and drizzle with olive oil. Top dough with any toppings you are using (except for basil). If you're toppings are kept in brines (olives, artichokes, etc.) then dry them off well before adding them to the flatbread. Season with salt and pepper.

Bake the flatbreads for 12-15 minutes until browned and crispy around the edges.

Remove flatbreads from oven and sprinkle with fresh basil. Slice and serve while warm!
Nutrition
Serving:
0.5
Flatbread
|
Calories:
302
kcal
|
Carbohydrates:
49
g
|
Protein:
7
g
|
Fat:
8
g
|
Saturated Fat:
1
g
|
Polyunsaturated Fat:
1
g
|
Monounsaturated Fat:
5
g
|
Cholesterol:
2
mg
|
Sodium:
697
mg
|
Potassium:
98
mg
|
Fiber:
2
g
|
Sugar:
1
g
|
Vitamin A:
34
IU
|
Calcium:
98
mg
|
Iron:
3
mg
Did you make this recipe?
Deflated Dough
Many times, I'll just use pizza dough for flatbreads and that sort of blurs the line between the two. But these guys are noticeably different from pizza. Because there's no yeast (and just a tiny amount of leavening from baking powder), the crust gets really crispy. It's basically a sturdy cracker that can hold up to loads of toppings.
Another bonus of leaving out the yeast is that it's really easy to make!
Start the dough just by stirring together all the ingredients.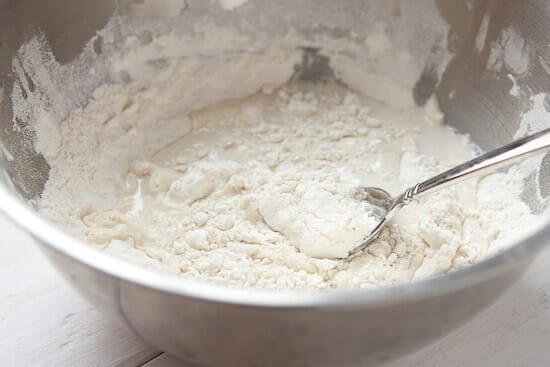 While you could bust out the stand mixer for this, I think it's more work than it's worth. The dough is really easy to knead by hand and you just need to knead it until it forms a soft, smooth ball. It should only take 5-6 minutes of kneading. As always, if the dough is really sticky, add a bit more flour.
This was my finished dough!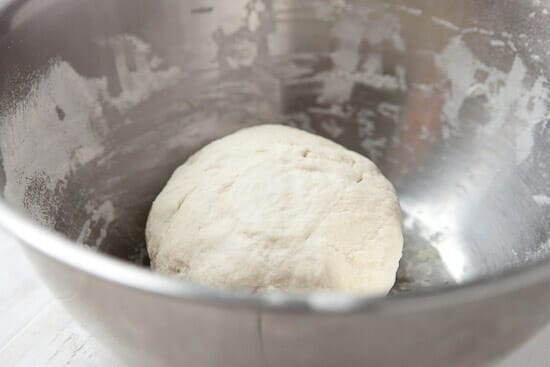 The dough doesn't need to rise, but it does help to let it rest for 10 minutes or so while you preheat the oven and stuff. Letting the dough rest will make it easier to work with.
Making the Flatbread
When you're ready to make the flatbread, cut the dough in half and roll each half out on a lightly floured surface. Each half should be roughly 8×12 inches but there's no set size really. You just want the dough nice and thin.
Then transfer the dough to a baking sheet and poke it with a fork (to let steam out as it bakes) and drizzle it well with olive oil.
Let's talk fun toppings. I went with a Mediterranean skew here so I chopped up some olives, artichokes, roasted red peppers, cherry tomatoes, banana peppers, and crumbled up some feta.
All good stuff.
You can really pile this stuff on the flatbread. It'll hold up to the toppings.
ONE BIG TIP: For the ingredients that are kept in brines (artichokes, olives, etc.) dry them out on a paper towel before adding them. If you don't dry them out there will be a lot of liquid on the flatbreads which won't cook off and you'll end up with a soggy situation.
Bake this guy at 425 degrees F. for 14-15 minutes until the edges are nice and crispy. Some of the veggies will get a bit crispy around the edges which is a bonus.
When the flatbread comes out, sprinkle with fresh basil!
These are really excellent and would be a nice switch up from some of the standard Super Bowl foods tomorrow.
If you do need a standard recipe though, make these wings. I'll be making them for sure!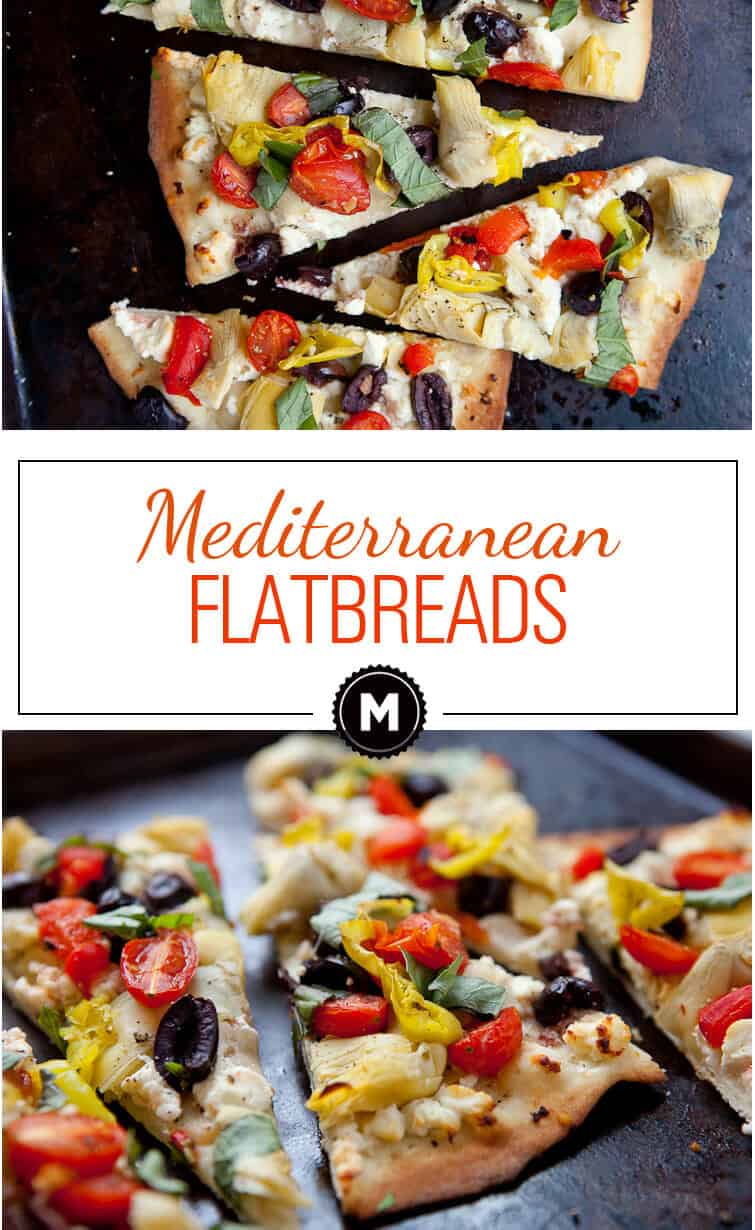 Super Bowl Prediction
Okay… I could end this post without giving a prediction. I think it's going to be a close game and a good one, but I think the Pats are the slightly better team. I'll say Pats win 24-21.
Have a Super Bowl prediction? Leave a comment!