This is the third post in a five part series called Expecting Nugget! I took the liberty to insanely stock our freezer with lots of good eats in preparation for our first baby. I figured I would share them all because everybody needs good freezer meals!
When I was thinking about meals to freeze for our child's arrival, I didn't think much about breakfast. After all, it's pretty easy to toss some cereal in a bowl or whatever and call it good. But, then Betsy reminded me how nice it can be to have a hot meal after a long night (of doing whatever it is that new parents need to do).
There are many good freezable options for breakfast. I've covered breakfast burritos and breakfast bowls before, but what Betsy requested this particular time around was really good waffles.
Waffles freeze fantastically and reheat way better than many other foods. I'm not actually sure that I could tell the difference between a fresh made waffle and a reheated one assuming that you freeze and reheat it correctly.
I used my basic buttermilk waffle recipe for this version but obviously the method is more important than the recipe. (But they are good waffles.)
Basic Buttermilk Waffles
A walkthrough on how to freeze waffles for later. They reheat perfectly! The technique also works for pancakes!
Ingredients
1 ½

cups

all-purpose flour

½

cup

whole wheat flour

¼

cup

brown sugar

1

teaspoon

baking soda

1 ½

teaspoons

baking powder

½

teaspoon

cinnamon

½

teaspoon

salt

3

large eggs

2

cups

buttermilk

1

teaspoon

vanilla extract

4

tablespoons

unsalted butter

,

melted

Maple syrup

,

for serving

Butter

,

for serving
Instructions
Whisk together dry ingredients in a large bowl. In a medium bowl whisk together eggs, buttermilk, and vanilla.

Stir wet ingredients into dry ingredients to form the batter. Try not to over-mix, but stir out any large lumps. If the batter is super-thick (not pourable) add another ¼-½ cup buttermilk. Stir in melted (and cooled) butter.

Pour batter into heated waffle iron in ⅓ cup batches. Cook waffles according to waffle iron instructions.

To freeze: Remove waffles from iron and let cool completely at room temperature to pull off any steam. Wrap each waffle tightly in plastic wrap. Then wrap two waffles together in foil. Freeze waffles. They will keep fine for 3-4 months.

To reheat waffles: Unwrap waffle and just place right back in the waffle iron! Let heat for 2-3 minutes and serve immediately!
Nutrition
Serving:
1
Waffle
|
Calories:
250
kcal
|
Carbohydrates:
33
g
|
Protein:
7
g
|
Fat:
10
g
|
Saturated Fat:
5
g
|
Polyunsaturated Fat:
1
g
|
Monounsaturated Fat:
3
g
|
Trans Fat:
0.2
g
|
Cholesterol:
83
mg
|
Sodium:
451
mg
|
Potassium:
168
mg
|
Fiber:
2
g
|
Sugar:
10
g
|
Vitamin A:
365
IU
|
Vitamin C:
0.01
mg
|
Calcium:
137
mg
|
Iron:
2
mg
Did you make this recipe?
Buttermilk Waffles
I keep my waffles pretty simple but there are a few changes I made from the standard waffle recipe you might find on google (and even elsewhere on this site).
I used brown sugar instead of white sugar. A small change but it gives the waffles a better color I think. Also, I added in some whole wheat flour not because I'm a health nut but because it gives some density to the waffles that is really nice for syrup soaking.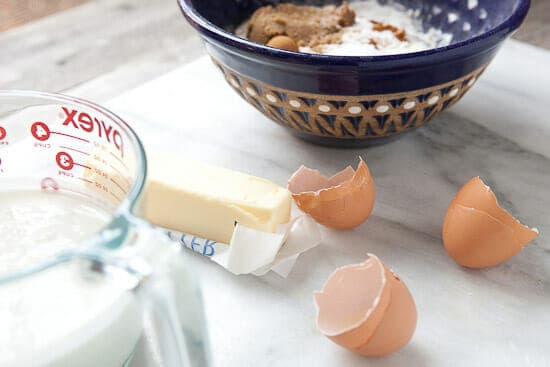 Like most quick batters, mix together the dry and wet ingredients separately and then whisk the wet into the dry.
Try not to over-mix the batter, but do whisk out any large clumps of flour.
Waffle Irons
There are a huge range of waffle irons out there, but this one is my absolute favorite. Yes. It's on the pricy side for a waffle iron, but it makes perfect waffles and you can make two at a time which is nice if you're hosting a brunch or just impatient.
But obviously you can use any waffle maker out there. Just grease up your iron and add the right amount of batter which is usually 1/3-1/2 cup per waffle.
How to Freeze Waffles
There are a few tricks to freezing waffles well.
The first and most important trick is to cool them completely. Once they are cooked, let them cool on the counter until they are room temperature. They can't be even warm or condensation will form as they freeze and ruin your show.
Luckily, the amount of time it takes to cool down the waffles is about the same as the amount of time it takes to eat a waffle. You get my drift.
Once the waffles are cooled, you can use the double wrap method which is my personal favorite. It keeps moistures and funky tastes out.
Wrap each waffle individually in plastic wrap and then wrap two waffles together in heavy duty foil. You could do up to four in a batch of foil, but I think two works well. The foil/plastic wrapping combo keeps them perfectly.
Don't forget to label or you'll forget what these round suckers are in two months.
Reheating Frozen Waffles
Reheating the frozen waffles is so easy. Unwrap a waffle from it's double wrap and stick it back on the waffle iron. Kind of fit it in like a puzzle so it all it's nooks and holes are in the iron. Then heat it up for 2-3 minutes and it will spring back to life.
It doesn't get easier than that!