One of my favorite Netflix shows from across the pond is called An Idiot Abroad. Essentially, it's a travel show (think No Reservations) except instead of a well-traveled, well-spoken guy, it's just a normal dude from England. I made these Homemade Crumpets with Raspberry Ricotta Spread to try to bring a little bit of England to my kitchen.
I knew that crumpets are similar to what we call English muffins here in the states, but they end up being a bit sturdier and have a slightly different texture. I started with Jamie Oliver's crumpet recipe and I knew these Homemade Crumpets would be the perfect breakfast or afternoon snack.
To top the Homemade Crumpets I mashed up some ricotta cheese with fresh raspberries and honey. Yes please!
Homemade Crumpets
A simple and classic homemade crumpet recipe topped with a simple ricotta topping. A great lazy brunch or snack with tea!
Ingredients
2

cups

bread flour

1

teaspoon

sugar

⅛

ounce

active dry yeast

Pinch

of baking powder

1

teaspoons

kosher salt

¼

teaspoon

ground cinnamon

1 ¼

cup

warm water
Ricotta Topping:
1

cup

ricotta cheese

1

lemon

,

zest only

1

tablespoon

honey

1

cup

fresh raspberries

,

mashed
Instructions
For crumpets, stir together dry ingredients in a medium bowl (this recipe is easily doubled by the way). Add in water and stir to combine. The dough will be very wet.

Let dough sit for 10-15 minutes to bubble a bit and activate the yeast.

Meanwhile, mash fresh raspberries lightly with a fork and stir them into the ricotta mixture with honey and zest. Set aside for later.

To cook crumpets, lightly grease and heat a large, sturdy skillet over medium heat. Once hot, drop in crumpet dough into about 1/2 inch thick circles. You can use a metal ring if you want perfect circles but I just eyeballed it. You should get 4-5 large crumpets from your dough.

Once the crumpets are in the pan, turn the pan heat down to low and let the crumpets cook slowly for 15 minutes.

Flip the crumpets and cook for 15-20 minutes on the second side until they are lightly browned, crunchy on the exterior, and cooked through.

Let crumpets cool slightly and then serve smeared with ricotta topping.
Nutrition
Serving:
1
crumpet
|
Calories:
380
kcal
|
Carbohydrates:
59
g
|
Protein:
15
g
|
Fat:
9
g
|
Saturated Fat:
5
g
|
Polyunsaturated Fat:
1
g
|
Monounsaturated Fat:
2
g
|
Cholesterol:
31
mg
|
Sodium:
640
mg
|
Potassium:
222
mg
|
Fiber:
5
g
|
Sugar:
8
g
|
Vitamin A:
291
IU
|
Vitamin C:
22
mg
|
Calcium:
156
mg
|
Iron:
1
mg
Did you make this recipe?
Homemade Crumpet Dough
Sometimes it's really hard to translate recipes even if it's technically in your language. If you check out Jamie's recipe, for example, there are ingredients like easy-action yeast, bicarbonate of soda, and instructions like "blitz."
I tried to take a stab at translating this to American ingredients and directions and ended up with very excellent Homemade Crumpets. I'll call it a win!
Of course, the Brits (and the world) are much more exacting, especially when it comes to measurements so while we would say 2 cups of bread flour, they say 250 grams.
As always, if you want to guarantee recipe success, weighing your ingredients is the best idea.
Then add in the yeast, cinnamon, salt, and sugar. There's a lot of yeast in these guys which means they don't need a lot of rise time and also give the Homemade Crumpets a distinct flavor.
Stir this all together with the warm water and it'll form a very loose dough. It's almost a batter and reminded me a lot of no knead bread.
Unlike no knead bread (which has a very small amount of yeast) this has a lot of yeast so you only need to let it sit for about 15 minutes and it will get stretchy and perfect.
Cooking the Crumpets
Cooking these guys in a large, sturdy skillet is the classic way to go. When you are ready to make the crumpets lightly oil your pan and heat it over medium heat. Then just drop in your crumpet dough in loose pieces.
If you are a perfectionist, you can use a metal ring to help shape the crumpets but that's kind of unnecessary in my opinion.
Once the crumpets are in the pan, reduce the heat to LOW and cook the crumpets for about 15 minutes. So they get a quick sear from the heat and then cook slowly. This lets the yeast continue to do its thing and the crumpets puff up beautifully.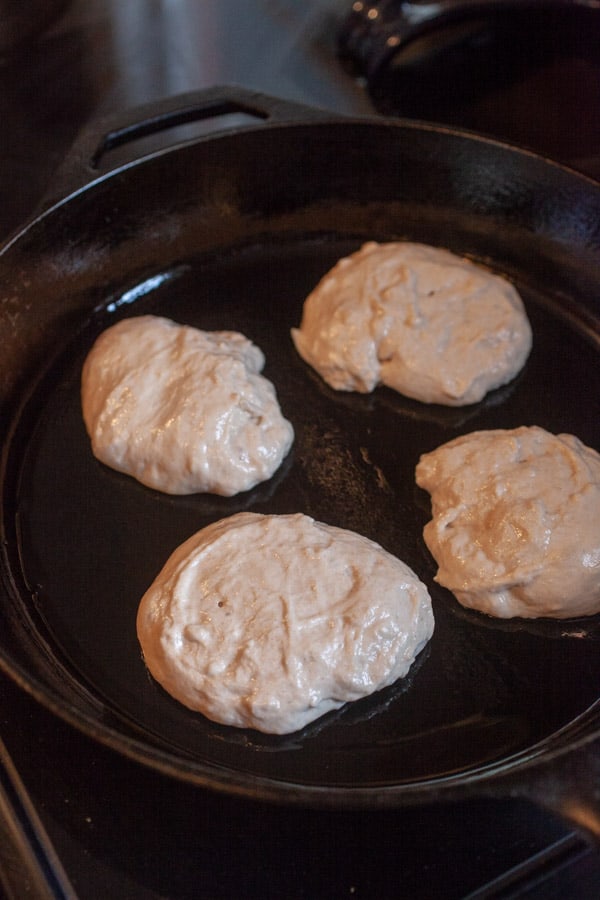 Give these Homemade Crumpets a flip and continue to cook them on low heat for another 15-20 minutes until they are golden brown and cooked through. They will have a bit of a crunch to the outside which is nice and be really tender on the inside.
The Crumpet Topping
At some point while the crumpets are cooking or rising, mix together the topping. This is an easy topping, but is the perfect amount of sweetness for me.
Just stir together some ricotta cheese with lemon and honey.
Then mash up some fresh raspberries and gently fold them into the cheese. You want pink streaks if that makes sense.
When your Homemade Crumpets are done, let them cool briefly and then cut them open and serve them with a big smear of the ricotta spread.
If you happen to see this when you slice open a crumpet it means your crumpets need MORE TIME.
When they are done, the inside should be completely set. I let mine cook over low heat for a few more minutes and then they looked great.
There you have it Mate!
These Homemade Crumpets are bloody brilliant and you should make them. They are especially good while watching Karl Pilkington wonder around the world.
Here are a few other great Breakfast Breads: