There's this somewhat hidden feature of melted cheese that most people first discover if they get a little to greedy with the amount of cheese they put in a grilled cheese. Basically, if you cook cheese, it will melt, and then it will get crispy.
There's this little window right before it burns and the cheese is crispy, but still, well, cheesy. I used this crispy cheese idea in my cheese crunch sandwich, but this Ham and Cheese Waffles recipe takes better advantage of the crispy cheese properties.
You might think that the ham is the star of the waffle, but in reality, it just rounds out the flavors. The real star is a super-light waffle batter and the crispy bits of cheese that cook on the outside of the waffle. If you like savory sweet food, this is your breakfast.
Ham and Cheese Waffles
An entire breakfast and sandwich smashed into a delicious waffle. The ham and cheese waffle is here to stay!
Ingredients
1 ¾

cups

all-purpose flour

1

tablespoon

sugar

2

teaspoons

baking powder

1

teaspoon

baking soda

1

teaspoon

kosher salt

3

eggs

,

separated into whites and yolks

1

cup

unsalted butter

,

melted and cooled

1

cup

buttermilk

¾

cup

soda water

½

cup

chopped ham

½

cup

grated white cheddar cheese

Butter

,

for serving

Honey

,

for serving

Maple syrup

,

for serving
Instructions
Whisk together the five dry ingredients into a large bowl. In a medium bowl, whisk together yolks, buttermilk, melted butter, and soda water.

For egg whites, add whites to a clean metal bowl and whisk with a clean whisk until the whites form medium peaks.

Using a flexible rubber spatula, gently fold the egg whites into the batter to lighten it. Don't stir. Fold.

Heat up waffle iron, chop ham, and grate cheese.

Add batter to your waffle iron. The amount will vary depending on your iron but will probably be 1/2-3/4 of a cup. Sprinkle batter on top with about a tablespoon or two of ham and cheese.

Cook waffle according to machine instructions until golden brown, about 4-5 minutes.

Remove waffle. You might have to use a fork or knife to help it out.

Serve waffle with butter and honey or syrup or keep waffles warm in a 250 degree F. oven while you make more.
Nutrition
Serving:
1
waffle
|
Calories:
806
kcal
|
Carbohydrates:
50
g
|
Protein:
19
g
|
Fat:
59
g
|
Saturated Fat:
35
g
|
Polyunsaturated Fat:
3
g
|
Monounsaturated Fat:
16
g
|
Trans Fat:
2
g
|
Cholesterol:
276
mg
|
Sodium:
1484
mg
|
Potassium:
260
mg
|
Fiber:
1
g
|
Sugar:
7
g
|
Vitamin A:
1838
IU
|
Calcium:
328
mg
|
Iron:
4
mg
Did you make this recipe?
Ham and Cheese Waffles
The Lightest of Batters
Even if you don't actually make the ham and cheese part of this waffle, the batter is worth it on its own. It's a very similar idea to the popular cloud cakes recipe. The dry ingredients are pretty standard.
The wet ingredients are also pretty standard plus some soda water (or club soda) for extra bubbles.
The real trick though is that you separate your eggs into the whites and yolks. The yolks you whisk together with the buttermilk, melted butter, and soda water which you then add to your dry ingredients like any other batter.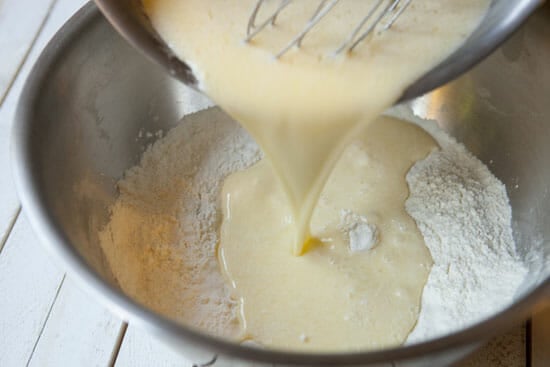 Now you just have a bowl of egg whites. Make sure your whisk is clean and start whisking the whites like crazy. After a minute or two they will get nice and frothy and start to hold their shape.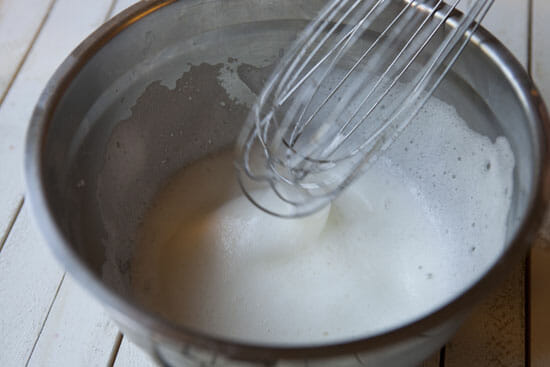 Keep going until you can form small peaks with the whites. The peeks should hold their shape for a few seconds but will eventually sink back down. This is roughly the stage that you want. If you kept going you could get to the meringue, stiff peak phase which is too firm for a batter like this.
The medium peak phase is perfect though.
Add your whipped whites to the batter and gently fold it into the batter with a rubber or plastic spatula. The key part about this is that you don't want to stir the the whites into your batter or all the little bubbles will break. If you gently fold the whites in though by running the spatula around the edge of the bowl and folding the batter over itself, you'll slowly mix the whites into the batter and keep most of their volume.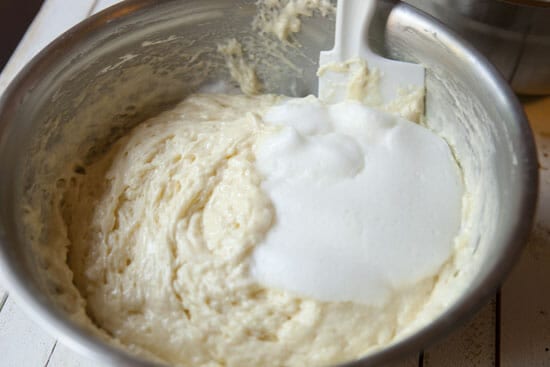 The final batter will be really light and fluffy.
This will translate into an airy waffle that has a really crispy exterior.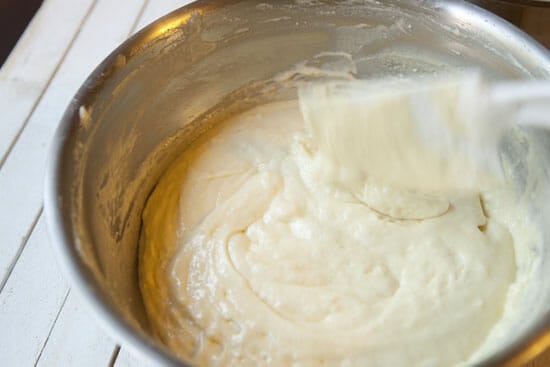 Fixins and Waffles
You want to be careful not to over-fill your waffles with delicious ham and cheese. You don't need a lot in each waffle to get the desired flavors. If you are making four waffles, you need maybe a half cup of each ingredient at most.
Because you don't need a bunch, try to find a really nice flavorful cheese and ham.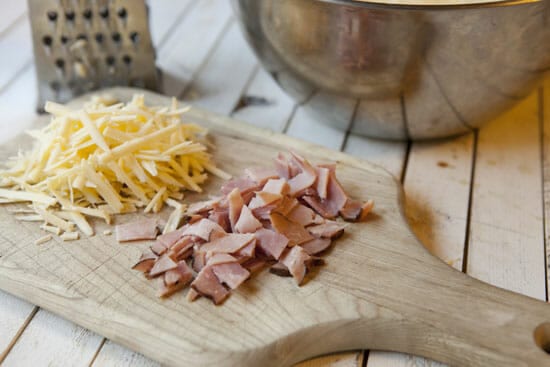 When you're ready to make your Ham and Cheese Waffles, lightly oil your waffle maker and add your batter to the pan. Depending on your waffle iron size you'll need probably 1/2-3/4 cup of batter. Spread the batter out on the iron and then sprinkle on some ham and cheese. Work quickly!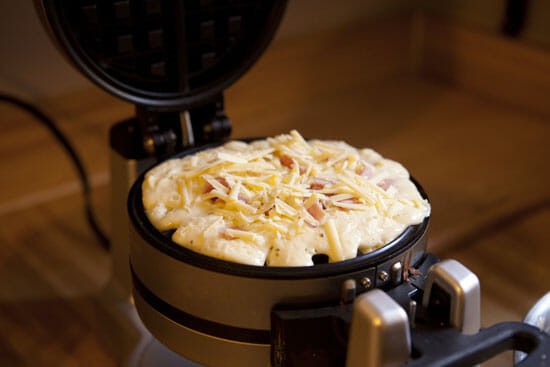 Close your iron and let it do it's thing.
After 4-5 minutes the waffle should be golden brown. The truth is that you'll know it is done because you'll smell cheese gettin' crispy.
Serve each waffle with a knob of butter and maple syrup or honey.
If you want you can keep made waffles warm in a 250 degree F. oven while you make the rest.
These are the perfect mix of sweet and savory. It almost reminded me of chicken and waffles except easier and with cheese.
Stuffed waffles are all the rage these days and I can definitely see why!