Have you ever had a time travel meal? Something that instantly teleports you back to a distant point in your life?
For me, these simple grilled sausage sandwiches, choripan, zap me back to college. I spent a summer living in Buenos Aires with a good friend. To be honest, I didn't learn much Spanish, but I did play a lot of chess with locals, drink a lot of litros, and eat dozens and dozens of these simple sandwiches from street vendors.
There's nothing particularly complicated about them. You need good sausage, good crusty bread, and a knock-your-socks-off chimichurri to glug over the whole deal.
Since it's such a big grilling weekend, I thought I'd share this with you all in case you're looking for a last minute idea of something to toss on the coals!
Grilled Choripan
Choripan is a traditional Argentine street sandwich with sausage and crusty bread. Choripan is easy to make at home and so completely delicious.
Ingredients
4

quality sausages

,

Argentine Chorizo or good Italian sausage

1

crusty baguette

,

cut into 4 pieces

Olive oil
Choripan Chimichurri:
2-3

cloves

garlic

2

tablespoons

minced red onion

½

Serrano pepper

,

minced

⅓

cup

red wine vinegar

1

tablespoon

water

½

teaspoon

red pepper flakes

1

bay leaf

,

crumbled

2

teaspoons

dried oregano

1

teaspoon

kosher salt

1

teaspoon

black pepper

½

cup

olive oil

1

cup

minced parsley
Instructions
For Chimichurri:
Combine minced garlic, red onion, and Serrano pepper with red wine vinegar, water, dried spices, and salt and pepper.

Whisk in olive oil in a slow steady stream. Then stir in minced parsley. Let sit for at least 30 minutes to let flavors mingle.
For Choripan:
Preheat grill to medium-high heat or direct charcoal grilling. Add sausage to grill and cook for 8-10 minutes, turning frequently until casing is getting crispy and the sausage is mostly cooked through.

Using tongs and a sharp knife, cut 3/4 of the way through the sausages, longwise. Fold them out and press them flat on the grill. Let them cook for another 4-5 minutes to get nice and crispy.

Meanwhile, slice baguette in half, drizzle with olive oil and press on the hot grill for a minute to char a bit and get good grill marks.

Serve crispy sausages on baguette drizzled heavily with chimichurri sauce. Eat immediately!
Nutrition
Serving:
1
Sandwich
|
Calories:
677
kcal
|
Carbohydrates:
33
g
|
Protein:
20
g
|
Fat:
51
g
|
Saturated Fat:
12
g
|
Polyunsaturated Fat:
7
g
|
Monounsaturated Fat:
30
g
|
Trans Fat:
0.2
g
|
Cholesterol:
61
mg
|
Sodium:
1524
mg
|
Potassium:
419
mg
|
Fiber:
3
g
|
Sugar:
3
g
|
Vitamin A:
1430
IU
|
Vitamin C:
22
mg
|
Calcium:
119
mg
|
Iron:
5
mg
Did you make this recipe?
Choripan Chimichurri
Say that 10 times fast!
No, but really, this is important. Some say the sausage is the most important (we'll talk about that in a minute), but for me the chimichurri is where it's at. It should be heavily seasoned with lots of garlic and spice.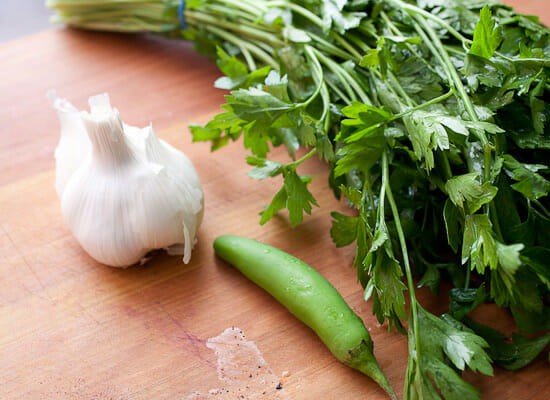 You can absolutely mince everything by hand and end up in really good shape, but I like to pulse my onion, garlic, and Serrano in a little food processor.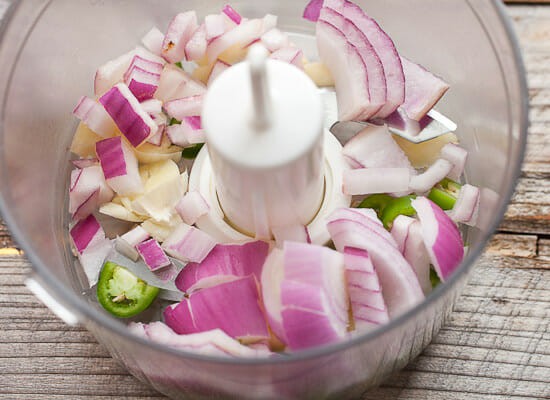 After those things are pulsed, stir them together with the vinegar, water, and dried herbs.
Most importantly, and often left out: BAY LEAF!
Crumble one up and toss it in. It adds a great savory base flavor to the chimichurri.
Once all that stuff is in the bowl, whisk in the olive oil so it emulsifies and then stir in the parsley. I like my parsley pretty roughly chopped and I even toss in some stems. No big deal.
This was basically my finished chimichurri. If you eat it by itself it should taste strong.
Let this sit for 30 minutes at least while you grill the sandwich stuff.
Choripan Basics
Chori = Sausage. Pan = Bread. That's what you need.
For the sausage, ideally you could find some traditional Argentine chorizo. I looked around for this and could find it nowhere in the Denver area, including at a Latin carniceria. They looked at me like I'd lost my damn mind.
What you can absolutely use for these sandwiches is really good hot Italian sausage. What you can't use is Mexican or Spanish chorizo. It's too seasoned and just won't work well. But seriously, hot Italian sausage is very similar to the traditional sausage and works great.
As far as bread goes, just find a good crusty baguette. Don't overthink it!
Heat your grill to medium-high heat (or direct heat charcoal grilling) and toss on the sausages. Cook them for about 10 minutes, turning them regularly until they get crispy on the outside.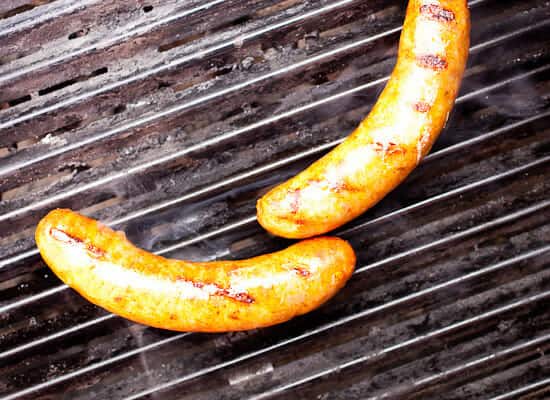 Now for the key trick: Hold each sausage with your tongs and use a good knife to slice about 3/4 of the way through each sausage.
Yes, this will cause lots of juices to escape, but that's okay. We are ladling oily chimichurri over it later anyway.
By slicing the sausages in half though, you can press them down, cut side down, on the grill. This will crisp up the sausage beautifully and finish cooking it if it isn't cooked through.
Don't forget your bread also! Drizzle the baguette pieces with some olive oil and press them onto the hot part of the grill for like 30 seconds. Shouldn't take long to char them up a bit.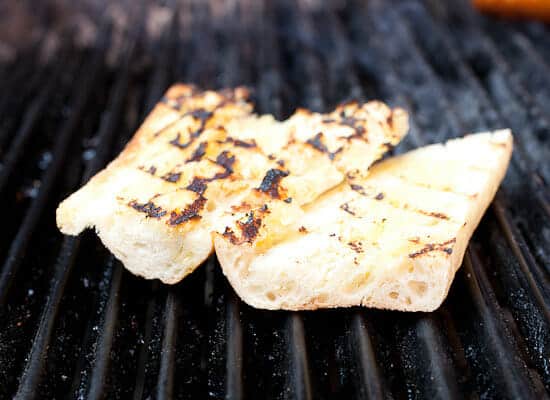 You know the rest.
Sausage. Meet bread. Sandwich. Meet chimichurri.
CHOMP.
This simple sandwich is so much better than any of its parts. I'm biased by fun memories of eating these, but they are seriously one of my favorite grilled foods out there.
CHORIPAN for the win!