Finding fun ways to use leftover bread is a small hobby of mine.
Croutons are a classic use of leftover bread, but it hit me a few days ago that these could be easily adapted to a breakfast thing by making them sweet instead of savory.
The resulting croutons are these slightly sweet crispy cubes that taste almost exactly like cinnamon toast crunch. They are sturdier though and stay pretty crunchy in milk (at least for a few minutes).
This makes Cinnamon Crunch Croutons a really fun topper for cereals! They were really tasty sprinkled on my morning granola.
Cinnamon Crunch Croutons
Cinnamon Crunch Croutons made by baking cubes of leftover bread spiced with some cinnamon and sugar makes for a perfect breakfast cereal topper.
Ingredients
3

cups

leftover bread

,

cubed

¼

cup

butter

,

melted

3-4

tablespoons

sugar

2

teaspoons

cinnamon
Instructions
Cube bread into 1/4 inch cubes. Lay bread cubes out on a baking sheet lined with foil and bake for 10 minutes at 325 degrees to lightly dry out the bread.

Melt butter in the microwave. Toss the dried bread cubes with the butter until the bread is well coated. Sprinkle in 2 Tablespoons of sugar and 1 teaspoon of cinnamon and toss bread with cinnamon and sugar.

Return bread to baking dish and sprinkle with extra cinnamon and sugar to coat well.

Bake for 15-20 more minutes at 325. Turn the croutons once or twice while cooking.

Let croutons cool completely to make them extra-crispy.

Use croutons as a topping for cereal or granola!
Nutrition
Serving:
0.5
cup
|
Calories:
422
kcal
|
Carbohydrates:
64
g
|
Protein:
13
g
|
Fat:
13
g
|
Saturated Fat:
6
g
|
Polyunsaturated Fat:
2
g
|
Monounsaturated Fat:
3
g
|
Trans Fat:
0.3
g
|
Cholesterol:
20
mg
|
Sodium:
620
mg
|
Potassium:
172
mg
|
Fiber:
5
g
|
Sugar:
14
g
|
Vitamin A:
241
IU
|
Vitamin C:
0.3
mg
|
Calcium:
157
mg
|
Iron:
4
mg
Did you make this recipe?
Cinnamon Crunch Croutons
The Bread To Use
I'm almost positive that you can use pretty much any bread you want for this recipe. Ok… maybe not something super-savory like rye bread, but most sandwich breads or crusty loaves will work perfectly.
Ideally, it would be a little on the stale side even. Once you've picked your leftover bread of choice, just cube it up! Shoot for smallish cubes here. About 1/4 inch is a good goal.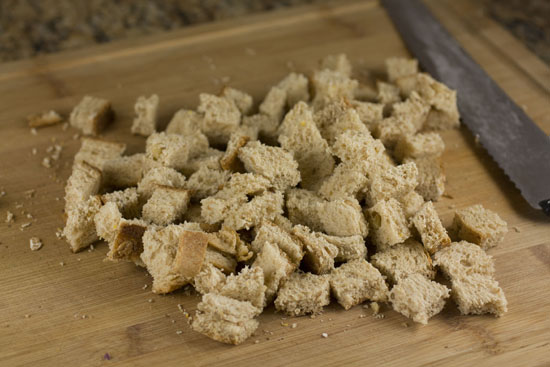 The Pre-Bake
Eventually we will be tossing these guys with butter and cinnamon and sugar, but for now we want to dry them out a bit to firm them up and make them easier to coat.
So just scoop them onto a baking sheet lined with foil and bake them for about 10 minutes at 325 degrees. It should just dry them out a bit.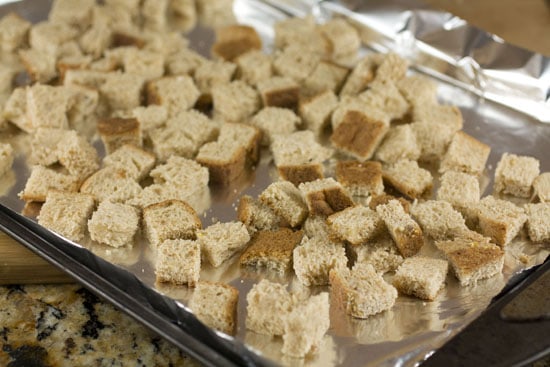 The Butta
Normally, I use olive oil for croutons, but I couldn't help substituting butter since it's a breakfast/sweet style crouton.
Melt your butter and pour it into a good tossing bowl.
Then just add in your dried bread cubes and toss them together so they are well-coated with butter.
At this point, also add in about half of your cinnamon and sugar and toss that together to get a good base on the croutons.
The Final Bake
Return the croutons back to the baking sheet and spread them out in a single layer. Then hit them with more cinnamon and sugar. I recommend going pretty heavy on it since some will fall off while baking and also you want these to have lots of flavor since you'll just add a few to your breakfast.
Now return these to the oven and bake them for another 15 minutes. Give them a stir halfway through just to make sure they are cooking evenly.
They should be nice and crispy, not too browned, but lightly browned.
These Cinnamon Crunch Croutons are just about perfect.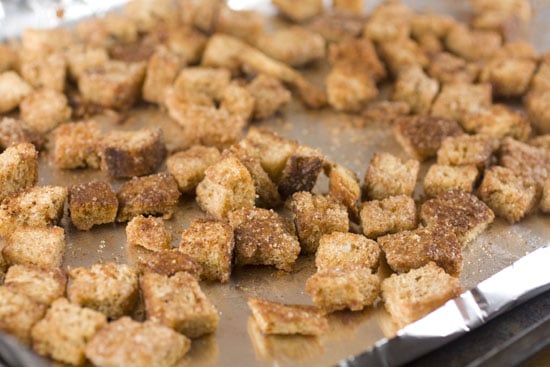 I added a handful of these to my morning granola and I loved it! It gave it a nice, slightly sweet flavor and the texture is awesome.
I was a bit worried that these Cinnamon Crunch Croutons would immediately turn to mush in a bowl of cereal, but they actually stayed crispier longer than normal cereal does.
I think these might be really fun for kids although I don't actually have kids… so I can't confirm!
As an adult who considers himself a big kid, I really liked them.