When Betsy heard that Chicken Adobo won the poll last week, she was pumped.
Of course, she was pumped because she thought it was a Tex-Mex dish!
When she saw me making it she said, "Hey, where's the avocado!"
I then had to break her heart and tell her that while the dish shares a name with the sauce that chipotles are stored in (Adobo), it's actually a Thai dish.
Fortunately, this happens to be an amazingly delicious Thai Filipino dish so there were no hard feelings.
Chicken Adobo
Chicken Adobo is a delicious traditional Filipino dish that is made by simmering seared chicken pieces in a rich and flavorful coconut milk broth!
Ingredients
1

whole chicken

,

Quartered

¼

cup

Braggs

,

seasoning

¼

cup

soy sauce

1

13-ounce can

coconut milk

¾

cup

apple cider vinegar

6

garlic cloves

,

minced

4

bay leaves

4

kafir lime leaves

,

opt.

1

tablespoon

black pepper

Scallions

,

minced (garnish)

Rice

,

for serving
Instructions
If you're using a whole chicken, slice off the thigh/leg and the breast pieces. Leave the skin on. You can also use all thighs or any assortment of chicken pieces with the skin on.

Toss chicken with braggs and soy sauce to marinate for 30 minutes.

Remove chicken from marinade and let any excess drip back into bowl. Transfer chicken to non-stick skillet (cast iron skillet) over high heat, skin-side down. Cook for 8 minutes until chicken is seared well and the skin is crispy.

Meanwhile, whisk coconut milk, vinegar, garlic, and spices in with soy sauce left from marinade.

When chicken is done, transfer to a plate (it will still be uncooked on one side). Pour out any fat from chicken. Add chicken back to pan, skin-side DOWN.

Pour coconut milk mixture over chicken. Bring to a simmer and turn heat down to medium. Simmer, uncovered for 20 minutes.

Flip chicken skin-side UP and cook for another 15 minutes in the sauce.

Transfer chicken to a platter and cover loosely with foil.

Remove bay leaves and lime leaves from simmering sauce and skim off any fat pools. Simmer and reduce for 5 minutes and then pour sauce over chicken.

Garnish with scallions and serve with rice.
Nutrition
Serving:
1
plate
|
Calories:
510
kcal
|
Carbohydrates:
20
g
|
Protein:
39
g
|
Fat:
29
g
|
Saturated Fat:
8
g
|
Polyunsaturated Fat:
6
g
|
Monounsaturated Fat:
12
g
|
Trans Fat:
0.2
g
|
Cholesterol:
143
mg
|
Sodium:
948
mg
|
Potassium:
484
mg
|
Fiber:
1
g
|
Sugar:
0.5
g
|
Vitamin A:
281
IU
|
Vitamin C:
5
mg
|
Calcium:
44
mg
|
Iron:
3
mg
Did you make this recipe?
Chicken Adobo
The Chicken
There are two keys to making this Chicken Adobo dish really delicious. First, you have to use chicken with the skin on, preferably bone-in as well. That boneless, skinless stuff just won't fly.
The most economical way to do this is just to buy a whole chicken and then butcher it into the breast pieces and leg pieces. This is the video I always point people to if they need help cutting up a chicken.
Of course, you could buy pieces that are already cut, but just make sure they have the skin on and bone in.
Second, you want to marinate the chicken in Braggs and soy sauce which will make it very savory and delicious. You only need to marinate it for about 30 minutes because the flavors are pretty strong.
If you don't have Braggs, you can just use all soy sauce which is actually what the original recipe used.
Prepping the Sauce
This sauce is super-simple to bring together. It has a base of coconut milk, but the real flavor comes from lots of garlic, pepper, and apple cider vinegar.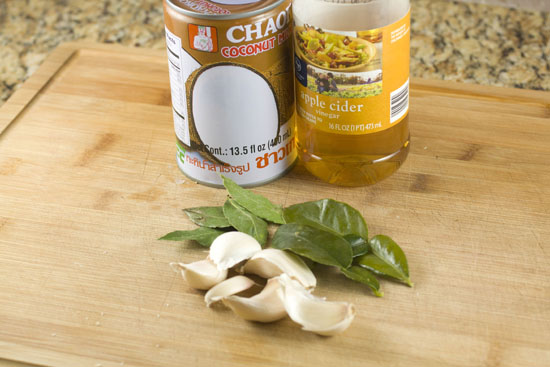 After the chicken has marinated, remove it from the soy sauce mixture and then whisk in the coconut milk, vinegar, chopped garlic, bay leaves and lots of pepper. If you don't have lime leaves, just don't worry about them.
Now normally, you wouldn't want to mix sauce ingredients into a chicken marinade for food safety reasons, but in this case we are going to simmer this sauce for over thirty minutes, so it will be totally safe.
Cooking the Chicken
The key to making this dish work is to get a really nice sear on the chicken skin and then simmering the chicken in the coconut milk sauce until the chicken is cooked.
The original recipe calls for a nonstick pan, but I prefer my cast iron skillet when I'm cooking high-heat stuff, so I used that. It worked great. Just make sure your skillet is seasoned well or give it a light coat of oil before adding the chicken.
Add your chicken to your pan over high heat with the skin-side down. Cook this for about 8 minutes without touching it!
A lot of the fat in the skin will render out as it cooks and the skin on that side will get super crispy.
Then just pull the pieces out. Assuming your pan is correctly seasoned (or oiled lightly) the chicken shouldn't stick at all.
This was my seared chicken after 8 minutes. Keep in mind that the chicken is still basically raw on the other side. You could never get this kind of sear with skinless chicken.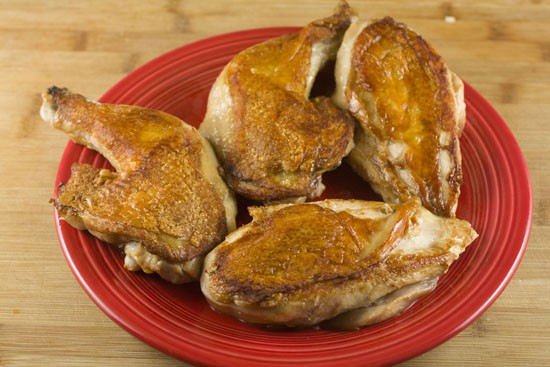 Simmer Simmer
At this point you'll probably have a small amount of fat in your pan. Pour this out. You don't want a lot of fat in your final dish (besides all the coconut milk).
Then add the chicken back to the pan, skin side down still, and then pour all your sauce over the chicken!
Bring this all to a simmer and simmer it for about 20 minutes.
Next, flip the chicken so it's skin-side UP, and then simmer it for another 15 minutes.
That should be more than enough time to cook the chicken through, but you might want to check a piece just to make sure.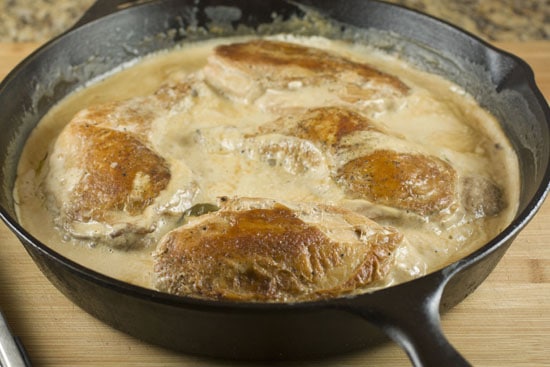 To finish off the sauce, take the chicken out and lay the pieces on a plate and cover them loosely with foil so it stays warm.
Then remove the lime leaves and bay leaves from the sauce and bring it to a simmer to reduce for about 5 minutes.
Then just pour the sauce over the chicken and garnish everything with scallions.
Just serve this Chicken Adobo with some basmati or jasmin rice and you'll be in for a serious treat.
The chicken stays really moist and flavorful and the sauce is this perfect mix of rich and also tangy. It's not spicy at all though so if you are a heat fiend, keep a bottle of hot sauce close!