This is probably not a news flash for you, but it's very hard to make a bad macaroni and cheese dish, especially if you are taking the time to make your own cheese sauce, as we learned in this Homemade Trial.
But I can say that this Caprese Mac and Cheese is in the top five that I've ever made in my existence on this planet. And to be honest, I'm not sure that I can name the other four in the top five–I'm just giving myself some leeway.
But this is really, really good. Betsy is very used to my macaroni and cheese and she even perked up after trying a bite of this, to note just how freakin' good it is. One reason this mac and cheese is so good is because I used Galbani® Mozzarella Fresca™. The editors of Saveur Magazine recently listed it as one of their favorite fresh mozzarellas and I would have to agree. Like any good recipe, there are a few tricks, but all will be revealed below.
Caprese Mac and Cheese
Silky smooth mozzarella macaroni and cheese topped with a delicious caprese topping and a balsamic vinegar reduction.
Ingredients
1

pound

macaroni pasta

1

pound

Galbani® Mozzarella Fresca™ cheese

,

diced and divided

½

cup

chopped basil

6

Roma tomatoes

,

roasted and chopped

¼

cup

unsalted butter

¼

cup

all-purpose flour

2

cups

warm milk

Salt and pepper
Balsamic Reduction:
½

cup

balsamic vinegar

¼

cup

sugar
Instructions
For the tomatoes, cut tomatoes in half and lay them out on a baking sheet cut side up. Drizzle with olive oil and season with salt. Bake the tomatoes at 300 degrees for roughly 2½ hours until they are slightly dried but still have some moisture in them.

For the caprese topping, dice roasted tomatoes and toss with chopped basil and about a cup of chopped fresh mozzarella. Drizzle the topping with olive oil and season with a pinch of salt. Set aside until needed.

For the balsamic reduction, add vinegar and sugar to a small pot over medium heat and cook until it simmers and starts to reduce and get thick. This will take 7-8 minutes most likely. Stir regularly to keep it from burning. Remove from heat once it starts to thicken and let cool.

Cook macaroni according to package. Try not to overcook the macaroni or your mac and cheese will be soggy.

For the cheese sauce, add butter and flour to a medium saucepan. Whisk over medium heat for a few minutes until butter melts and tan paste forms (a roux). Slowly start to whisk in warm milk.

Whisk in milk in batches so the sauce stays thick. Once all the milk is whisked in, let the sauce thicken for a minute or two over heat. Then add the rest of the cubed mozzarella (minus what you put in the topping). Season the sauce with salt and pepper.

Drain pasta and toss with cheese sauce.

Serve mac and cheese while it's creamy topped with caprese topping and drizzled balsamic reduction.
Nutrition
Serving:
1
Side
|
Calories:
711
kcal
|
Carbohydrates:
82
g
|
Protein:
31
g
|
Fat:
29
g
|
Saturated Fat:
17
g
|
Polyunsaturated Fat:
1
g
|
Monounsaturated Fat:
8
g
|
Trans Fat:
0.3
g
|
Cholesterol:
90
mg
|
Sodium:
519
mg
|
Potassium:
533
mg
|
Fiber:
3
g
|
Sugar:
21
g
|
Vitamin A:
1501
IU
|
Vitamin C:
9
mg
|
Calcium:
516
mg
|
Iron:
2
mg
Did you make this recipe?
Caprese Mac and Cheese
The Toppings
There is one part of this Caprese Mac and Cheese recipe that some might find annoying. And by some, I mean all. It's annoying not because it's hard but just because it takes at least 2.5 hours which is enough time to watch a bad Leonardo DiCaprio movie.
The step is slow-roasting the Roma tomatoes. You need to half the tomatoes, drizzle them with olive oil and a pinch of salt, and roast them, cut-side up in a 300 degree oven for seriously 2.5-3 hours until they are withered. This will really concentrate their flavor and also suck out all of the moisture in the tomatoes.
To be honest, in a pinch you could use jarred sun-dried tomatoes, but I like the freshness of these guys if you have the time.
Once these are roasted, chop them up with some fresh basil and cubed Galbani Mozzarella Fresca and stir everything together. Drizzle this mixture with olive oil and season it with salt and pepper. This won't be stirred into the mac and cheese but served on top of it which is much better.
The other topping which is sort of optional, but my favorite part of the dish, is a quick balsamic vinegar reduction. Caprese salads frequently get a drizzle of balsamic vinegar so I thought it would be fun to integrate that into the mac and cheese.
It couldn't be easier to make. Just stir together about a half cup of vinegar with a quarter cup of sugar in a small pot over medium heat until it gets thick! This will take 6-8 minutes most likely and will make your house smell like a vinegar factory.
If you take the reduction too far, no big deal. Once it cools you can stir in an extra dash of vinegar to loosen it a bit to make it easy to drizzle. It should be very thick though.
Now onto the macaroni!
Mozzarella Mac
I feel like I've made macaroni and cheese many times on this site but really I only have six versions. They are all good, but I do think this is my personal favorite.
I used Galbani Mozzarella Fresca for both the topping and for the cheese sauce. You'll need about a pound of Fresh Mozzarella assuming you are using a pound of pasta. You can just slice the cheese into strips and then dice it up so it melts faster in the sauce.
Cheese sauce is no mystery. It's actually one of the easier sauces to master. I guarantee you that you can do it.
Start by just whisking the butter and flour in a medium pot over medium heat until it forms a paste that is a light tan color. You don't want to burn it or have it turn really brown. A few minutes of cooking should do the trick.
Then start whisking in your warm milk. I've made this before with cold milk and it's a lot harder to get the sauce to thicken so just stick your milk in the microwave for a minute or two to warm it up and then slowly whisk it in.
Once the milk is incorporated, let the sauce thicken for a minute over the heat and then stir in the cheese.
Once the cheese melts you'll find yourself in front of one of the creamiest cheese sauces that I've ever seen. Season this with salt and pepper and it's hard to go wrong.
Cook the pasta you are using according to the package and then drain it and stir in your cheese sauce. Honestly, it's delicious just like this.
When you're ready to serve the mac and cheese, scoop it into serving bowls and then top it with a few spoonfuls of the caprese topping. Give each bowl a drizzle of balsamic reduction and you are in serious business.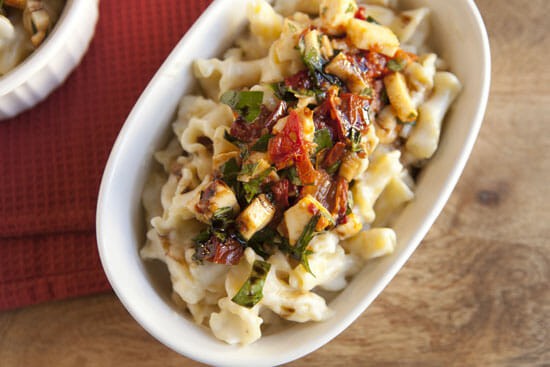 I like using the topping as a topping and not stirred into the mac and cheese because I think the flavors would get lost. Having it as a topping keeps them concentrated and also keep the mac and cheese really super creamy.
With this recipe, I'm participating in the 2013 Galbani Caprese Challenge. I hope you vote for me and you'll also be eligible to win lots of fun prizes! You can enter once a day, so go check out the other blogger's fun spins on the classic Italian dish Caprese, and vote for a chance to win some great prizes!